This post may contain paid links. If you make a purchase through links on our site, we may earn a commission.
This is the Best Steak Rub Recipe, ribs, and more! It's the perfect seasoning blend for grilling, pan-searing, or roasting. The intense flavor of this steak dry rub compliments beef beautifully!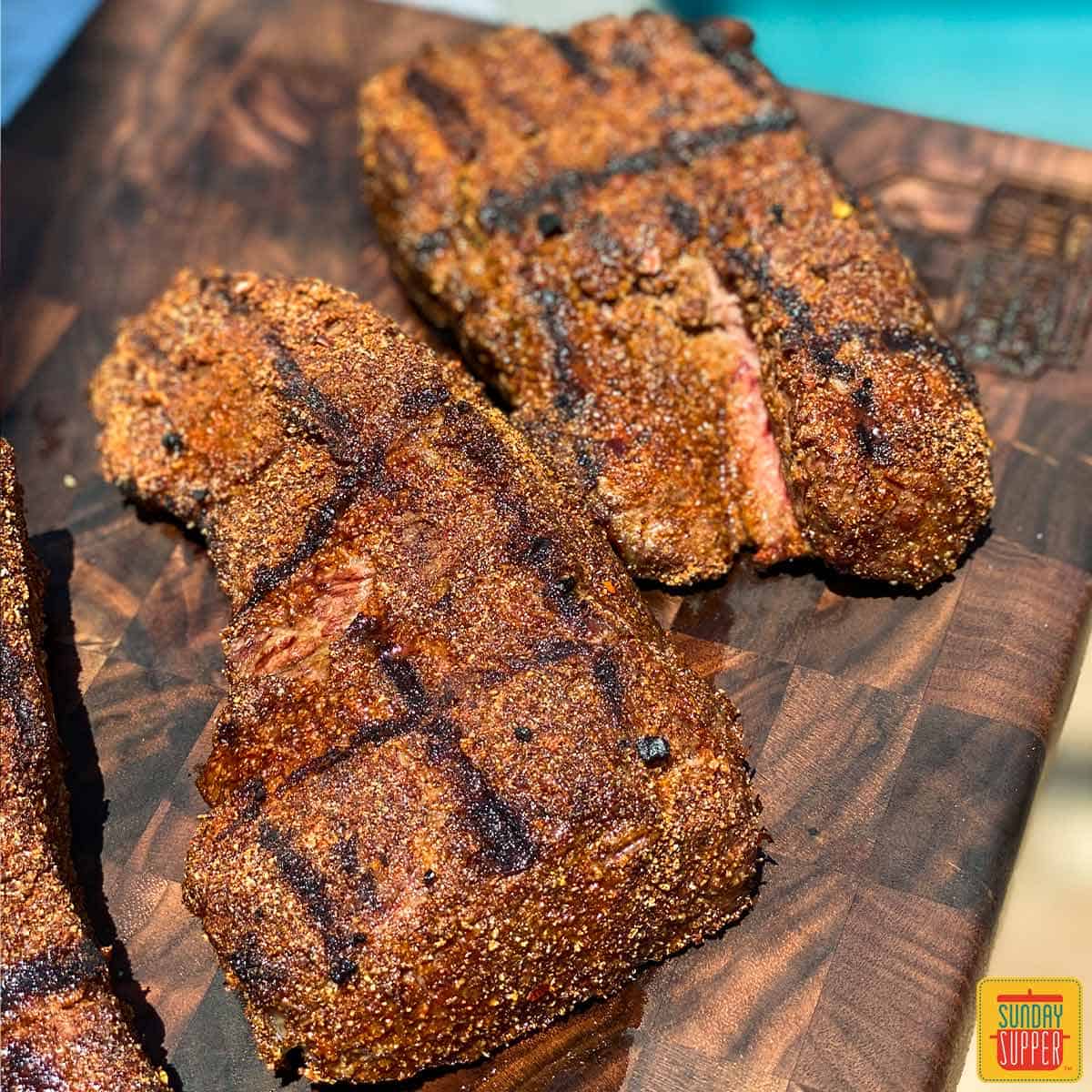 Steak Rub
I love grilling! Living in Florida, my grill is always out and ready to go! I'm constantly cooking up recipes like Porterhouse Steak, Picanha Steak, or my favorite chuck steak.
Whenever I grill out, I use this flavorful steak seasoning recipe. It's my favorite dry rub for steak and ribs, but seriously, I could put this steak rub on everything! Especially all of my favorite steak recipes. After trying plenty of different seasoning blends, I can safely say this is my favorite. Once you use this homemade steak seasoning with its hint of sweetness, you may never buy store-bought dry rubs again. It is that tasty!
Steak Dry Rub Ingredients
Steak Seasoning Rub Recipe
Add paprika, onion powder, garlic powder, sea salt, crushed red pepper, black pepper, and brown sugar to a bowl.
Give it a good stir to combine, until all spices are completely mixed together. Store in an air-tight container such as a jar.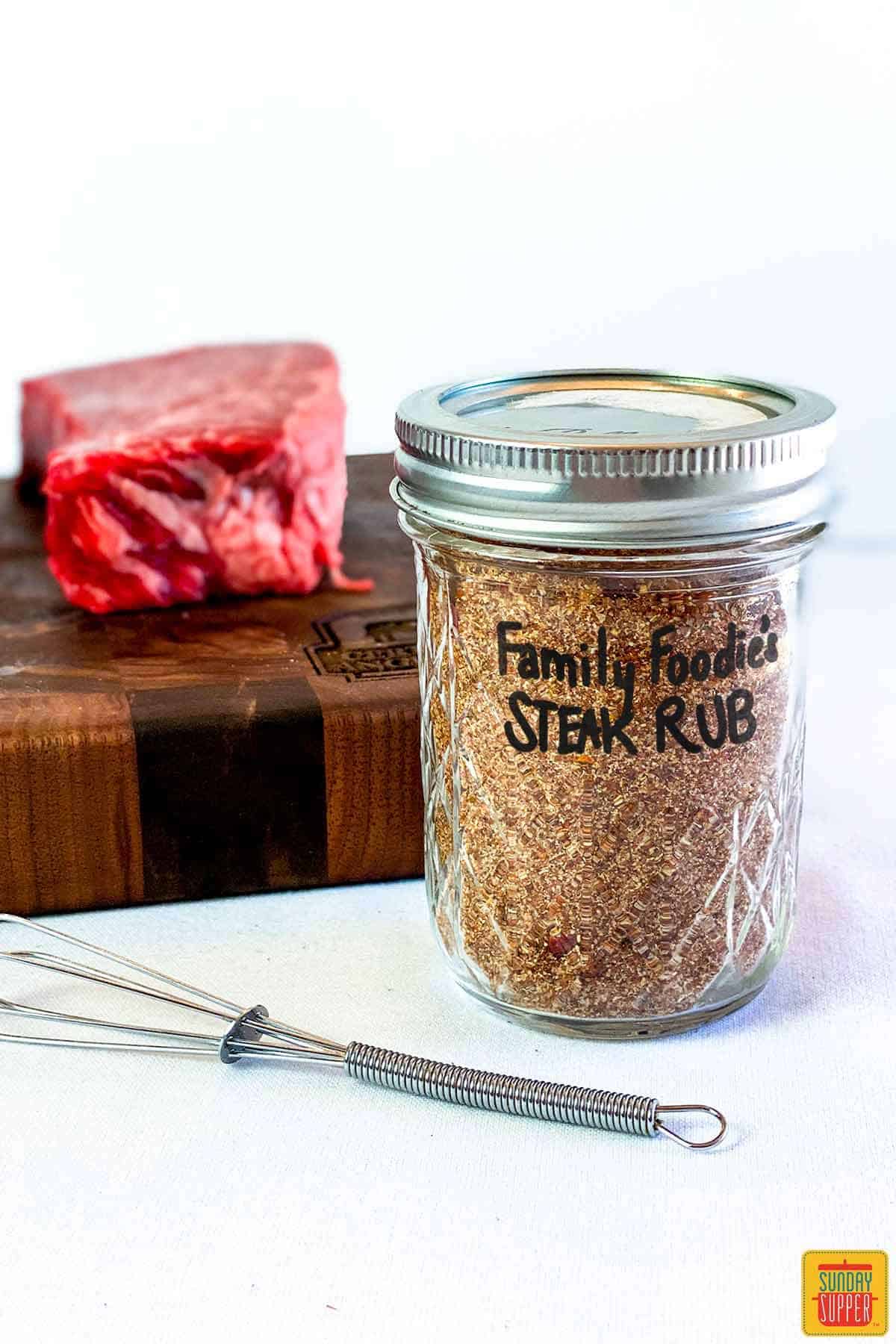 How easy is that? For such a simple process, I promise you, this is the best BBQ rub you will ever try. I use it for all of my favorite BBQ recipes.
Best Steak Rub Tips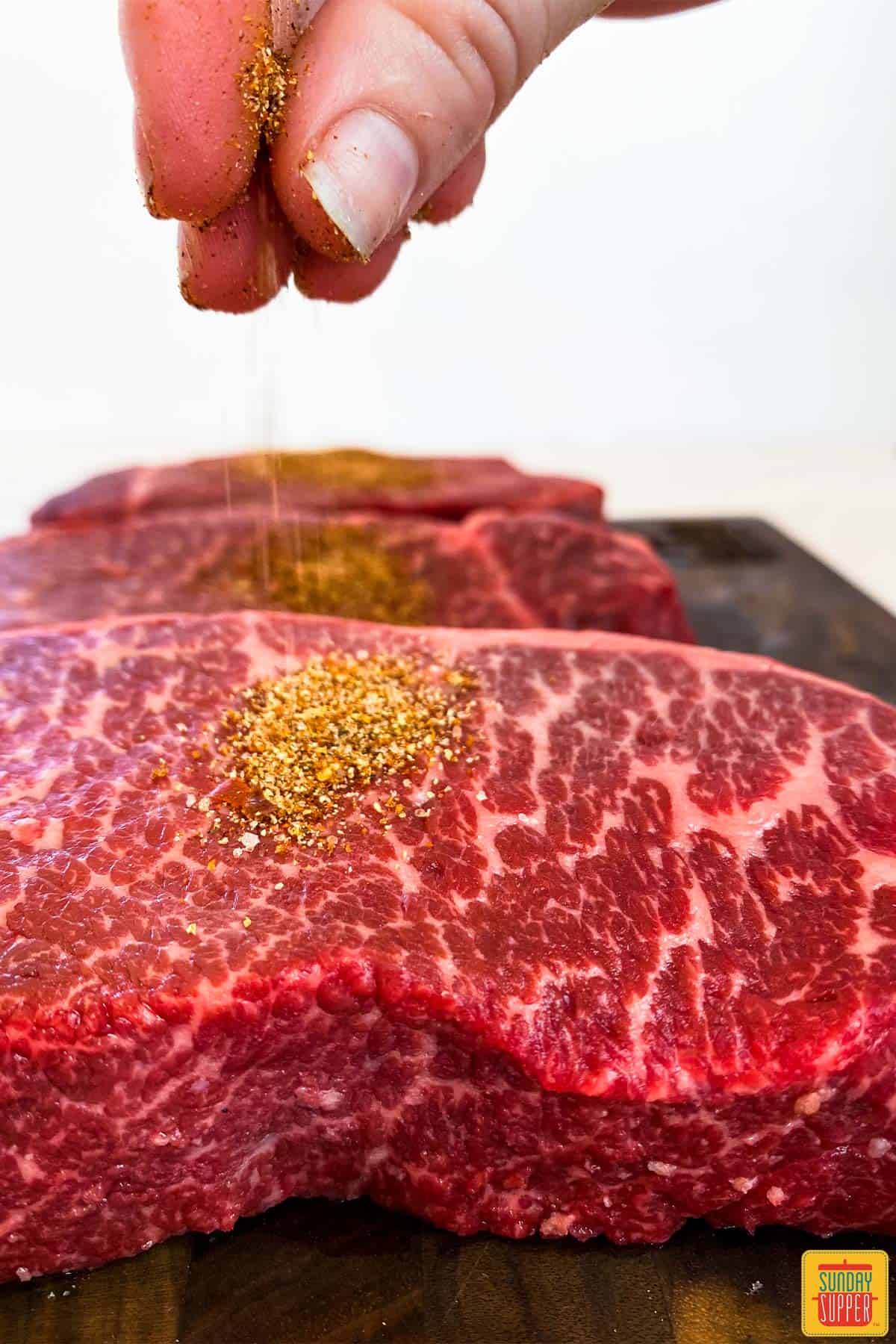 How to Store Steak Rub
You can easily store this BBQ rub recipe alongside your other pantry recipes in a mason jar or other air-tight container.
I like to use a mason jar because it stores well, has a pleasing appearance, and takes up very little space in my pantry. I keep it right next to my favorite Garlic Parmesan French Fry Seasoning!
Speaking of which, anything you pair this steak rub recipe with will go perfectly with my homemade Air Fryer Frozen French Fries or Baked Crispy Potato Wedges. I guarantee it!
Dry Rub for Steak Variations
Steak Rub FAQs
What is the best way to season steak?
Bring your steaks to room temperature.
Sprinkle the steak with your seasoning mixture to coat it.
Pat the steak down to apply the rub and ensure the seasonings stay on.
Repeat on the opposite side.
When should I season steaks?
You can apply dry rub to the steak right before grilling. But, if you have time, you can also apply it to your steak ahead of time for greater depth of flavor. See the below question for instructions!
How long do you leave the dry rub on steaks?
Leave dry rub on a steak for as long as overnight in the refrigerator. After seasoning, let them rest in the refrigerator for 30 minutes or up to overnight uncovered. The steak will soak up the seasoning even more while it rests.
Steak Recipes
The simple ingredients in this spice rub will take a good steak and elevate it to a restaurant steak experience!
Homemade Seasoning Blends
📋 Recipe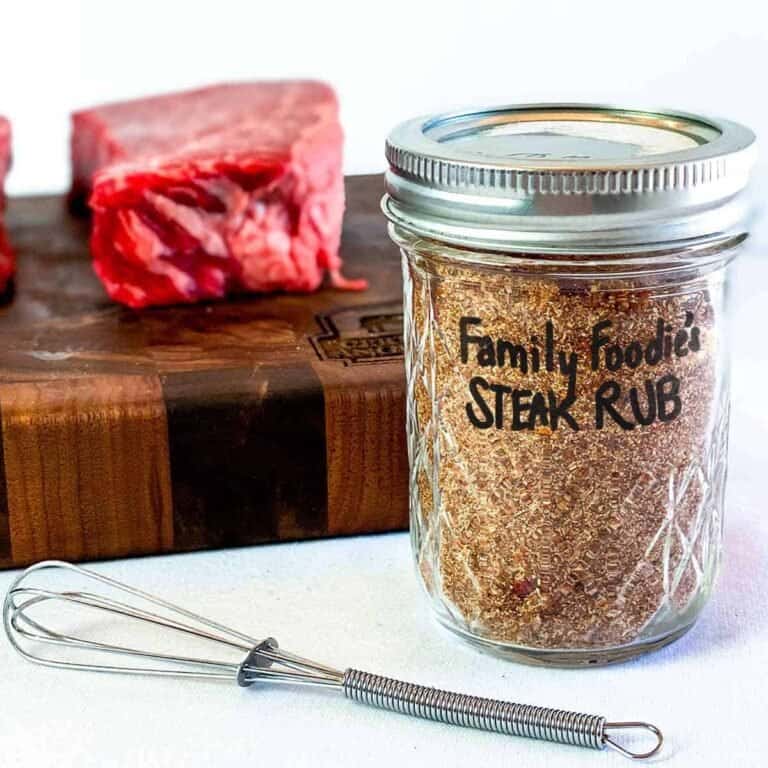 Steak Rub
This is the Best Dry Rub for steak, ribs, and more! With just a few simple pantry staples, whip up the perfect rub to use on all your favorite summer grilling recipes.
Instructions
Add 4 tablespoons paprika, 2 tablespoons onion powder, 2 tablespoons garlic powder, 3 tablespoons sea salt, 2 tablespoons crushed red pepper, 1 tablespoon black pepper, and 2 tablespoons brown sugar to a bowl.

Give it a good stir to combine, until all spices are completely mixed together.
Nutrition
Calories:
331
kcal
Carbohydrates:
73
g
Protein:
11
g
Fat:
6
g
Saturated Fat:
1
g
Sodium:
21239
mg
Potassium:
1359
mg
Fiber:
20
g
Sugar:
29
g
Vitamin A:
18535
IU
Vitamin C:
3
mg
Calcium:
243
mg
Iron:
11
mg
Did you try this recipe?
Tag #SundaySupper on social and leave a comment below!