This post may contain paid links. If you make a purchase through links on our site, we may earn a commission.
What if we told you you could make perfect cheesecake from scratch even if you have no experience, and that it's easy? That's our Instant Pot Cheesecake Recipe: it's super quick, uses simple ingredients, and comes out beautifully every time!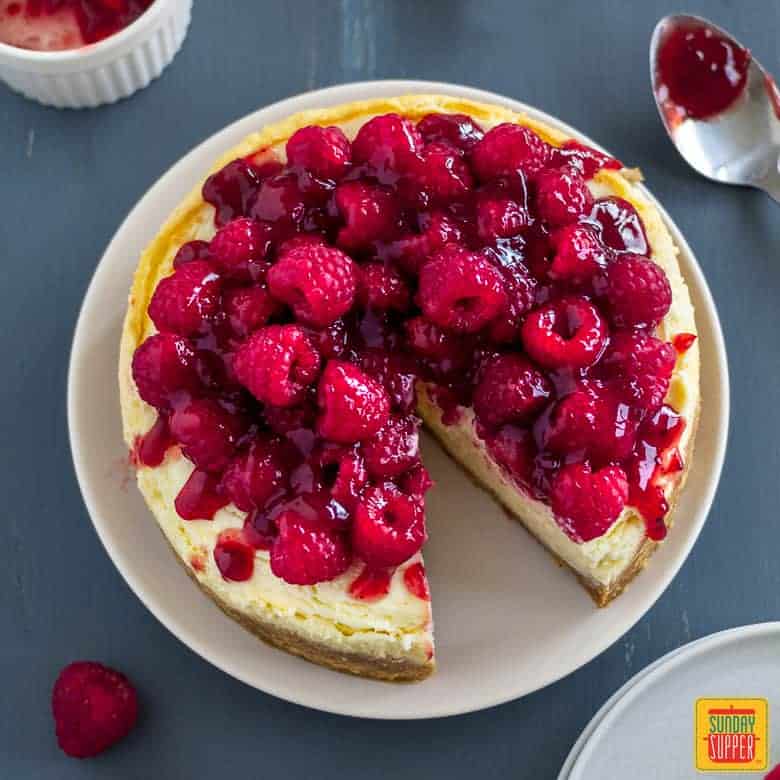 Jump to:
Is cheesecake better in the Instant Pot or oven?
If you're a cheesecake lover, but haven't tried making it in the Instant Pot yet, then you're probably wondering what the difference is and if it's better than making it in the oven.
The main differences are that it saves on time and oven space, but there are some differences between the texture of oven baked and pressure cooker cheesecake, too!
Cheesecake made in the Instant Pot is lighter in color and texture, with a slightly softer crust. It cooks for much less time than in the oven, and you don't have to worry about it cracking!
That said, we do love dense, creamy baked cheesecake, too. Our decadent Strawberry Swirl Cheesecake with Strawberry Sauce is the perfect choice for baking cheesecake in your oven. Give it a try for the holidays!
This is one of our favorite Instant Pot recipes and we are so excited to share it with you. And, that raspberry topping for cheesecake? Delicious.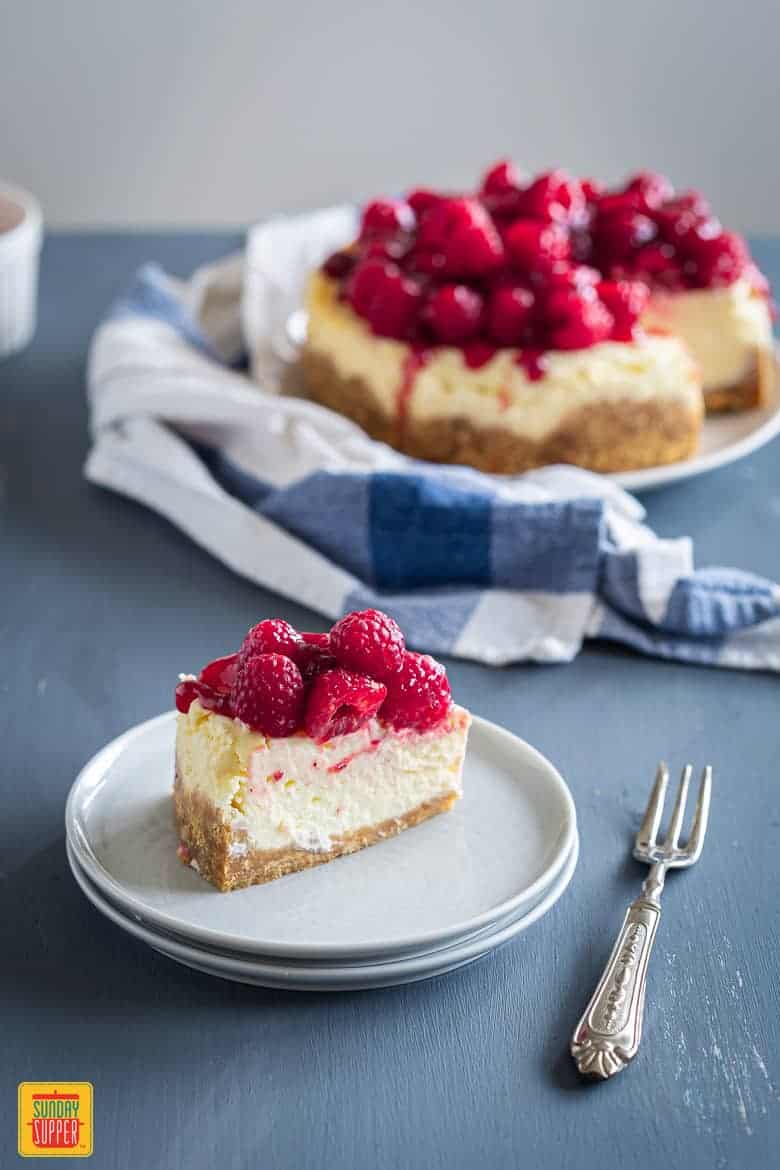 How do you make Instant Pot cheesecake?
This may look like an intimidating dessert, but we promise, it's easy.
All you need is a 6 qt. Instant Pot or larger, a 7-inch Instant Pot cheesecake pan (springform pan), parchment paper, and aluminum foil.
The steps are so straightforward, even a beginner can make Instant Pot Cheesecake. If you've never made cheesecake before or haven't had any luck making it, this is the recipe for you!
Do I need to use a springform pan?
You can use a regular cake pan to make homemade cheesecake, but springform pans work best as you can easily remove them from the cake after it sets!
To use a regular cake pan, line the inside of the pan with parchment paper to make it easy to lift the cake out of the pan once it's done chilling.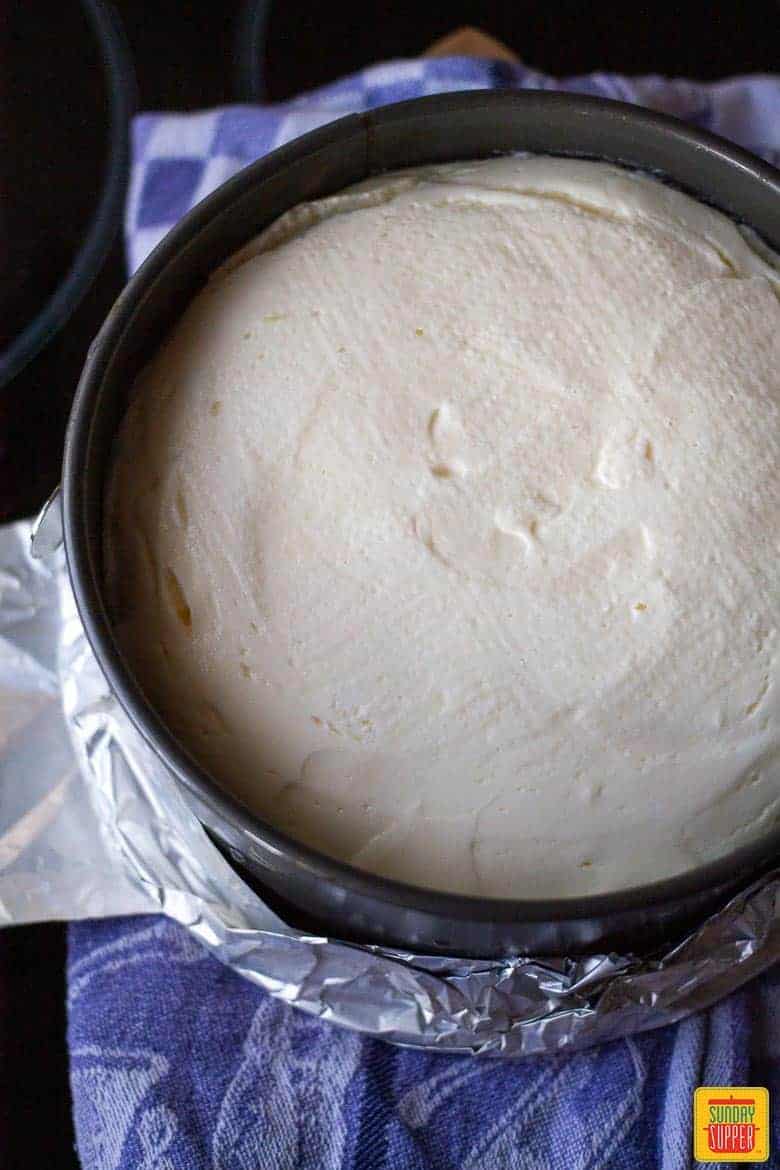 How do you cut cheesecake smoothly?
Keeping that beautiful presentation for your Instant Pot raspberry cheesecake means cutting it cleanly.
For smooth cuts, keep the knife clean in between slices. I wipe the blade off with a hot damp cloth in between slices to keep it clean.
Make sure to use hot water!
What is the best knife to cut cheesecake?
Use a sharp knife with a thin blade or a knife with a hollow edge to cleanly cut cheesecake. Wipe the blade in between slices, and you're good to go.
How long should cheesecake cool before going in the fridge?
Let this pressure cooker cheesecake cool at room temperature for 1-2 hours before refrigerating. This is an important step and should not be skipped.
Cheesecake Toppings
For cheesecake toppings, raspberry is our favorite with this Instant Pot recipe!
We'll show you how to make the most delicious raspberry jam to use. But, if you want to mix things up, here are a few of our favorite choices: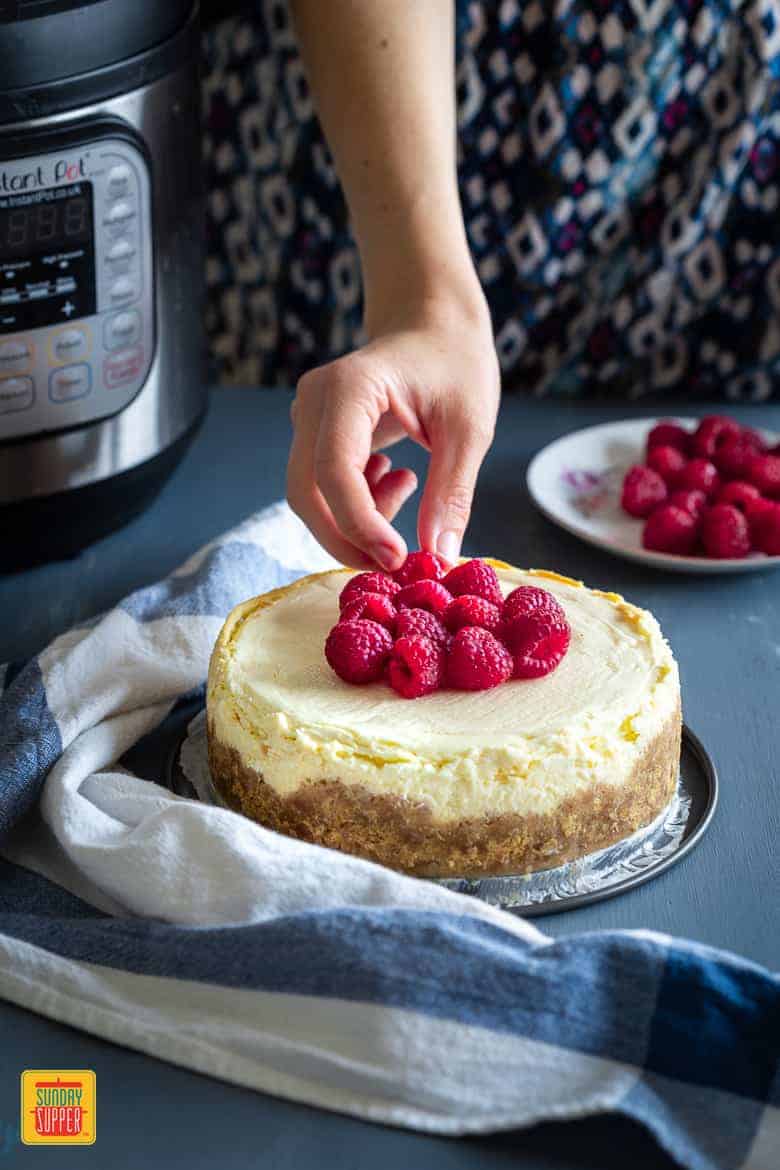 Can you freeze cheesecake?
Yes! You can freeze Instant Pot cheesecake whole or as slices.
Let it cool completely so it can set properly. First let it cool for 1-2 hours at room temperature, then place in the refrigerator for at least 6 to 8 hours or overnight to set.
To freeze in slices, cut and wrap each slice with plastic wrap. To freeze whole, place the cake on a dish, then wrap tightly with plastic.
Finally, wrap everything again with aluminum foil and label with the freezing date. Freeze for up to 1 month.
When ready to enjoy, let it thaw for up to 4 hours at room temperature or overnight in the refrigerator. Enjoy!
How long is cheesecake good for?
Properly stored in your refrigerator, this recipe will last up to 5 days. Keep it wrapped in plastic wrap or in a container.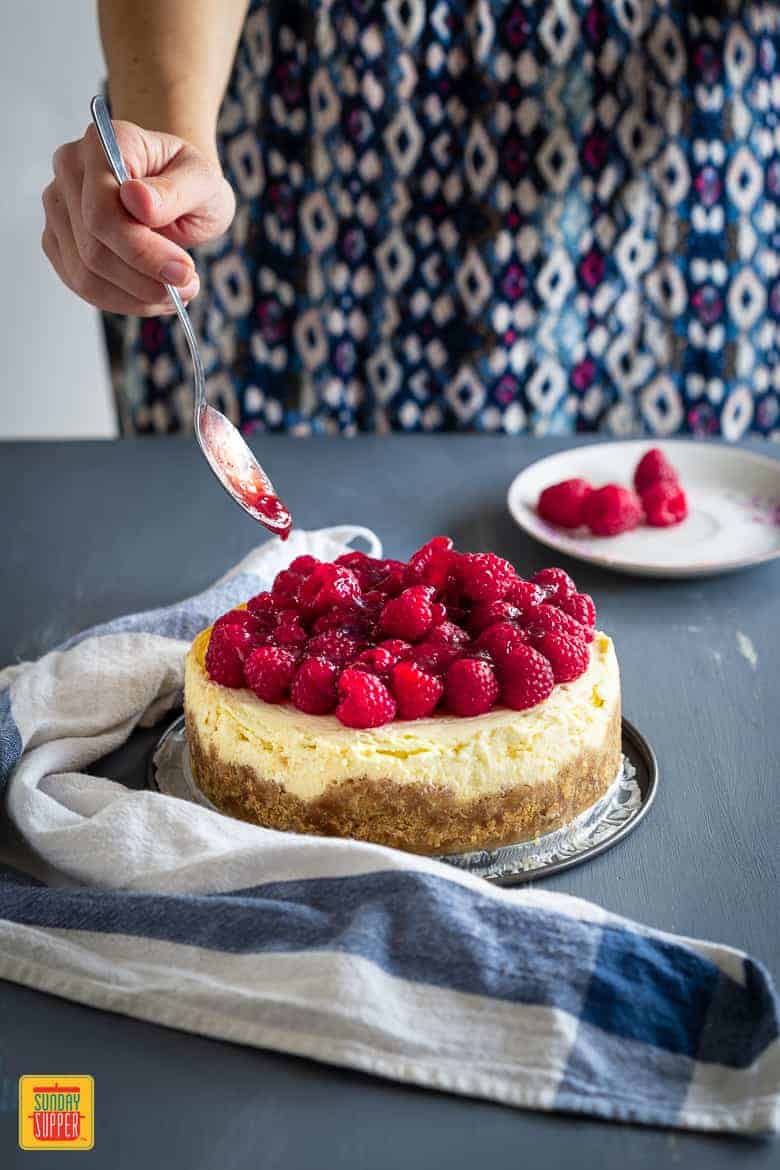 Recipe Tips
You can use cookies instead of graham crackers! 🍪 Try using petit beurre cookies or another plain sugar cookie. Crush for 1⅓ cups of crumbs and use in place of the crackers.
You can only use up to 7-inch pan for this cheesecake. A larger pan will not fit in the Instant Pot.
Heating the jam: If you would prefer to, you can heat the jam in a saucepan over medium heat instead of the microwave. Stir continuously to avoid burning.
Let your eggs, sour cream, and cream cheese come to room temperature before mixing your cheesecake filling. It takes an hour for them all to come to room temperature.
Instant Pot Dessert Recipes
Make other amazing desserts with our Graham Cracker Crust for Cheesecake!
Instant Pot Recipes
Did you try this recipe? Leave a comment and a rating below to let us know what you think! We love to hear from you!
📋 Recipe
Amazing Instant Pot Cheesecake Recipe
Instant Pot Cheesecake Recipe is SUPER easy and guarantees you a perfect result every time! Easily make perfect homemade cheesecake in your Instant Pot.
Equipment
7-inch springform pan

Handheld electric mixer
Ingredients
For the crust
1⅓

cup

graham cracker crumbs

from about 9 crackers

⅓

cup

melted butter

5 tablespoons
For the topping
2

cups

fresh raspberries

about 9 oz.

2

Tbsp.

raspberry jam

2-3

Tbsp.

water

optional, to dissolve the jam
Instructions
Line a 7-inch springform pan with a circle of parchment paper. Gently grease the sides of the pan.

Wrap the bottom of the pan tightly in aluminum foil. This is necessary because the cheesecake will cook in a water bath in the pot, and you don't want any to get into the pan.

Cut a long sheet of aluminum foil (about 15 inches) and fold it three times lengthwise.

Place the pan in the middle of the folded sheet. This acts as an improvised sling, which helps lower and lift the pan out of the pot.

Finally, place the trivet inside the inner pot of the instant pot. Pour 1½ cups water on top.
How to Make Cheesecake Crust
Combine graham cracker crumbs with melted butter. Whisk until combined, then pour into your prepared pan.

Press the mixture to the bottom and the sides of the pan.
How to Make Cheesecake Filling
Add cream cheese and powdered sugar to a large mixing bowl. Using an electric mixer set to high speed, beat until smooth.Then, add sour cream, vanilla extract, and flour. Beat for a few more seconds until mixed through.

Finally, add eggs and beat at low speed until just combined.

Pour the cheesecake filling into the crust and smooth it out with a spatula.

Place a piece of paper towel on top of the pan. This absorbs any condensation while it cooks, and stops it from dripping onto the cheesecake.

Cover the paper towel with another sheet of aluminum foil, wrapping it tightly around the top of the pan.

Use the sling to place the springform pan inside the Instant Pot. Fold the sides of the sling inside and then close the pot.

Make sure the valve is set to seal. Press the manual button and set the time for 35 minutes on high pressure.

It will take 20 minutes for the pressure to build, and then it will begin the 35 minute countdown.

Once it finishes, let the pressure release naturally for 20 minutes. If any pressure remains after 20 minutes, release it manually.

Remove the pan using the sling. Place it on the counter on a kitchen towel or paper towels (it will be wet).

Carefully unwrap the foil and remove the paper towel. Let it cool at room temperature for 1-2 hours. This is important – do not skip letting it cool.

Finally, cover the pan with aluminum foil or plastic wrap and refrigerate for 6 to 8 hours or overnight. When it's set, top with raspberry cheesecake topping, and enjoy!
Raspberry sauce for cheesecake
Heat the raspberry jam in the microwave for a few minutes until it thins out into a sauce. Add water if necessary thin it out.Arrange the fresh raspberries on top of the cheesecake. Spoon the jam over the fruit.
Notes
Cookies instead of crackers: Graham crackers can be substituted with petit beurre cookies or any other plain sugar cookies. You will need about 1 ⅓ cup or 4.5 oz cookie crumbs
7-inch spring form pan or smaller only: You can only use up to 7 inch spring form pan for this cheesecake. A larger pan will not fit in the instant pot.
Heating the jam: If you don't have access to a microwave or if you would prefer to, you can heat the jam in a saucepan over medium heat. Stir continuously to avoid burning.
Let your eggs, sour cream, and cream cheese come to room temperature before mixing your cheesecake filling. It takes an hour for them all to come to room temperature.
Nutrition
Calories:
509
kcal
Carbohydrates:
44
g
Protein:
7
g
Fat:
35
g
Saturated Fat:
19
g
Cholesterol:
137
mg
Sodium:
380
mg
Potassium:
199
mg
Fiber:
2
g
Sugar:
32
g
Vitamin A:
1224
IU
Vitamin C:
9
mg
Calcium:
110
mg
Iron:
1
mg
Did you try this recipe?
Tag #SundaySupper on social and leave a comment below!