This post may contain paid links. If you make a purchase through links on our site, we may earn a commission.
Our delicious Apple Banana Smoothie recipe tastes just like apple pie! It's thick, fruity, and easy to make in 5 minutes using simple and wholesome ingredients. If you love smoothies, you have to try this smoothie with apple and banana!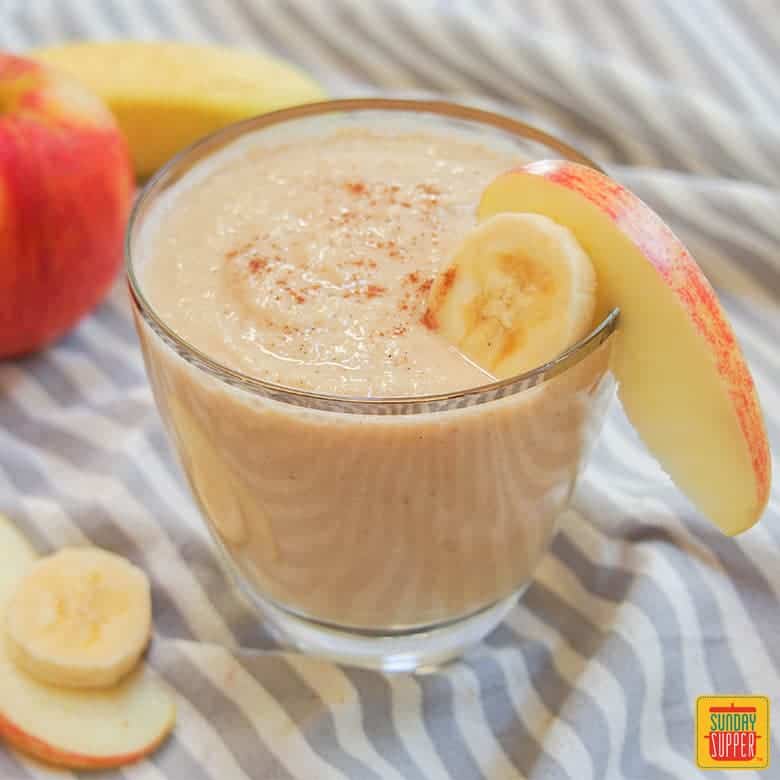 Jump to:
Best Apple and Banana Smoothie
I love making smoothies, especially smoothies with apples. They're one of my favorite treats to start the day with. Our blueberry smoothie and green apple smoothie are just so delicious, but my favorite has to be this banana apple smoothie!
Imagine the taste of apple cinnamon pie… in smoothie form! That's this drink. My kids are obsessed with this easy smoothie recipe, and the best part is that it's just so simple to make.
It takes just six simple ingredients to make and two simple steps, so it's perfect for serving for a quick breakfast, lunch, or as an afternoon snack. Healthy smoothie recipes are the best, but I have to say… this one is my favorite!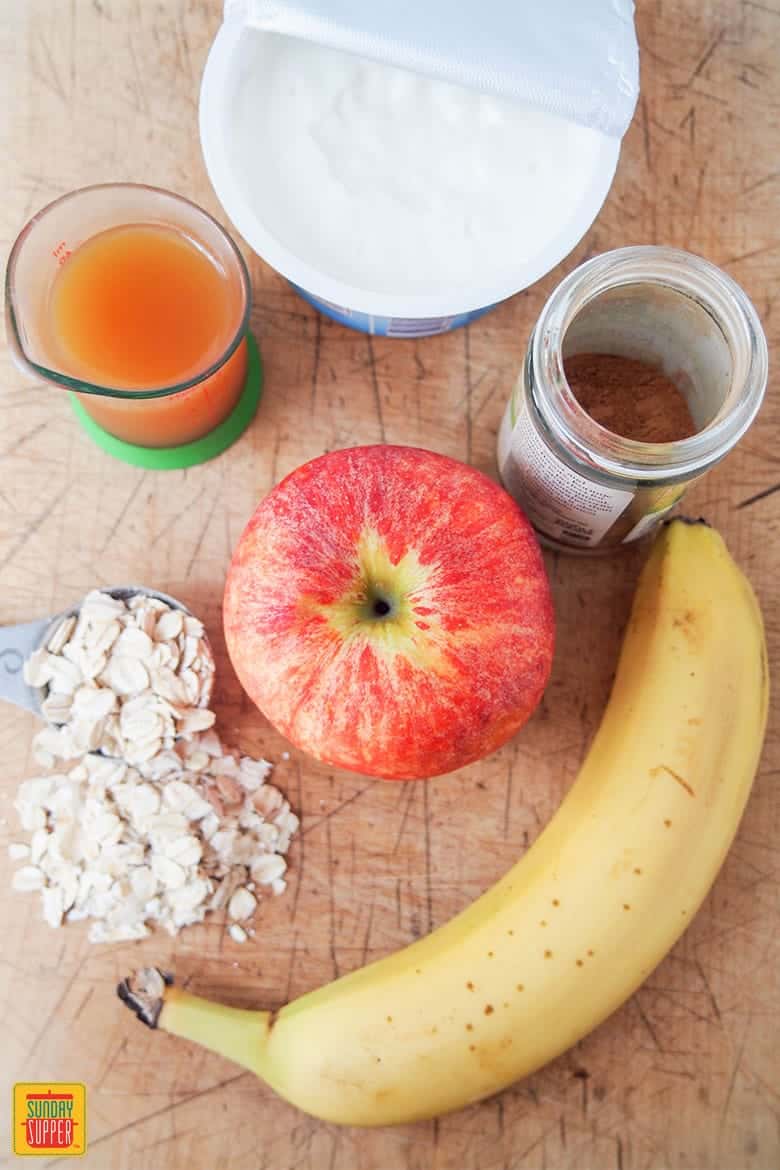 What apples should I use?
You can use any kind of apple you desire, but I believe the best apples for smoothies are sweeter apples, like Honeycrisp, Gala, Golden Delicious, or Fuji.
Granny Smith apples are also a good choice if you'd like yours a little more tart.
How to Make the Perfect Smoothie
Our top tip for making the perfect blended drink is to always load your blender in this order:
Liquids first
Fruits or vegetables second
Any extra ingredients, like oats
Ice on top
How to Thicken a Smoothie
To thicken your apple and banana smoothie, add frozen fruit – bananas work best – or add frozen yogurt and blend on the highest speed for 20 to 30 seconds.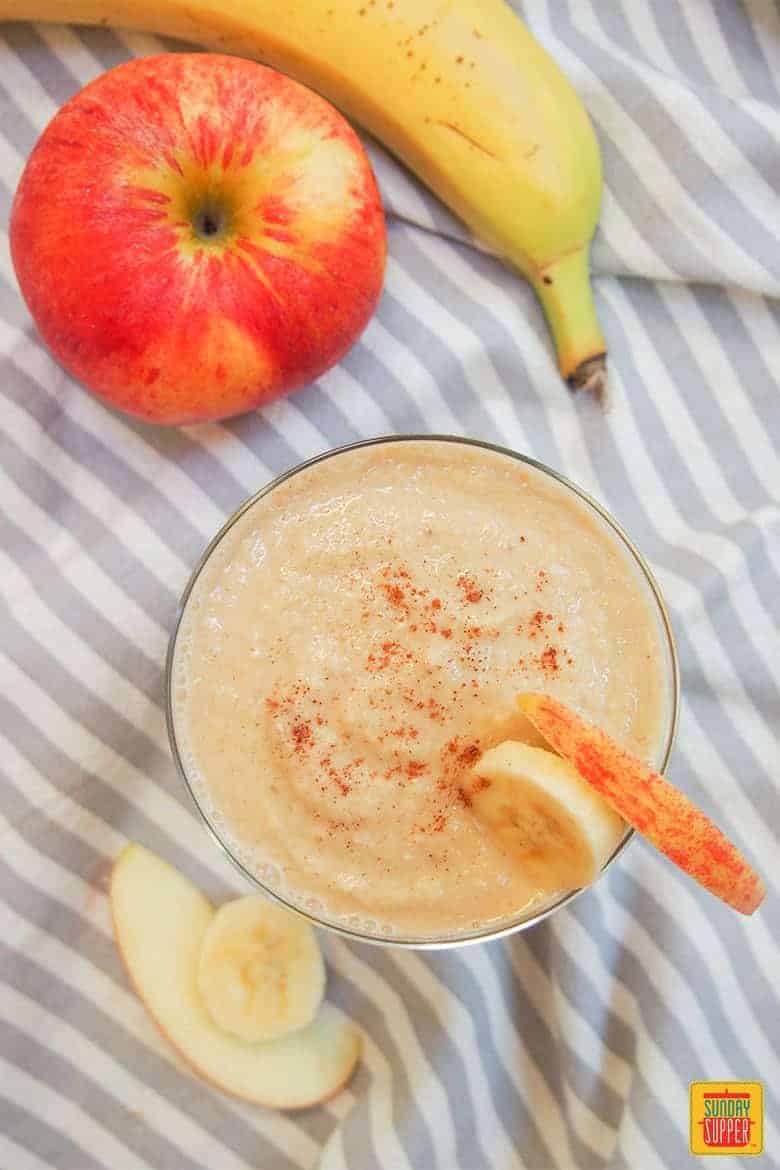 Make it Thinner
To thin out your banana and apple smoothie, add a small amount of apple juice and blend on the highest speed for 10-20 seconds.
How to Sweeten a Smoothie
Sweeten your apple banana smoothie recipe by adding honey, agave, maple syrup, stevia, or a little sugar. Using watermelon in place of water is also a great way to add natural sweetness.
Make it Less Sweet
Add a squeeze of lemon juice and blend on high speed for 10-20 seconds. Using sweet fruits and citrus will give it a good balance of naturally sweet flavors.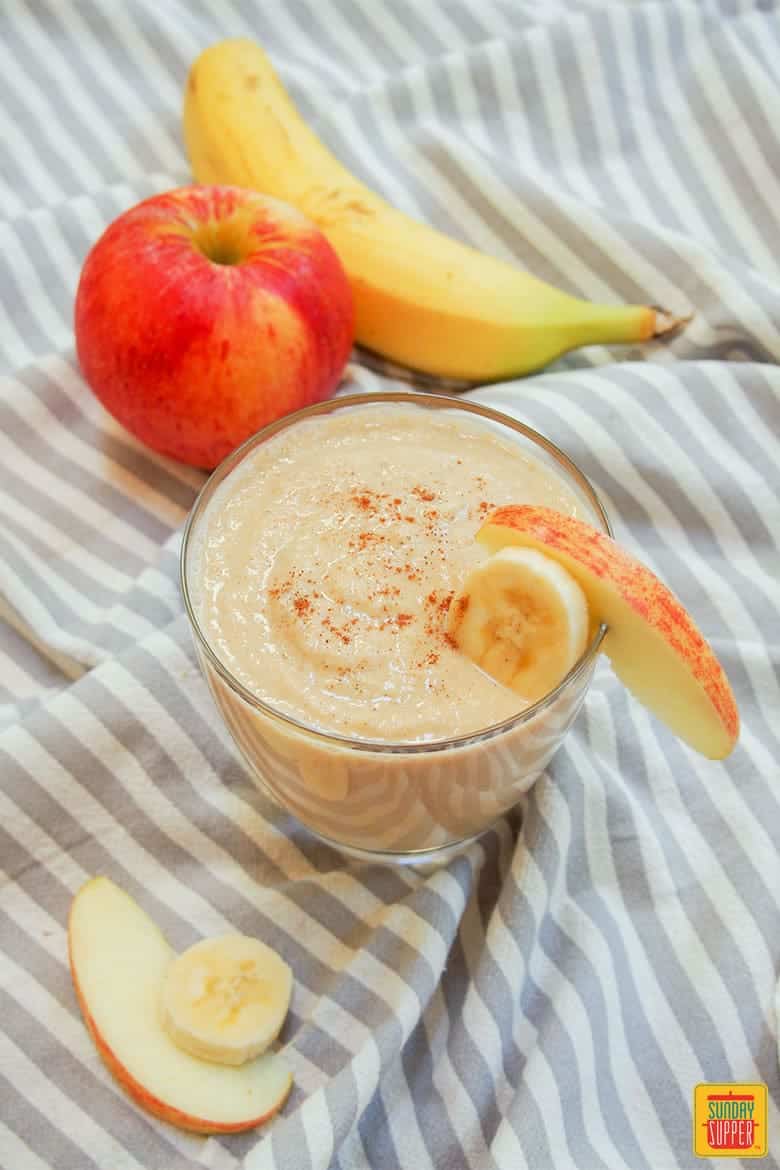 Do you peel an apple for a smoothie?
You can leave the skin on your apples, but we recommend peeling it. Unpeeled apples will give your smoothie a totally different texture than if you peel them, and we find it's more appealing if you take the skin off.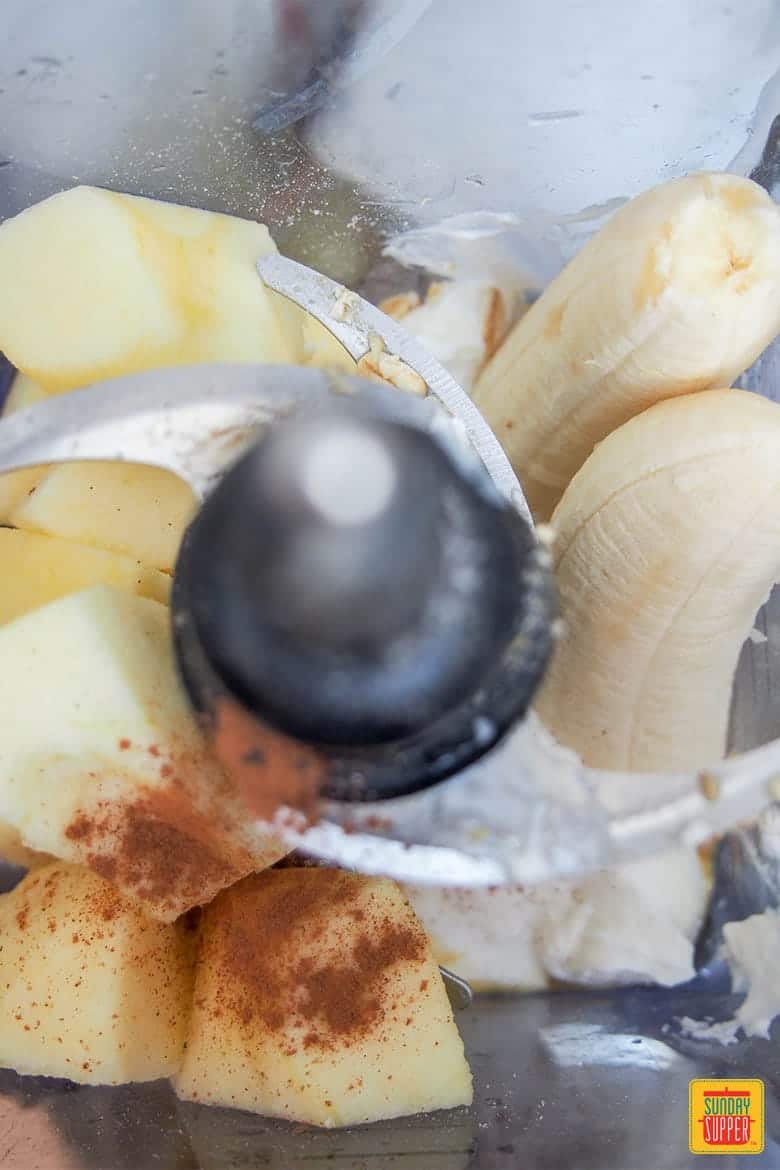 📖 Best Apple Recipes
Try more of our favorite recipes using apples!
Also try my Starbucks Medicine Ball Recipe and Watermelon Pizza!
📋 Recipe
Apple Banana Smoothie
This apple banana smoothie is easy to make, packed with natural sweetness and tastes almost like apple pie without the effort or guilt.
Instructions
Peel the banana and peel and core the apple.

Put the apple juice, yogurt, oats, banana, apple and cinnamon in a blender and blend until smooth. Serve chilled. 
Notes
Tip: Load your blender in the following order: liquids first, fruits or vegetables second and ice on top.
Nutrition
Calories:
311
kcal
Carbohydrates:
70
g
Protein:
5
g
Fat:
3
g
Saturated Fat:
1
g
Cholesterol:
7
mg
Sodium:
34
mg
Potassium:
818
mg
Fiber:
8
g
Sugar:
42
g
Vitamin A:
235
IU
Vitamin C:
18.6
mg
Calcium:
85
mg
Iron:
1
mg
Did you try this recipe?
Tag #SundaySupper on social and leave a comment below!
Photography by Caroline Williams.