Sunday Supper is an Amazon Associate and may receive compensation for purchases made through affiliate links.
Like drinking apple pie without all the guilt! Our easy Apple Banana Smoothie is thick, fruity, and really easy to make in just 5 minutes. With wholesome ingredients like banana, apple, yogurt, oats, and a sprinkling of cinnamon, this apple smoothie recipe is a home run!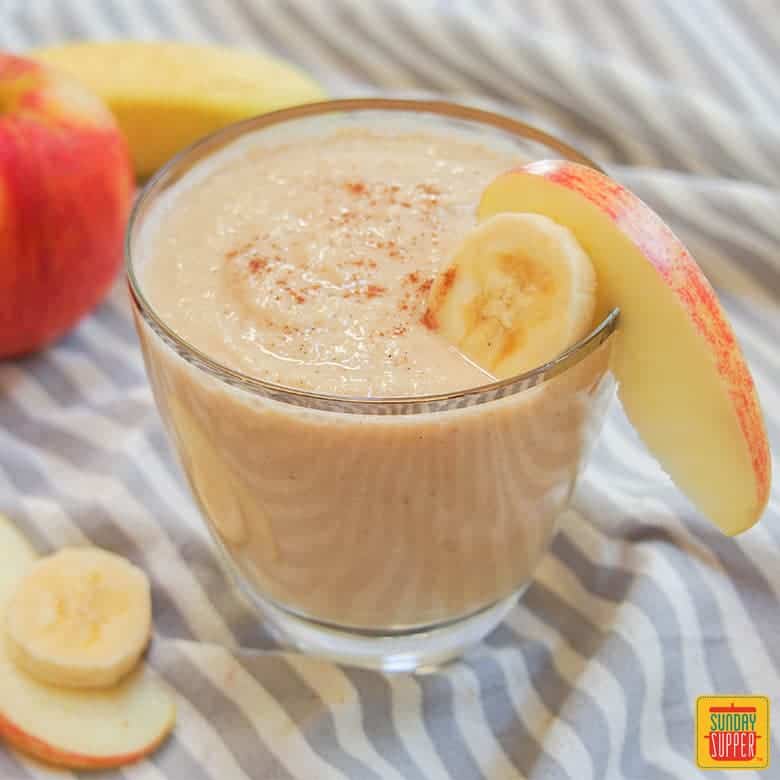 Imagine the taste of an apple cinnamon pie in a smoothie! With just a few wholesome ingredients, you can make this delicious smoothie for breakfast, lunch or even an afternoon snack. It's one of our favorite healthy smoothie recipes!
My kids are big fans of smoothies. They go through phases when they want them all the time, then other times forget them completely. But if they see the blender going, they know there's a pretty good chance it's a smoothie and their heads pop up to have a look!
I've made a number of different smoothies before, and most of them have become quick favorites, like my easy dairy-free green smoothie.
I also love making this healthy blueberry smoothie with rolled oats and might even get the kids involved making a green apple smoothie!
This easy apple pie smoothie makes a delicious, naturally sweet smoothie. A pinch of cinnamon adds that warm taste of fall to this apple banana smoothie recipe. Honestly, you'll want to make another blender full after you try it!
Apple Banana Smoothie Ingredients
1 banana
1 apple of your choice; I use Gala apples
1/4 cup apple juice
1/4 cup plain yogurt (I recommend using Greek)
2 Tbsp. oats
1 pinch cinnamon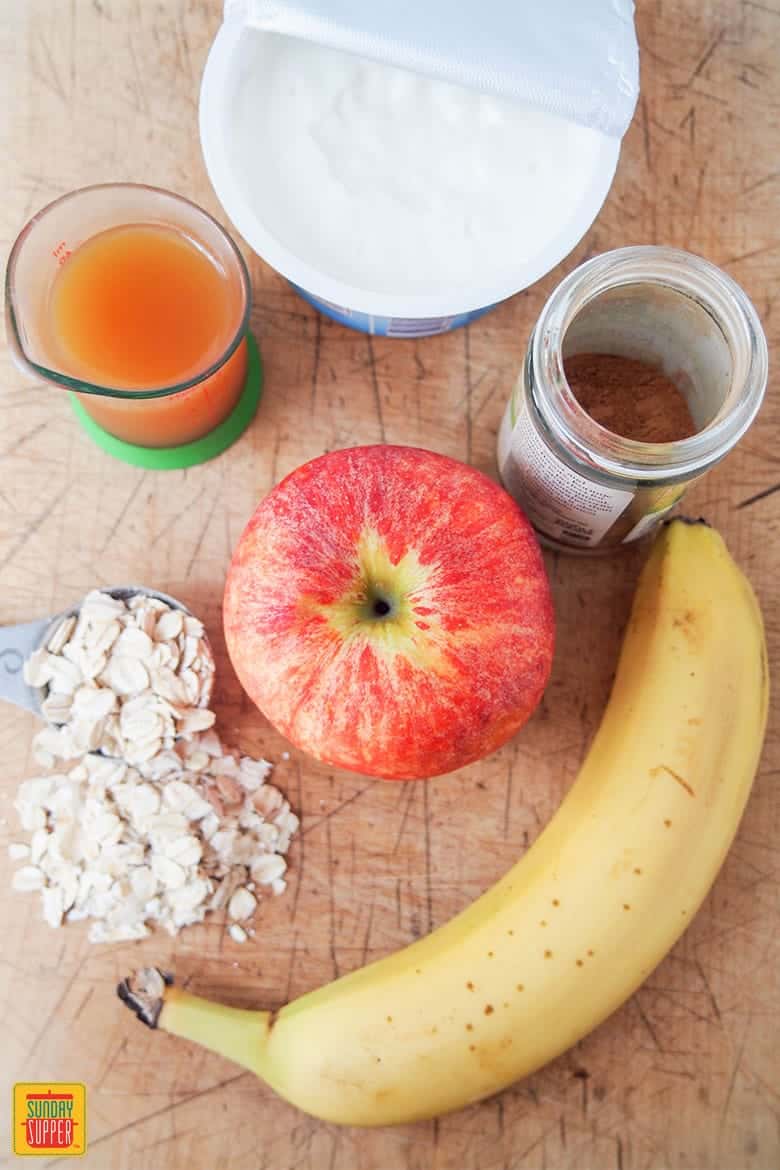 How to Make a Banana Smoothie with Apple and Cinnamon
Peel and core an apple, and peel a banana.
Add the apple, banana, 1/4 cup apple juice, 1/4 cup plain yogurt, 2 Tbsp. oats, and 1 pinch cinnamon in a blender.
Blend until smooth.
That's it! Just three steps and 5 minutes, and you have a delicious sweet smoothie recipe to enjoy. It just doesn't get any easier than that!
Smoothie recipes with Greek yogurt are a great quick and easy way to fuel you up for the day, or to have a satisfying snack without the effort!
Plus, smoothies are great for getting kids who might not be that into fruit to eat some, or at least to enjoy more. If you have picky kids who won't eat fruit, try this apple pie smoothie!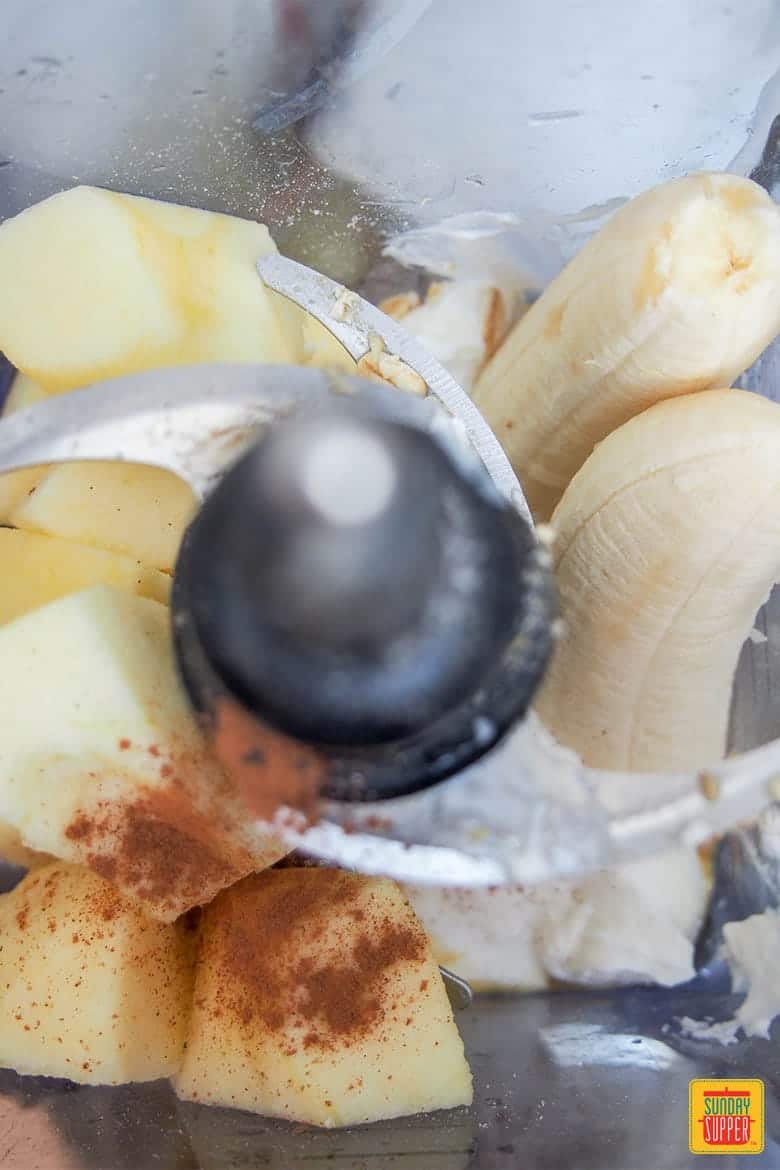 Tips for How to Make the Perfect Smoothie
Always load your blender in the following order: liquids first, fruits or vegetables second, and ice on top.
How to Make a Smoothie Thinner:
Add a small amount of apple juice and blend on the highest speed for 10-20 seconds.
How to Make a Smoothie Thicker:
Add frozen fruit (especially bananas) or add frozen yogurt and blend on the highest speed for 20-30 seconds.
How to Make a Smoothie Less Sweet:
Add a touch of lemon juice and blend on high speed for 10-20 seconds.
Tip: Use sweet and citrus fruits and reduce to give a good balance of naturally sweet.
How to Make a Smoothie Sweeter:
Add honey, agave, maple syrup, Stevia or a little sugar. Also, using watermelon in place of water will sweeten a smoothie.
This banana apple smoothie is an easy and delicious combination your whole family will love!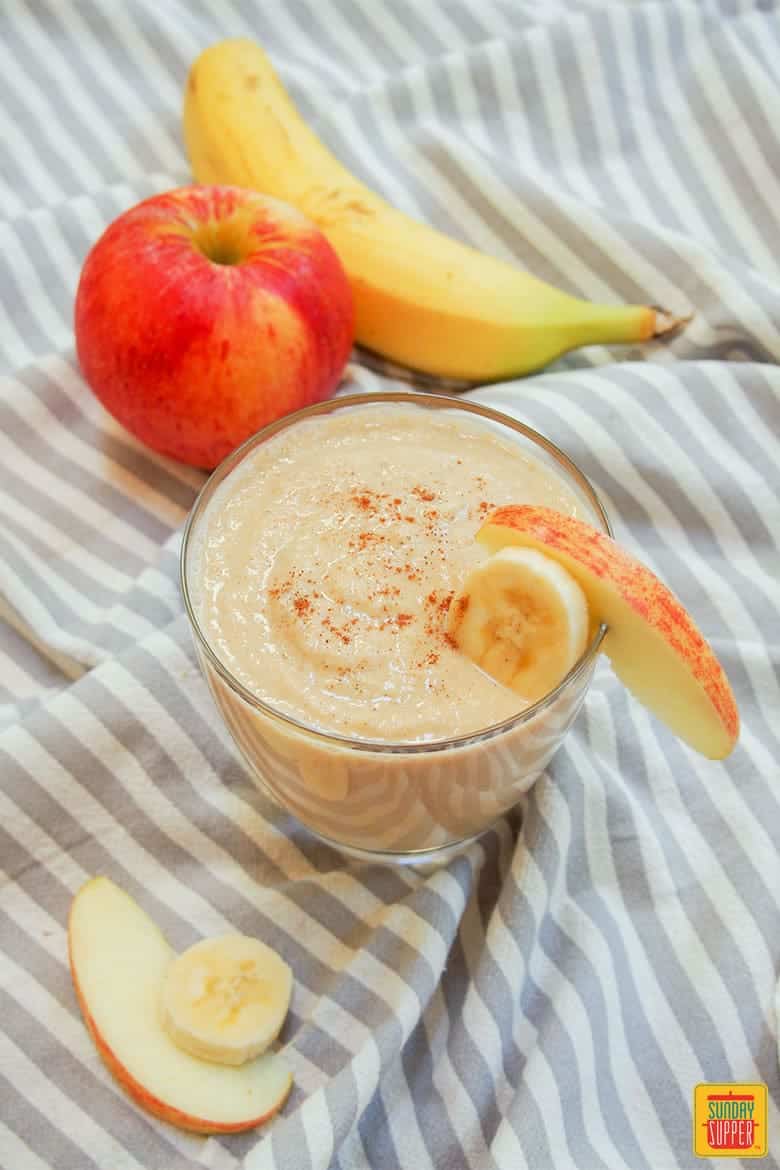 Love sweet apple recipes?
Try these recipes using apples…
And definitely give our deep dish apple pie and French apple galette a try!
📌 Pin it for later!
Did you enjoy this page? Save it on Pinterest for later!


Apple Banana Smoothie
This apple banana smoothie is easy to make, packed with natural sweetness and tastes almost like apple pie without the effort or guilt.
🥘 Ingredients
1

banana

1

apple

of your choice

1/4

cup

apple juice

1/4

cup

plain yogurt

(preferably greek but regular also works)

2

tbsp

oats

1

pinch

cinnamon
🔪 Instructions
Peel the banana and peel and core the apple.

Put the apple juice, yogurt, oats, banana, apple and cinnamon in a blender and blend until smooth. Serve chilled.
Notes
Tip: Load your blender in the following order: liquids first, fruits or vegetables second and ice on top.
Nutrition
Calories:
311
kcal
Carbohydrates:
70
g
Protein:
5
g
Fat:
3
g
Saturated Fat:
1
g
Cholesterol:
7
mg
Sodium:
34
mg
Potassium:
818
mg
Fiber:
8
g
Sugar:
42
g
Vitamin A:
235
IU
Vitamin C:
18.6
mg
Calcium:
85
mg
Iron:
1
mg
Did you try this recipe?
Tag #SundaySupper on social and leave a comment below!