This post may contain paid links. If you make a purchase through links on our site, we may earn a commission.
Moscato Sangria Recipe is a delicious and refreshing fruity wine cocktail! Make a batch in just 10 minutes that's full of fresh fruit and sweet Moscato wine! Everybody is going to want a sip of this party cocktail recipe. Cheers! 🍸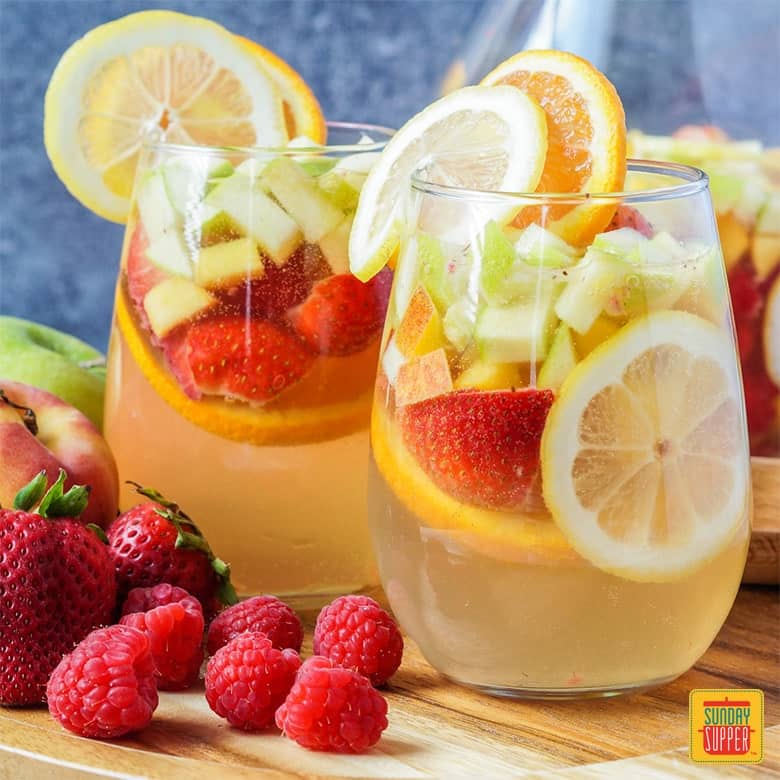 Disclaimer: This simple sangria recipe contains alcohol. It is intended only for those over the age of 21 (in the United States). Please drink responsibly.
Jump to:
What is Sangria?
Traditionally, Sangria is a Spanish cocktail that includes a combination of red wine, fruit, and spices. Our Moscato Sangria is the perfect drink for summer!
In it, we pair light and sweet Moscato wine with brandy and fresh strawberries, raspberries, apples, peaches, oranges, and lemons.
Our white sangria recipe comes together in less than 10 minutes, and can easily be doubled. It's the perfect easy sangria recipe for a crowd.
What is Moscato?
Moscato (pronounced mo-ska-toh) is a sweet wine known for its fruity notes. Made from the Muscat grape, this pink wine is well known as a dessert wine with a hint of fizz.
The low alcohol content makes Moscato a great dessert drink for casual sipping. It makes the perfect addition to a brunch-time cocktail or a refreshing summer cocktail like this one!
Summer in a glass!

Your Moscato Sangria is everything I need for a refreshing and delightful summer. I love how easy it is to make, making it a go-to for all my potluck gatherings, parties, and lazy afternoons. The combination of Moscato and fruit flavors sounds like a match made in cocktail heaven. Can't wait to welcome summer with this pretty and perfectly refreshing sip!

Thanks for sharing this wonderful recipe!

@wellnessSleuth
Moscato Sangria Ingredients
Moscato Wine
Brandy
Vanilla extract
Sliced strawberries
Raspberries
Apple slices
Orange slices
Lemon slices
Optional: seltzer water
Our fruity sangria recipe is a must for your easy potluck ideas, parties, brunch, or even just a relaxing afternoon.
Light and refreshing Moscato sangria punch is packed with fresh strawberries, raspberries, apples, peaches, oranges, and lemons. Throw in a splash of brandy and vanilla for even more flavor!
This is the best sangria recipe. We couldn't wait to share it with you! Moscato cocktails are so fun and are the perfect way to kick off summertime. We guarantee you will love every sip of this simple mixed drink.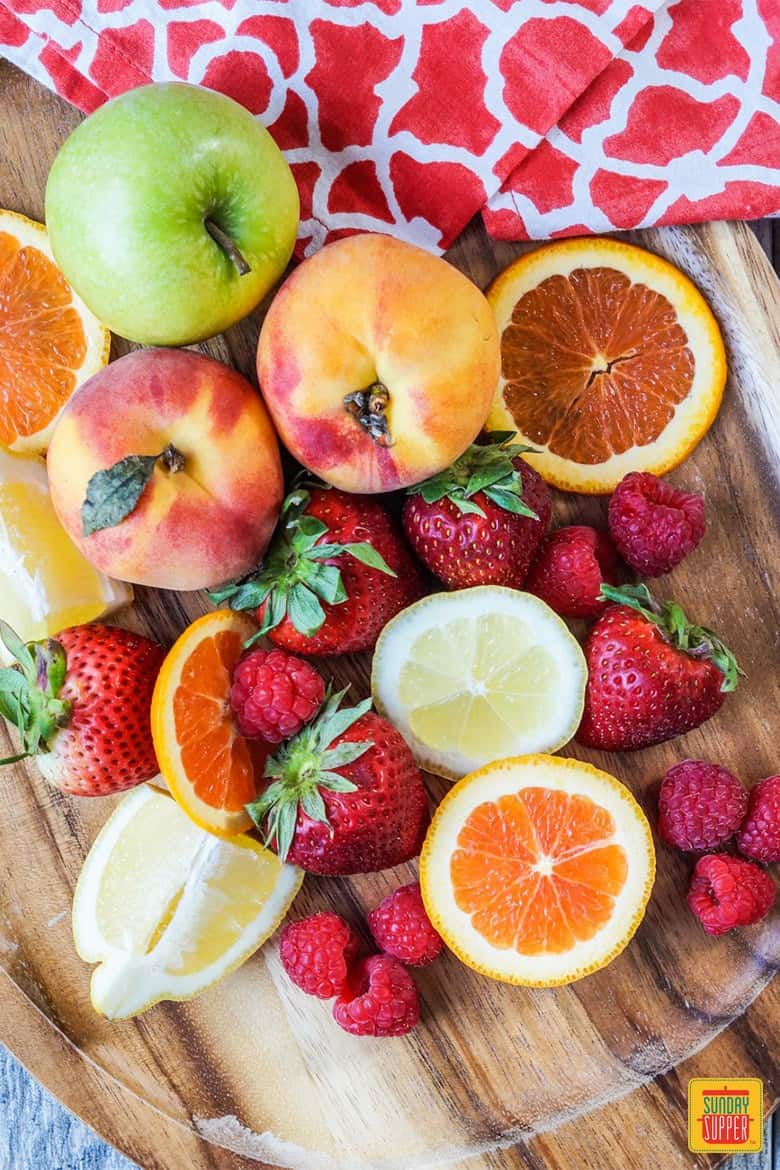 Best Wine for Sangria
That depends if you are making a white sangria recipe or a red sangria recipe. A summer sangria calls for a light white wine, while a winter sangria (holiday sangria, anyone?) pairs well with a full-bodied red wine.
You can make a pink or red moscato sangria, or make a white wine sangria with white moscato wine. Either way, we guarantee you will love this sangria recipe with moscato.
Best Red Wine for Sangria
Merlot is a great fruity wine with a soft body. It has undertones of slight vanilla, dried fig, and pear.
Cabernet Sauvignon is a bigger wine with aromas of cassis (black currant) and blackberry. The palate is filled with loads of cocoa notes and roasted coffee. This is a great wine when you want a sangria with brandy and a touch of cinnamon.
Pinot Noir is a lighter red wine choice that brings out the fruitiness of your Sangria.
Best White Wine for Sangria
Of course, you can always experiment with pink wines like Pink Moscato or Rosé. This is a pink moscato wine sangria, which makes for a fun refreshing sangria cocktail for warmer months like summer. Perfect for a backyard BBQ!
The fruit amps up the sweetness in the wine and also makes for a beautiful presentation.
Moscato is an Italian wine that is a sweet dessert wine with a fruity flavor. This natural flavor is what makes moscato cocktails so delicious!
Riesling from Germany is perfect for light and exciting lemon flavors.
Vinho Verde from Portugal is a fun, light sparkling wine that packs a little punch into any sangria recipe with fruit.
Pinot Grigio is fun for more pronounced tropical fruit aromas of peaches or apricots.
Sauvignon Blanc for a tropical touch while letting the fruits stand out.
How to Make Sangria
In a pitcher or large bowl, combine Moscato, brandy, and vanilla extract.
Add strawberries, raspberries, apple, peach, orange, and lemon. Cover and chill for at least 2 hours.
Serve chilled with ice and seltzer water, if desired.
For full instructions including ingredient measurements, plus more tips for making the best sangria cocktail ever, scroll down to the recipe card below!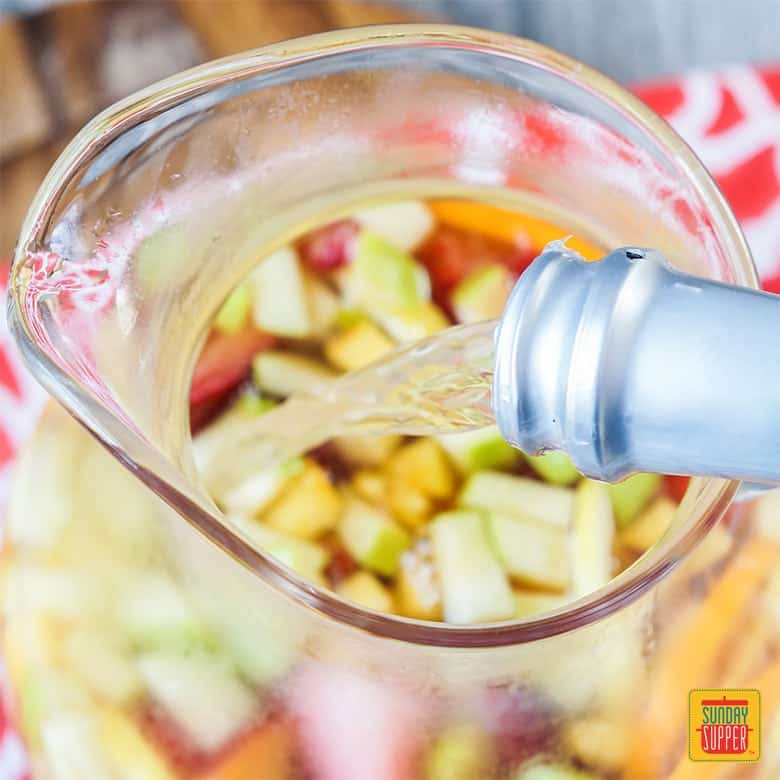 Serving Size
A full pitcher of this sangria cocktail recipe should fill approximately 6 to 8 glasses. It's so delicious, you may want to make a double batch!
Family Foodie Tips
One of the best things about this Moscato Sangria is that you can adapt it based on what fruits you have available. Don't have fresh summer fruits? Frozen fruits also work well, or switch out for your favorite seasonal fruits.
You can substitute brandy with orange liqueur or fruit-flavored vodka.
I often add a simple syrup to sweeten sangria, but this Moscato was sweet enough on its own. Sweeten, if desired, to taste.
To add some bubbles, combine with seltzer water immediately before serving.
Want to add a festive touch? Use a star or other small cookie/vegetable cutters to make shapes out of the apple slices.
Questions about Making Sangria
What does Moscato sangria taste like?
Our Moscato sangria recipe is fruity and sweet. Moscato is a sweet and floral wine, and the mix of fresh fruits and sangria in the drink really bring out its natural sweetness.
What's the closest wine to Moscato?
Pinot Grigio is the closest in flavor to Moscato.
If you want to try something different for this fruity sangria recipe, try Pinot Grigio, Riesling, or even Prosecco, for a sparkling wine cocktail.
Is Sangria better the longer it sits?
Yes! Allow the sangria to chill in the refrigerator for at least a couple of hours before serving to allow the flavors to blend.
It is especially delicious after resting overnight. With the addition of the citrus, however, I wouldn't let it go longer than a couple of days.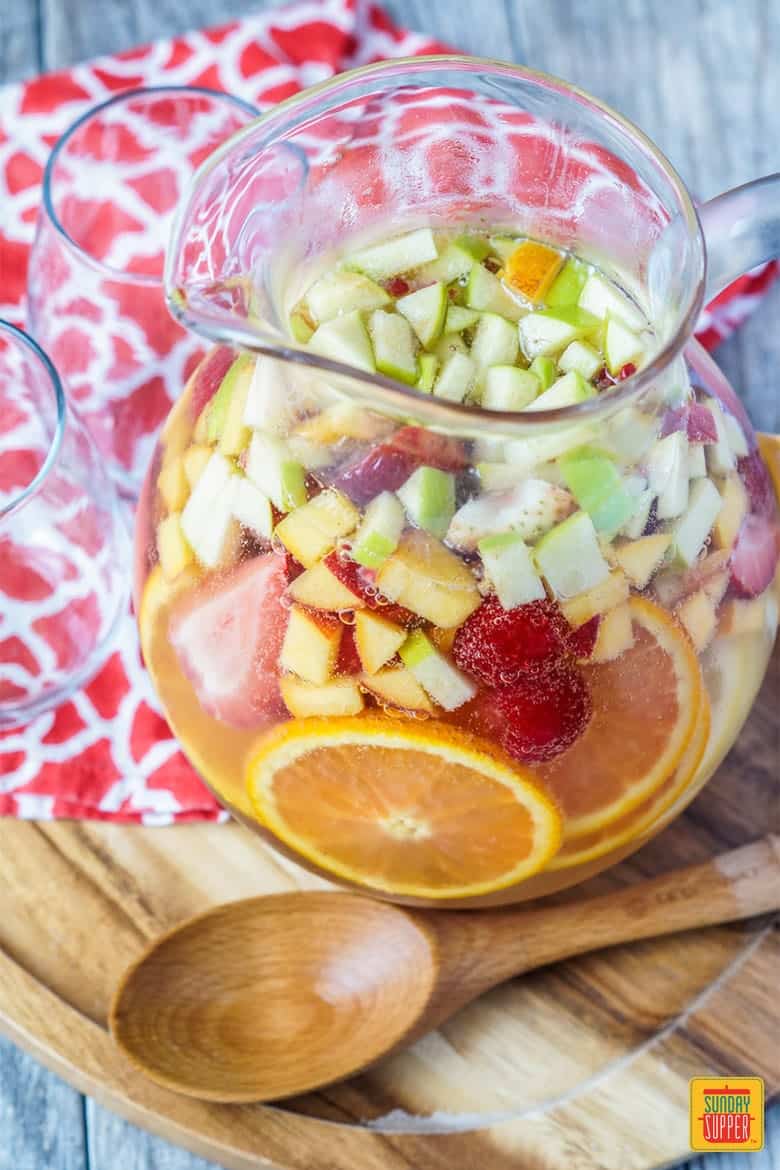 Sangria Recipes with Fruit
In addition to this recipe for Moscato sangria, here are our favorite summer sangria recipes…
We also think a Caramel Apple Sangria must make it on our list. Caramel Apple isn't just for fall! Who's with us? Give it a try and let us know what you think!
Who could survive the heat without our go-to best summer drinks? You need to add these deliciously refreshing cocktail recipes to your summer list. You'll be happy you did!
And for a kid-friendly refreshment, how about Strawberry Dole Whip or Watermelon Lemonade? 🍉
Next on our list of must-try wine cocktails is a refreshing watermelon sangria… maybe even a watermelon moscato sangria!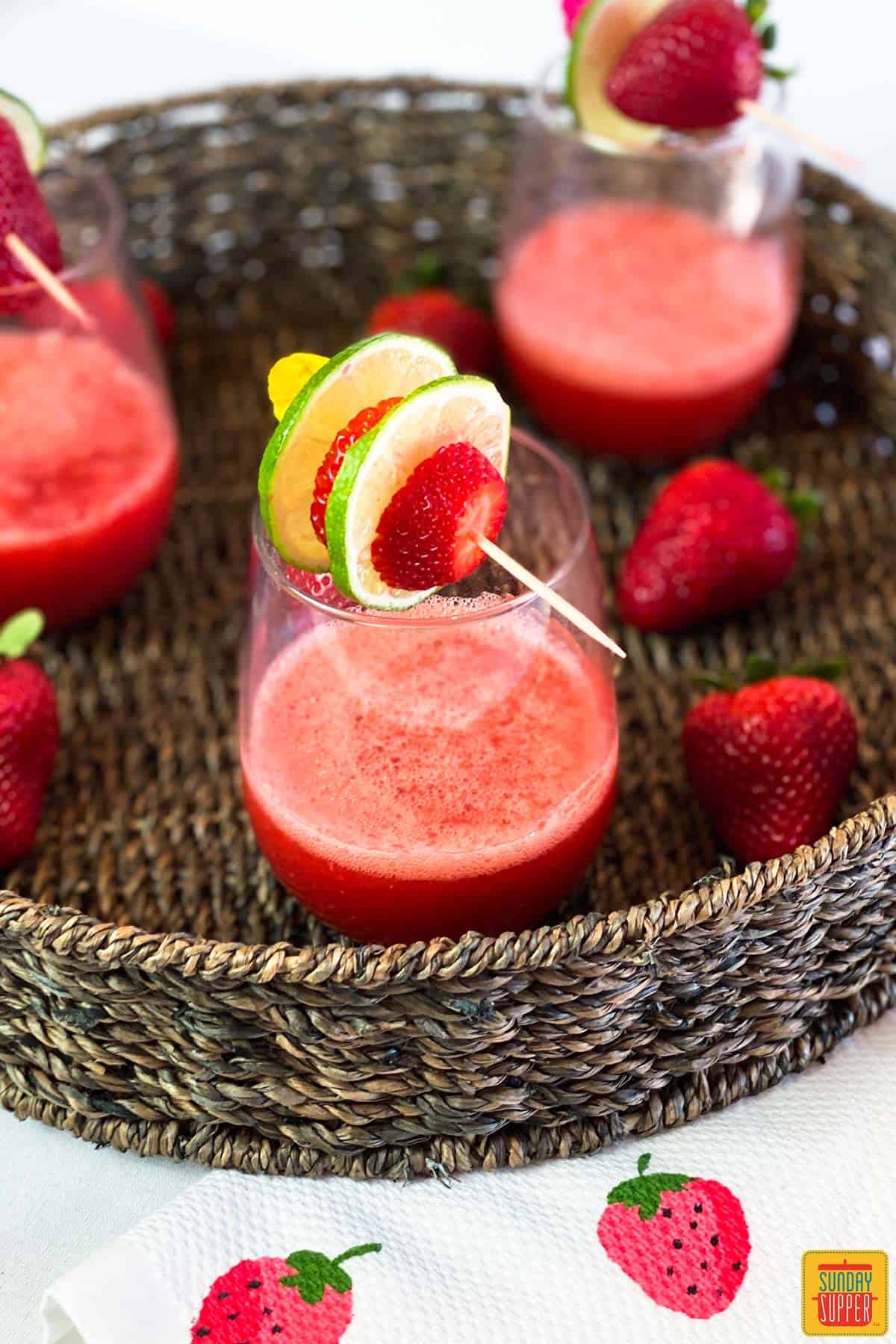 Summer Potluck Ideas
Planning your potluck ideas? Try these fun party recipes:
Did you try this easy sangria recipe? Let us know in the comments below and with a rating! We love to hear from you. This is one of our favorite summer cocktail recipes and certainly one of the best sangria cocktails ever.
📋 Recipe
Moscato Sangria
Our easy Moscato Sangria Recipe is ready in just 10 minutes! This refreshing and delicious drink is floral and fruity. It's a perfect summer cocktail recipe!
Ingredients
1

bottle (750 ml)

Moscato Wine

¼

cup (60 ml)

Brandy

1

teaspoon

vanilla extract

1

cup

strawberries

quartered or sliced

½

cup

raspberries

1

apple

diced or sliced

1

peach

diced or sliced

1

orange

sliced

1

lemon

sliced

Seltzer water

optional
Instructions
In a pitcher or large bowl, combine the Moscato, brandy, and vanilla extract.

Add the strawberries, raspberries, apple, peach, orange, and lemon. Cover and chill for at least 2 hours.

Serve chilled, if desired with ice and seltzer water.
Notes
You can substitute the brandy with some orange liqueur or fruit flavored vodka.
If you want sweet sangria, you can add a simple syrup. 
Allow the sangria to chill in the refrigerator for at least a couple of hours before serving to allow the flavors to blend. It is especially delicious after resting overnight.
You can make this sangria recipe two days ahead of time and store in the refrigerator. 
To add some bubbles, combine with seltzer water immediately before serving.
Nutrition
Calories:
298
kcal
Carbohydrates:
32
g
Protein:
1
g
Sodium:
15
mg
Potassium:
294
mg
Fiber:
4
g
Sugar:
24
g
Vitamin A:
220
IU
Vitamin C:
61.4
mg
Calcium:
32
mg
Iron:
0.6
mg
Did you try this recipe?
Tag #SundaySupper on social and leave a comment below!
Photography by Tara Margetson.