Sunday Supper is an Amazon Associate and may receive compensation for purchases made through affiliate links.
Gourmet burger lovers, this Mushroom Swiss Burger recipe is guaranteed to make you drool! Topped with fresh sauteed mushrooms and onions, plus melted Swiss cheese, all served on buttery brioche buns. This is the burger dreams are made of!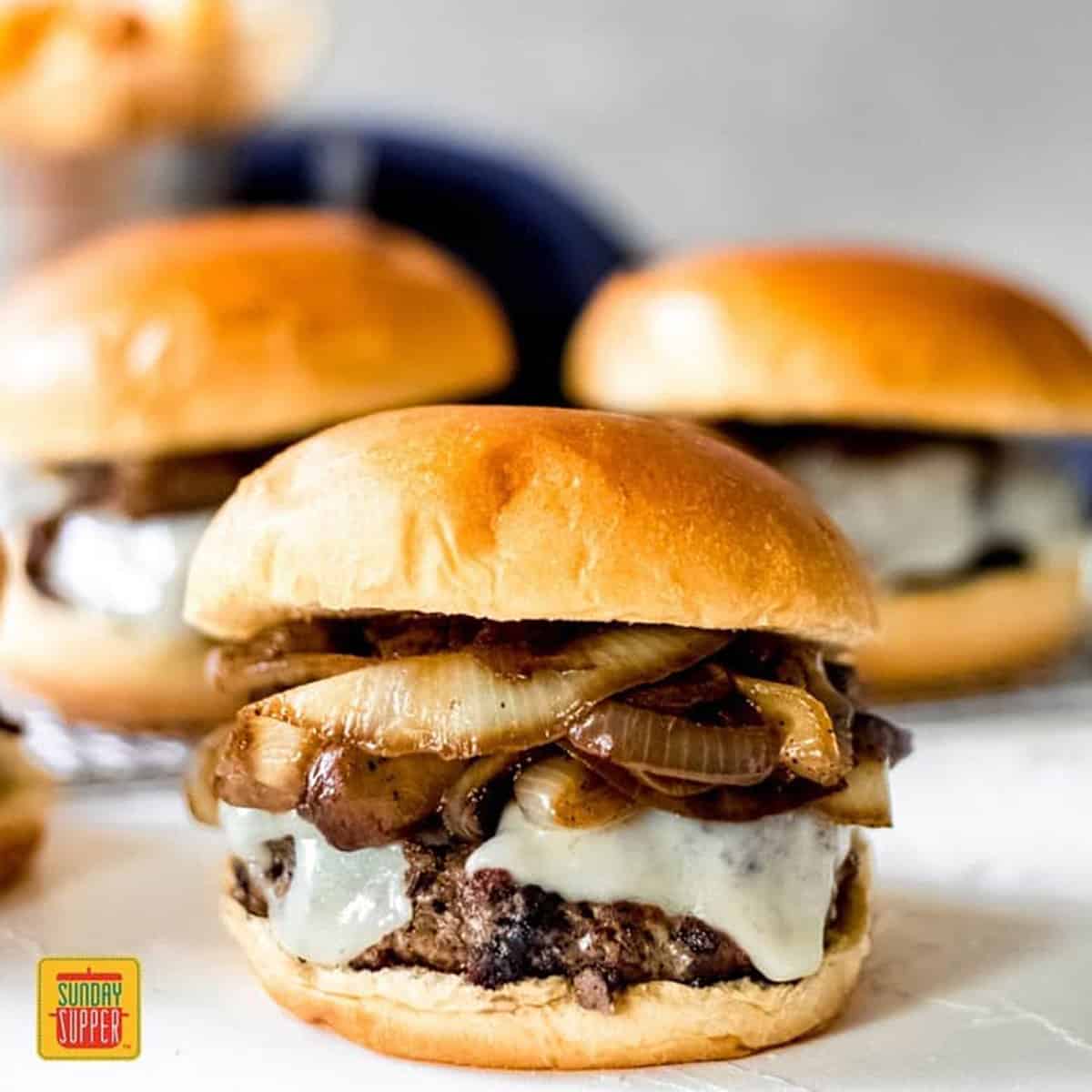 Jump to:
Burger Seasoning
To season our Swiss cheeseburger recipe, we use steak seasoning. It's the perfect complement to the juicy mushrooms and onions and melted Swiss cheese.
You can use your favorite kind of steak seasoning. Chicago seasoning is a great choice! You can also make your own using the Santa Maria Rub from our Sirloin Cap Recipe or our Best Steak Seasoning. They're perfect for grilling recipes!
Mushroom Burger Sauce
We use sautéed mushrooms and onions as our mushroom swiss burger sauce recipe, and let me tell you, that flavor combination? It is out of this world!
The freshness of the onions and mushrooms, combined with the melted Swiss cheese, takes this homemade mushroom swiss burger over the top!
The onions and mushrooms cook up in only 10 minutes, so they're ready for your burger in no time.
I also love using thinly sliced portobello mushrooms in this recipe. They add so much to the depth of flavor.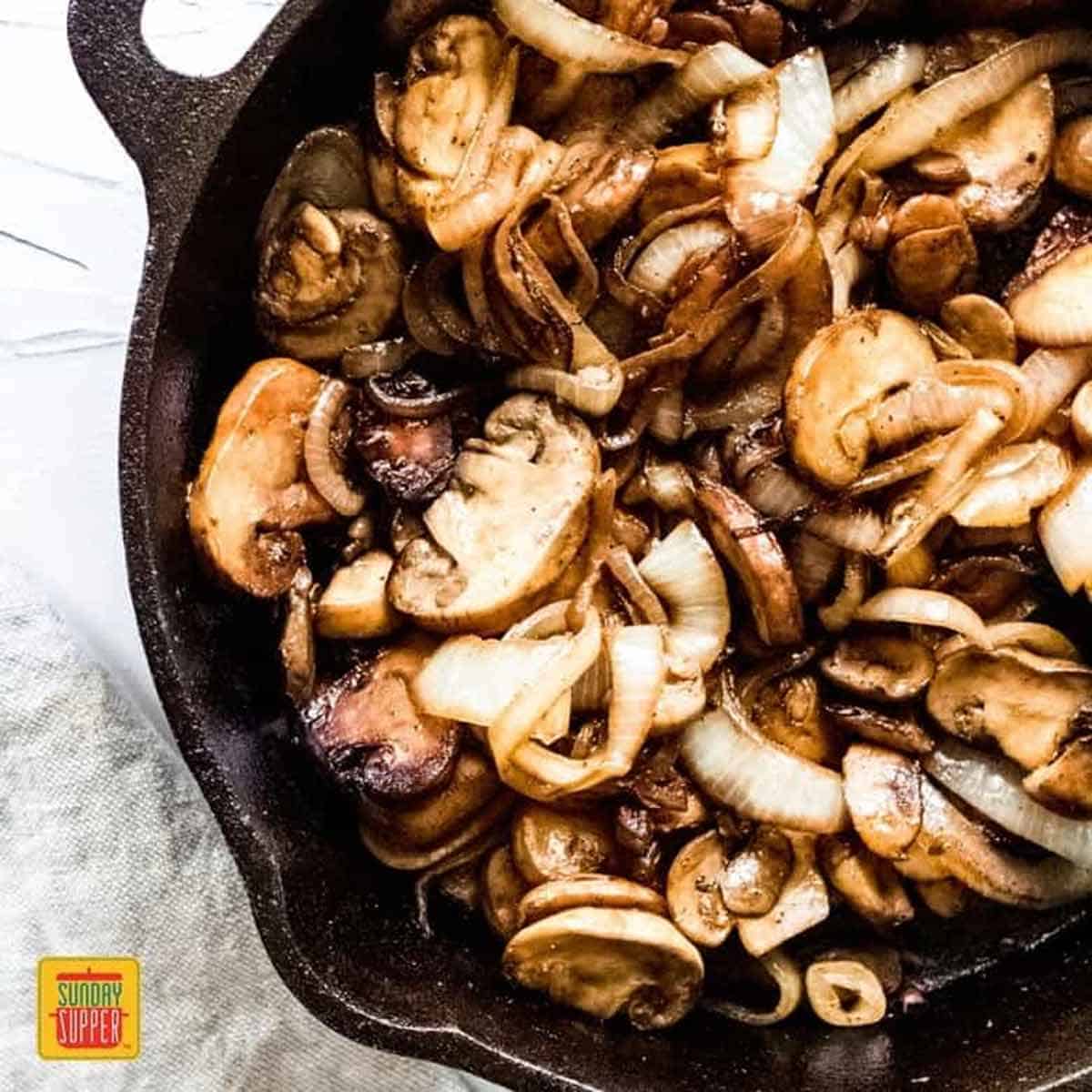 Recipe Tips
Make sure not to overcook your burgers. About 6-8 minutes per side will give you a beautiful burger every time.
One slice of Swiss cheese is enough, but if you want an extra cheesy burger, you should use at least 2, if not 3, slices of Swiss.
We used 80/20 ground beef, but if you want a leaner burger, you can use 90/10 ground beef.
You can make a burger in the air fryer for a fresh new way to make your burgers! Try our air fryer burger recipe.
Burger Toppings
Arugula is a great choice for topping this burger. The extra bite from those tasty greens pairs so well with the sweet mushrooms and onions.
Tomato
Chiles – add a fun kick!
Bacon
Pickles
Fried Egg
Mac and Cheese
French Fries – 0h yeah!
Kimchi
Best Cheese for Burgers
American
Provolone
Cheddar
Blue cheese
or Gruyere, our favorite substitute!
Is this recipe keto-friendly?
Yes! To make these cheesy Swiss burgers keto-friendly, simply skip the bun. The rest of the recipe is a perfect fit for a keto meal plan.
Can I make these burgers on the stove?
Yes! You can easily cook these burgers on the stove in a cast iron skillet instead of on the grill.
Lightly grease your pan with olive oil and sear for about 6 minutes on the first side, and about 8 on the opposite side over medium-high heat.
When the burgers are just about cooked, add your mushrooms and onions and Swiss cheese and lower the heat to medium-low. Cover the pan with a lid and allow the cheese to melt.
Equipment
Side Dishes
Don't forget the BBQ side dishes! Grill recipes like our mushroom and swiss burger are perfect for Memorial Day, Father's Day, 4th of July, or any backyard BBQ.
Easy Burger Recipes
Give some of our best gourmet burgers a try!
Swiss mushroom burgers are one of our favorite ground beef recipes! Let us know in the comments below what you think. We love to hear from you!
Reviews
See what our readers are saying about these delicious mushroom and swiss burgers on Pinterest!
Really good burger. I did slice of swiss, then mushrooms & onions then another slice of swiss. Bed of spinach on bottom and…. GOOD EATING.

Lovetta
📋 Recipe
Mushroom Swiss Burger
Topped with fresh sautéed mushrooms and onions, this EASY Mushroom Swiss Burger is perfect for summer grilling season. Get ready to up your grill game!
Instructions
Preheat grill over medium heat. Form hamburger into four even patties. Then season each patty with about ½ tablespoon of the steak seasoning.

Cook a batch of sautéed mushroom and onions and then set aside.


Add patties to grill. Grill for about 8 minutes on one side, then flip and grill for about 6-8 minutes on the other side or until cooked through. Top with a slice of Swiss cheese and let the heat from the grill melt the cheese.

Finally, remove patties from grill. Place each patty onto a brioche bun, top with sautéed mushrooms and onions, and then serve immediately. Enjoy!
Notes
Do not overcook burgers: Make sure not to overcook your burgers, so just about 6-8 minutes per side.
Cheesy Mushroom Swiss Cheeseburgers: One slice of Swiss cheese is enoughbut if you want a cheesy burger, you should probably use at least 2, if not 3 slices.
Burger Toppings: Top your burger bun with your favorite toppings. Arugula, lettuce, and tomatoes are always favorites.
Lean Burgers: We used 80/20 ground beef but if you want a leaner burger, you can use 90/10 ground beef.
Burger Bun: If brioche buns are unavailable, any bun will work. 
Pan Fried Burgers: You can pan fry the burger patties if preferred. 
Nutrition
Calories:
1888
kcal
Carbohydrates:
92
g
Protein:
95
g
Fat:
126
g
Saturated Fat:
59
g
Cholesterol:
587
mg
Sodium:
1232
mg
Potassium:
1235
mg
Fiber:
2
g
Sugar:
3
g
Vitamin A:
2385
IU
Vitamin C:
4.2
mg
Calcium:
757
mg
Iron:
14
mg
Did you try this recipe?
Tag #SundaySupper on social and leave a comment below!
Photography by Jennifer Shreckengost