This post may contain paid links. If you make a purchase through links on our site, we may earn a commission.
Our Beef Chuck Roast Recipe is the perfect Sunday Supper dish. It's easy to prep, cooks all in one pot with carrots and potatoes, and braises low and slow in the oven until it's fall-apart tender. Set up this delicious Sunday Roast in minutes at the start of the day, and enjoy a beautiful pot roast for dinner!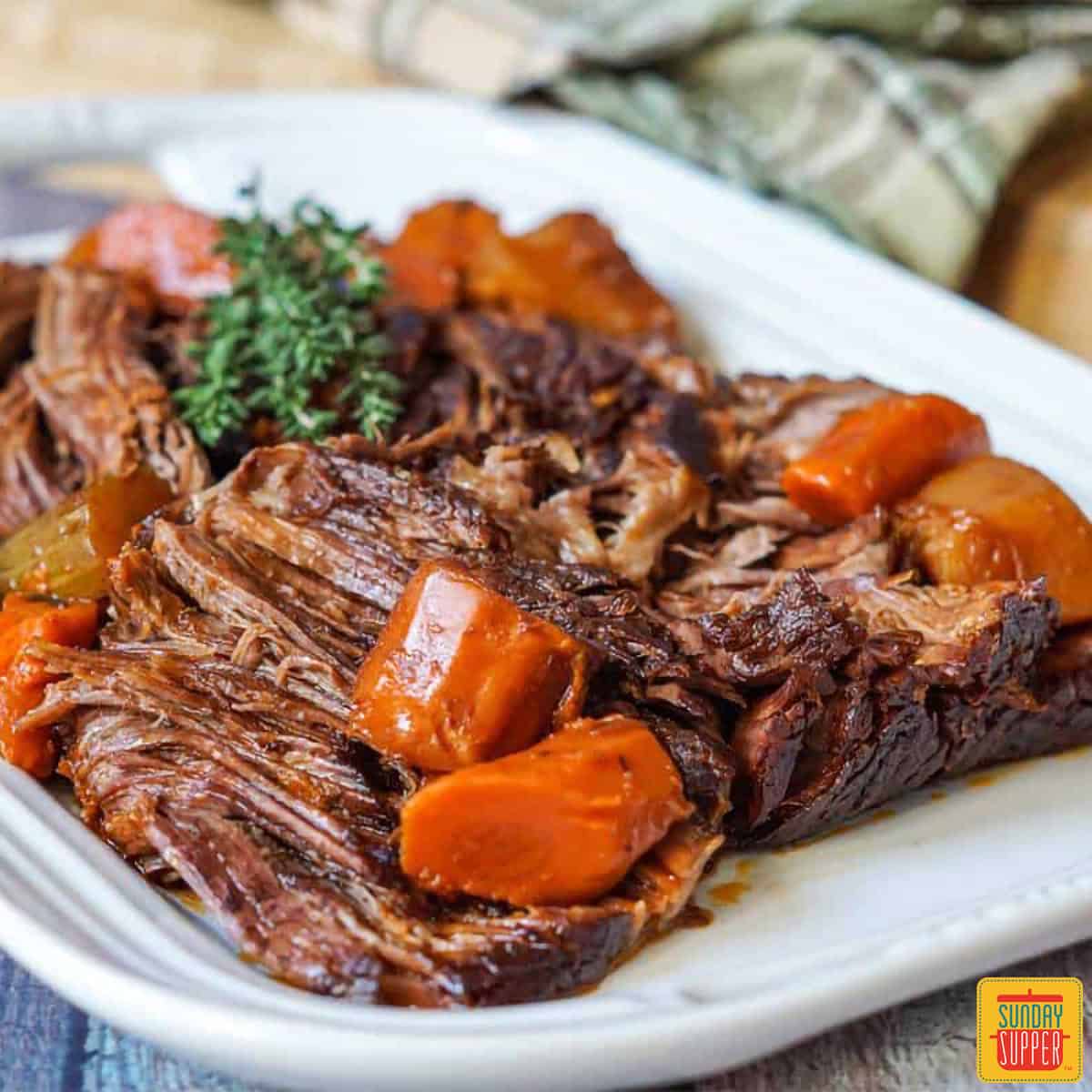 Jump to:
Best Pot Roast Recipe
There is nothing like smelling this delicious beef chuck recipe cooking all day long, then sitting down to enjoy it with the family.
Let me tell you, this is the best Sunday pot roast recipe I have ever made. It is so flavorful, moist, and fall-apart tender. Every bite literally melts in your mouth!
This dish is perfect for enjoying with your family or even for feeding a crowd. It's a beautiful dinner during the week, as Sunday dinner ideas, and on busy days and special occasions.
I love this recipe and guarantee you will, too. It's one of our most popular dishes for a reason! My other favorite comfort food dish is my slow cooker short ribs recipe. It melts in your mouth and is so delicious!
We made this recipe and it was awesome! I am not usually a fan of roasts but it was fall apart tender and so moist. Will make again!

Jessica on Pinterest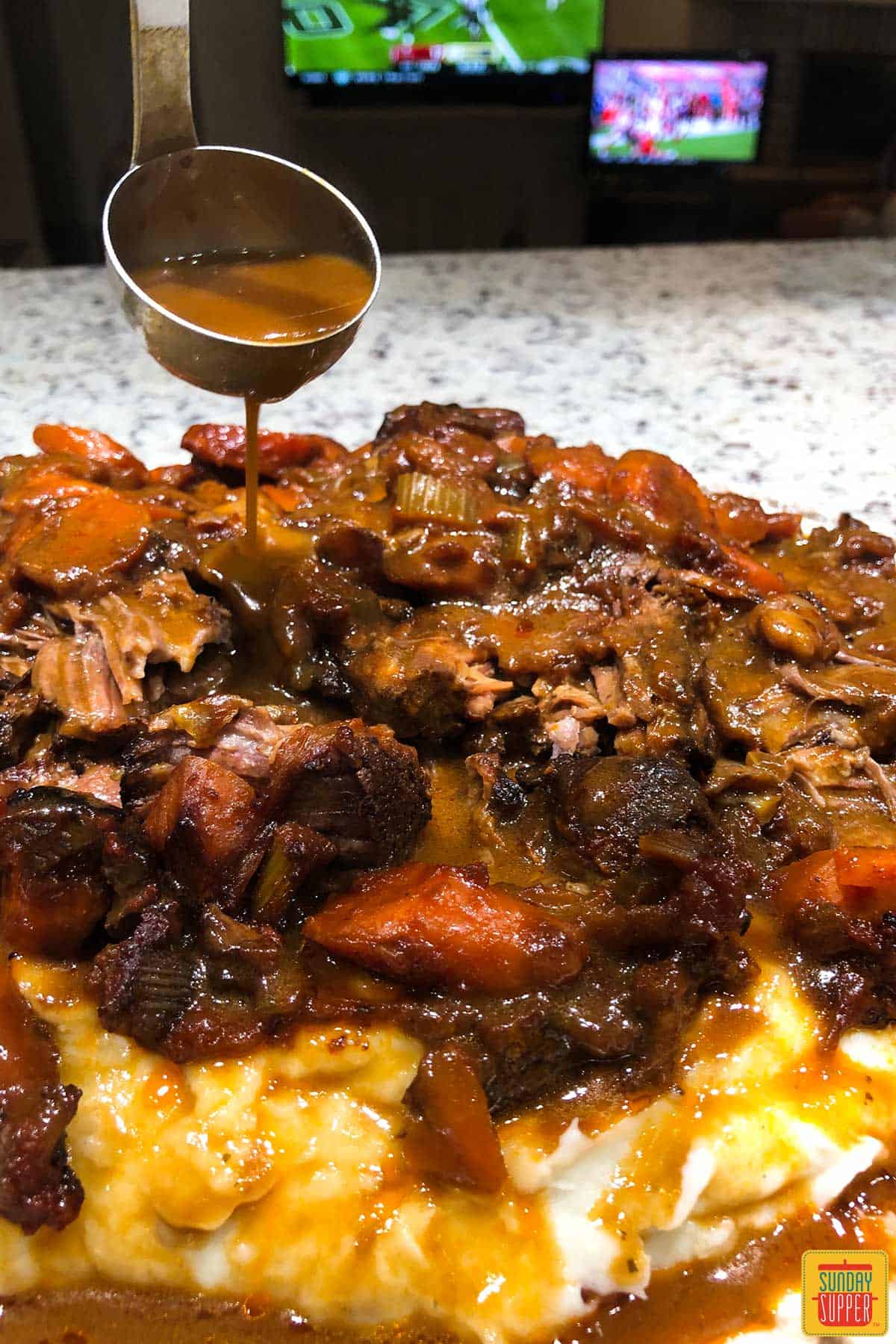 Beef Shoulder Roast Tools
Chuck roast is one of the most inexpensive cuts of beef, but braise it low and slow and it literally melts in your mouth and is so tender.
This is what makes Angus chuck roast the best meat for pot roast. They're budget-friendly and perfectly sized for feeding larger families with leftovers to spare.
Chuck Roast Recipe FAQs

What is chuck roast?
It's a cut from the beef shoulder, neck, and upper arm area of the cow. Other names for chuck roast include chuck eye, chuck roll, and even just pot roast.
What is the difference between chuck roast vs. shoulder roast?
They both come from the same area, but the beef shoulder cut is leaner than chuck. It's better for carving into slices. Only chuck beef will give you the "pulled" texture of this dish.
What is the best cut of beef for slow cooking?
Chuck Roast– so, so tender, shreds apart and melts in your mouth.
Bottom round or top round beef – leaner cut and good to use if you want to slice your beef.
Beef Brisket – a fattier choice that gets very tender, but can still be sliced for serving. Try our Easy Brisket Recipe (slow cooker or Instant Pot).
Cooking Time for Beef Roast
All oven times vary. Because of this, I recommend using a meat thermometer to check the temperature of your roast periodically through the cooking process. Your roast may cook more quickly than mine! Check the temp and tenderness at the 3 hour mark. You may find it's cooked through and shredding easily early.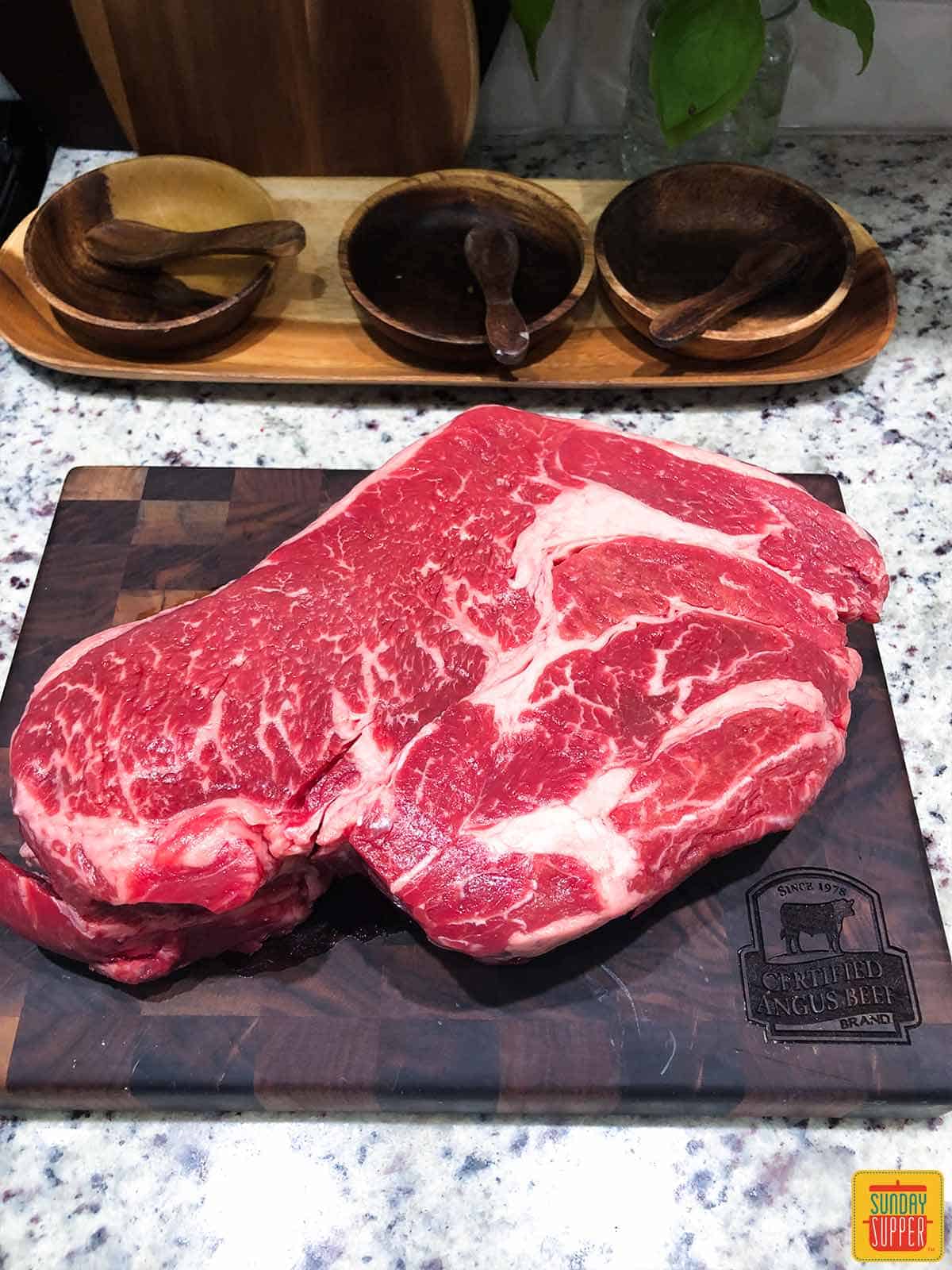 Pot Roast Seasoning
Pot roast seasoning is best kept simple. All you need is salt and pepper! Pat the beef dry and give it a generous seasoning on all sides.
You can add rosemary or thyme, but I'm a big believer that keeping it simple is best.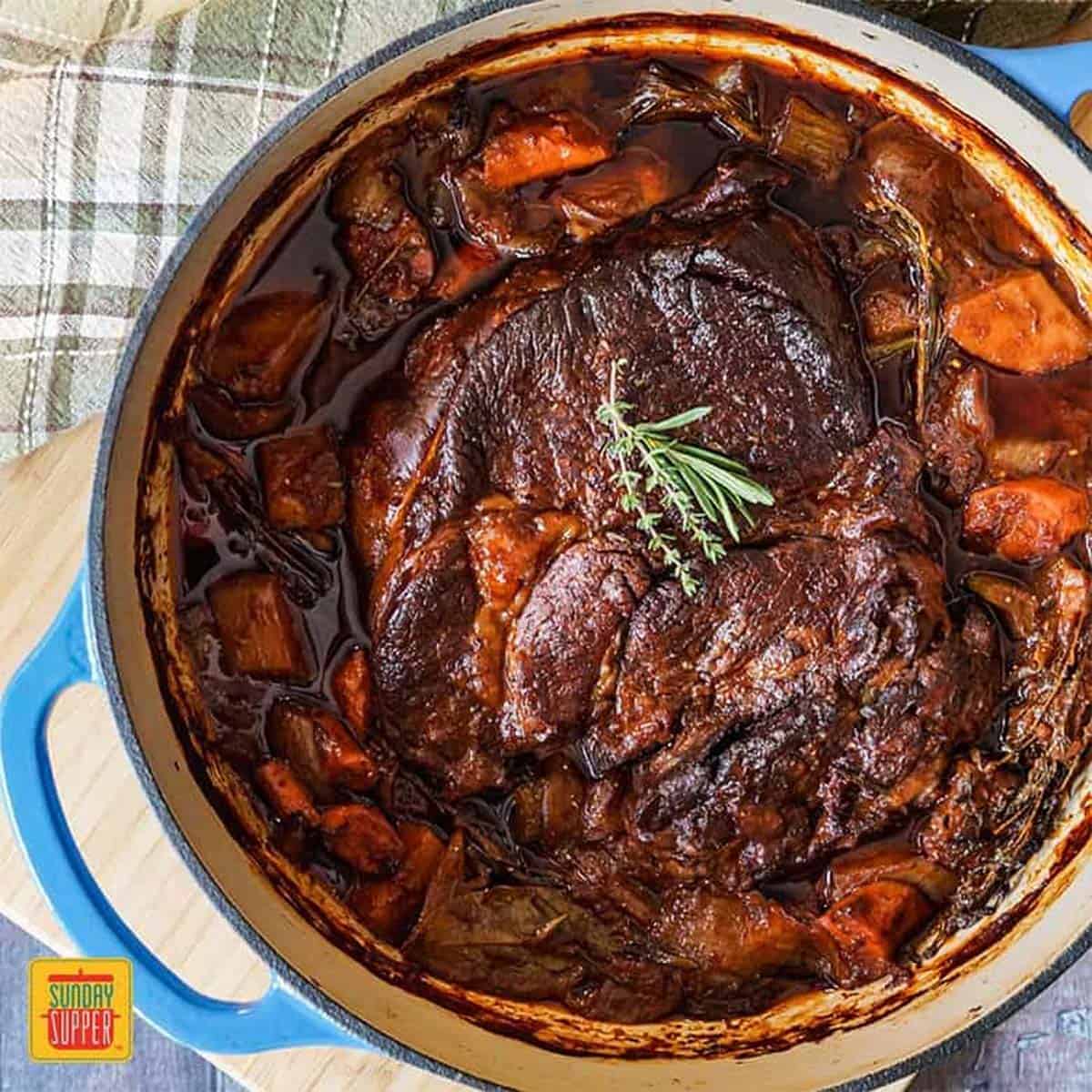 How to Cook a Chuck Roast
Leave the beef to reach room temperature before cooking. I always recommend you allow your beef to come to room temperature before cooking it so it can cook evenly and beautifully. It will take about 2 hours to come to room temperature.
Even if you think it's too much, generously season the beef! Trust us, for that beautiful browned exterior, you want plenty of salt and pepper.

Scrape up the brown bits from the bottom of the pot. When you deglaze the pot with red wine, make sure to scrape up those brown bits at the bottom. That's flavor!
Use whole carrots so they don't get mushy. If you use carrot slices, they will cook too long and get mushy. No one likes mushy carrots!

Use Yukon Gold or russet potatoes for this recipe. They're hearty enough to cook along with the beef without getting mushy.
This dish is perfect over mashed potatoes. The delicious beef gravy seeping into creamy mashed potatoes is a beautiful thing. My family won't have it served any other way!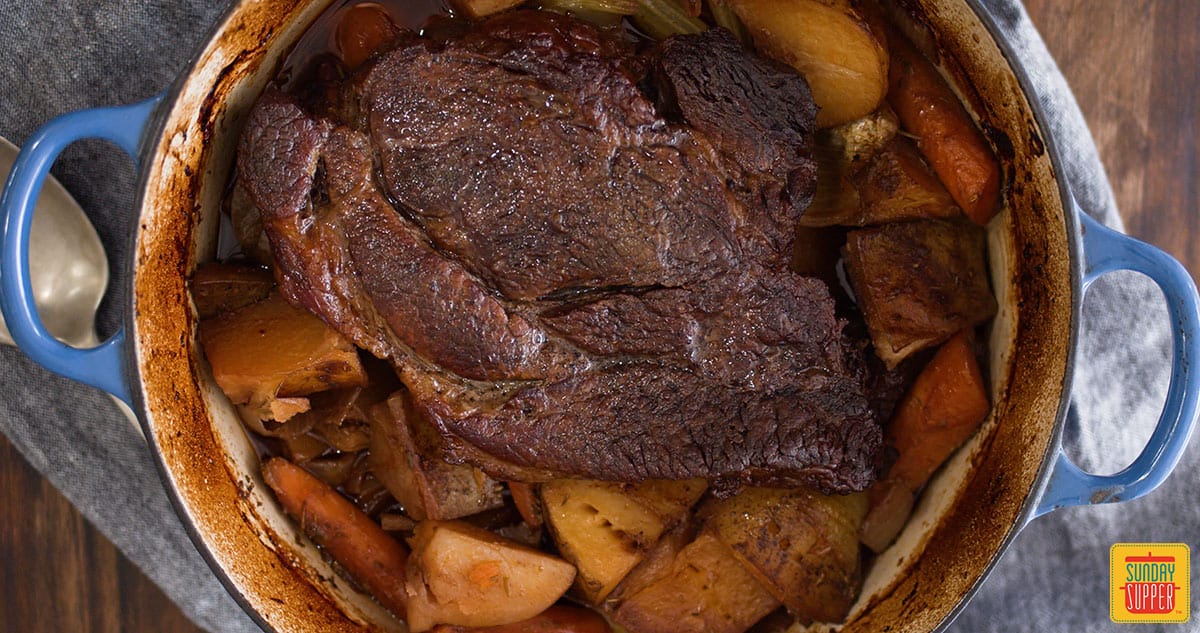 Made it for a nice family dinner with my in laws and my MIL asked for the recipe because it was so good! If that's not a sign of a good recipe, I don't know what is

@mwinner6 on Pinterest
Beef Chuck Roast Internal Temperature
Your pot roast should reach an internal temperature of at least 195°. I recommend cooking the beef until it is fall-apart tender.
How long to cook chuck roast in the oven at 350˚F: Cook a 4 lb. cut of beef low and slow for over 4 hours. This gives it plenty of time to soak in all the wonderful flavors and become completely moist and fork-tender.
Check out our Roast Beef Temperature Chart to cook this Sunday Roast to perfection.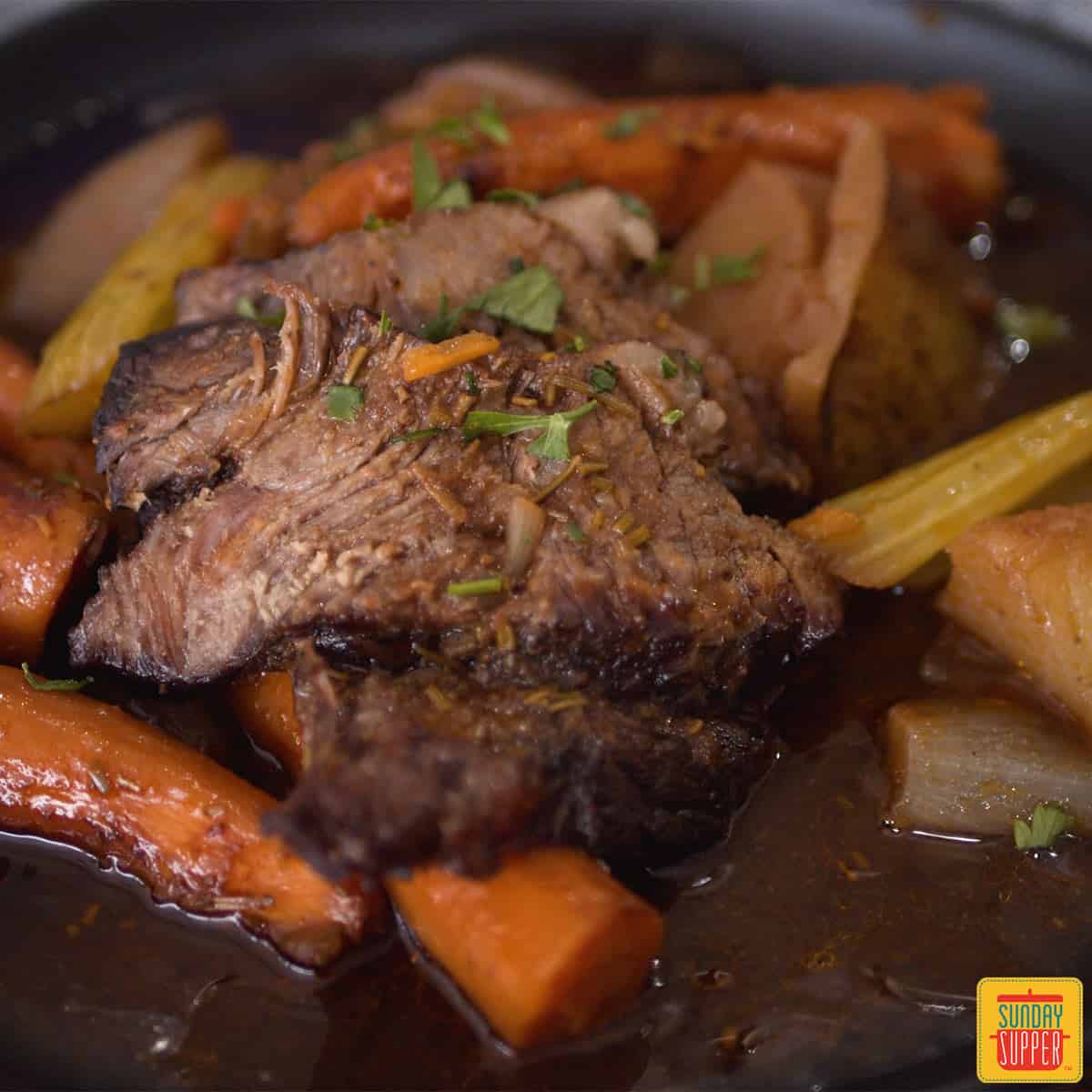 Sunday Pot Roast Vegetables
You can add a whole variety of different veggies to this recipe! I like to add:
Potatoes
Onions (white or yellow work best)
Carrots
Celery
Not only do the vegetables taste amazing, but it's a great way to make your side dishes at the same time as the main course. One-pot meals are so convenient.
If you want to elevate your dining experience, this beef tenderloin recipe is absolutely amazing!
Best Chuck Roast Recipes
Try more of our Best Beef Chuck Roast Recipes!
Slow Cooker Beef Roast: Feed a crowd deliciously with the perfect comfort food.

Set and forget this delicious chuck tender roast recipe on low heat for eight hours, then enjoy an incredible

fall-apart

meal and

tender

vegetables in an abundance of

flavorful gravy.
Instant Pot Pot Roast: The BEST hearty Winter comfort food – easy to prepare and makes a great holiday meal!
Sirloin Tip Roast: If you have yet to try this dish, you're going to want to run to get the ingredients for it. It's delicious, juicy, fork-tender and so flavorful.
Mississippi Pot Roast:

You just need 5 ingredients and a slow cooker

and you are all set to make this delicious dish. The ranch dressing, pepperoncini peppers, and au jus gravy add so much flavor.
If you are looking for the best pork chop recipe, my smothered pork chops are super easy to make and are just amazing!
What to do with Leftover Chuck Roast
Steak Nachos I love using leftovers to make this delicious recipes
What to serve with Pot Roast
Take a look at our recommendations for the best side dishes for beef! We have everything you need for a perfect dinner. My family's favorites are:
For family meals, try serving toasted sprouted bread, dinner rolls, or garlic bread. Kids especially enjoy it with buttered egg noodles and apple sauce.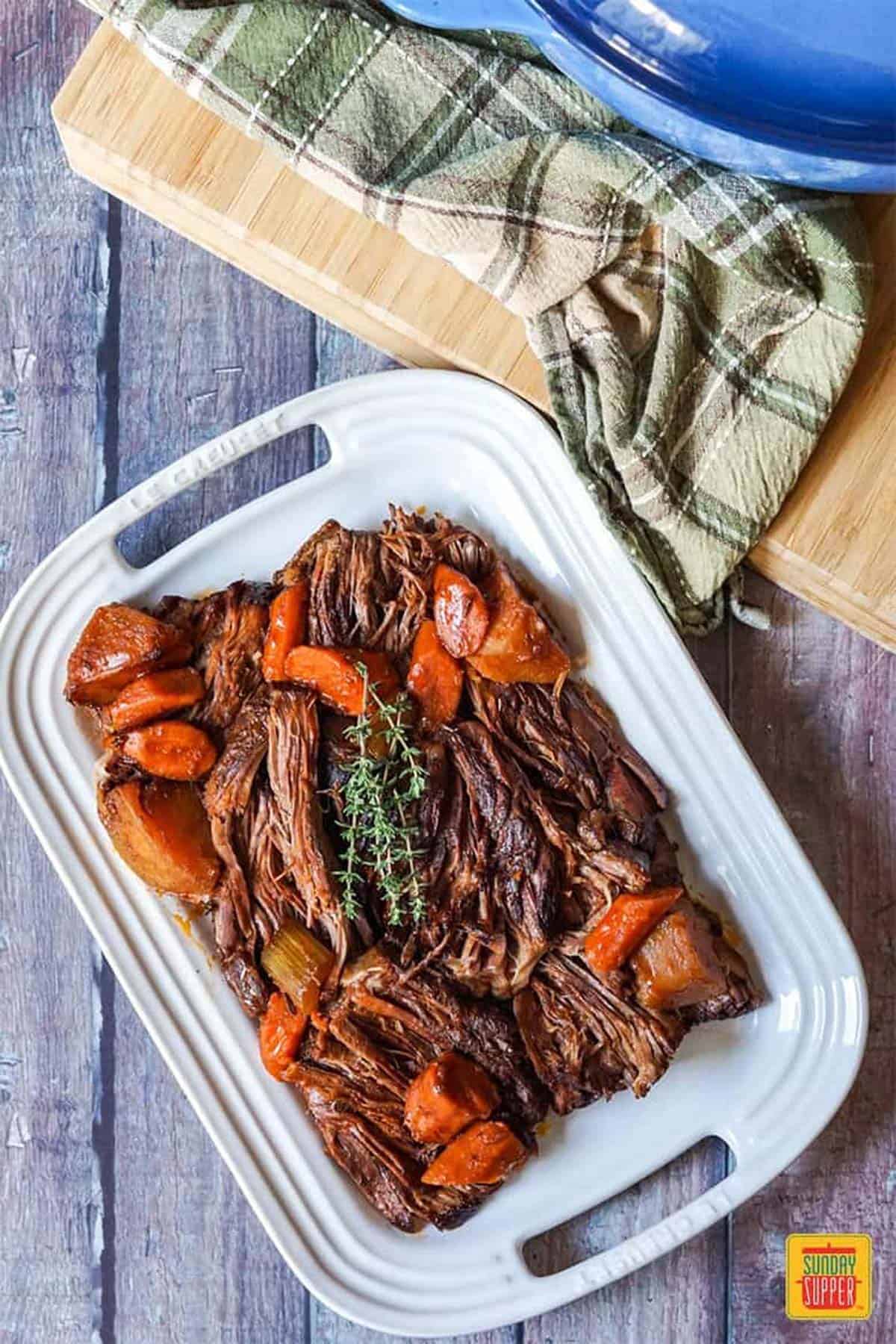 Reader Reviews
The easiest, best tasting pot roast ever in my 40 years of trying….. 👍♥

Diane on Pinterest
Made this for dinner last night it was so good. I think it was the best chuck roast I have ever made, so tender.

Brenda
This recipe was AMAZING! It was a huge hit!

Meredith
Absolutely incredible. One of the best pot roasts I've had.

Linda
See the pin everyone is talking about!
Save the Video Pin
📋 Recipe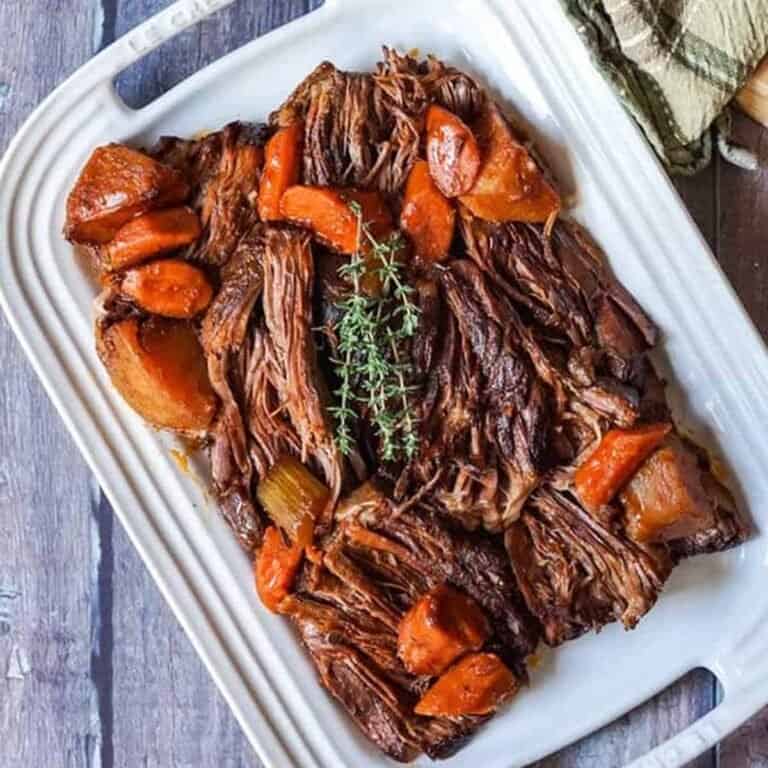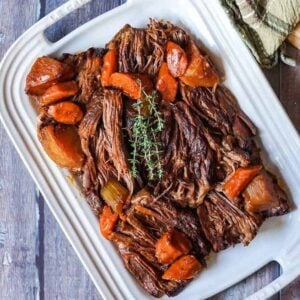 Best Chuck Roast Recipe
Our Beef Chuck Roast is braised slowly to create a wonderfully tender and flavorful meal!
Instructions
Preheat oven to 350˚F. Season the beef on all sides with salt and pepper.

In a large Dutch oven, place the butter and vegetable oil over medium high heat.

Once hot and the butter is melted, add the seasoned beef and sear until golden brown on all sides. Remove to a plate and set aside.

Toss together the onion, garlic, carrots, celery, potatoes, rosemary in the pan. Allow to cook, stirring occasionally, until browned.

Stir in the tomato paste and continue to cook for another 2-3 minutes. 

Deglaze the pan with the red wine, scraping up the brown bits from the bottom of the pan, and continue to cook for another 2-3 minutes. 

Place the seared beef back in the pan and top with the beef stock and add bay leaves.

Cover and transfer to the preheated oven. Cook until the beef is tender and shreds easily, about 4 hours.

Season with more salt and pepper if needed. Remove the bay leaves before serving. Serve hot with desired sides.
Notes
We love using whole carrots so they don't get mushy. Do not use carrot slices as they will cook for too long and get super mushy. 
While we love all potatoes, yukon gold or russet potatoes, are our favorite to all to our beef chuck roast as they are hearty enough to cook along with the beef without getting mushy. 
Make sure to sear the beef on all sides. This will ensure a juicy pot roast. 
Nutrition
Calories:
316
kcal
Carbohydrates:
10
g
Protein:
24
g
Fat:
17
g
Saturated Fat:
8
g
Cholesterol:
85
mg
Sodium:
245
mg
Potassium:
821
mg
Fiber:
2
g
Sugar:
2
g
Vitamin A:
5265
IU
Vitamin C:
8
mg
Calcium:
57
mg
Iron:
4.2
mg
Did you try this recipe?
Tag #SundaySupper on social and leave a comment below!
Photography Credit: Tara Margetson