Sunday Supper is an Amazon Associate and may receive compensation for purchases made through affiliate links.
This Ground Beef Stroganoff Recipe is an easy beef recipe for dinner that's ready in just 30 minutes!
It's one of the easiest meal ideas with ground beef you can make. The best part? You can make it all in one skillet for easy cleanup.
Hamburger stroganoff is budget-friendly and easier to make than a classic beef stroganoff recipe! And you know what? It tastes just as incredible, if not even better.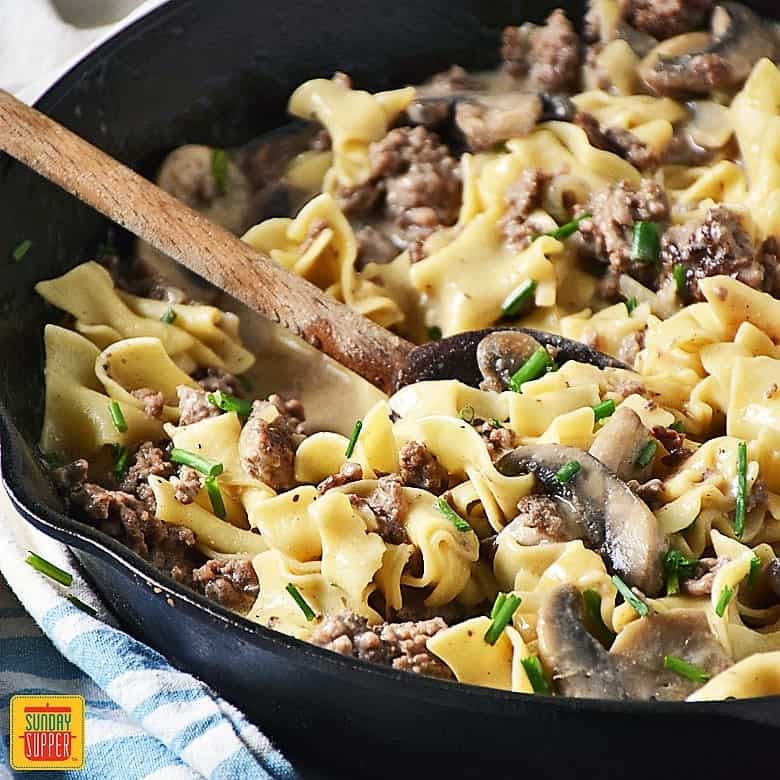 What is beef stroganoff?
Traditional beef stroganoff originates from Russian cuisine and consists of sauteed beef strips in a bouillon, mustard, and sour cream sauce. Its Russian name is beef stroganov!
Classic Russian beef stroganoff is mostly served with potatoes. Pasta is actually a more modern addition!
The best beef stroganoff recipes now use egg noodles, onions, and mushrooms. It's a popular comfort food recipe with a ton of flavor!
Best Beef Stroganoff Recipe
What sets our beef stroganoff recipe apart from the rest is that we use ground beef to make it!
I can guarantee you are going to love this recipe. It's budget-friendly and so quick to make, so it's perfect for all you busy parents out there (I know how it is!).
Just smelling this dish cook, you're going to want to dig in right away. Thankfully, you won't have to wait long! In fact, this easy ground beef dinner recipe is ready in just 30 minutes.
Beef Stroganoff Ingredients
1.5 lbs. ground chuck
8 oz. mushrooms, sliced (mixed mushrooms or button mushrooms work well)
½ tsp. kosher salt
½ tsp. black pepper, freshly cracked
1 tsp. garlic, minced (or garlic paste)
3 Tbsp. unsalted butter
1 medium yellow onion, sliced (about 1 cup sliced onion)
1 tsp. fresh thyme leaves (or ⅓ tsp. dried thyme)
3 Tbsp. all-purpose flour
½ cup dry white wine
1 ½ cups beef stock
12 oz. wide egg noodles
⅓ cup sour cream
Optional: chives, freshly chopped for garnish
This hamburger beef stroganoff is perfection in every way. I cannot tell you how happy I am with this recipe! One try, and now my family asks me for it again and again.
If you have hamburger beef on hand and aren't sure what to make, or are looking for more easy recipes to make with ground beef, this is the recipe for you. Trust me! You need to try this dish!
How to Make Beef Stroganoff with Ground Chuck
Season 1 ½ pounds ground beef chuck with ½ teaspoon salt and ½ teaspoon black pepper.
Heat a skillet over medium-high heat and spray lightly with cooking spray. If using a cast-iron skillet, you can skip this step.
Add beef to the skillet and sear one side until it browns nicely, about 3-5 minutes.

Turn beef over and break it up slightly. I like to leave big chunks for my stroganoff.

Add 1 teaspoon minced garlic (or garlic paste), ½ cup sliced onions, and 1 teaspoon fresh thyme leaves (or ⅓ teaspoon dried thyme).

Saute until the beef cooks through and the onions soften, about 3-5 minutes.

Remove the beef mixture from the skillet and set aside.
Add 3 tablespoons unsalted butter to the skillet. Let it melt, then add 8 ounces sliced mushrooms and season with a pinch of salt and pepper.

Saute the mushrooms until they soften and release their juices.
Add 3 tablespoons all-purpose flour to the mushroom mixture in the skillet. Cook, stirring, for a minute or 2 to cook the flour.

Add ½ cup white wine and scrape up any brown bits from the bottom of the pan – that's flavor! Then, add 1 ½ cups beef stock.

Bring to a boil and boil for about a minute. Once a minute is up, reduce the heat to low and add the beef back to the skillet. Cover and simmer on low heat while you prepare the noodles.

Cook one 12 ounce package egg noodles according to package directions. When they are nearly done cooking (about 2-3 minutes from being done), mix ⅓ cup sour cream into the beef mixture. Stir to combine.

Give the beef mixture a taste and adjust seasonings to your liking. Add the noodles to the skillet and stir to combine.
Garnish with freshly chopped chives or parsley, and enjoy!
Sauteeing mushrooms and onions in butter bring out their beautiful flavor and add a rich and savory note to the beef stroganoff sauce. It's much better than using canned cream of mushroom soup.
You will love the flavors of this easy beef stroganoff! I promise you, your family will be asking you to make this recipe again. It is truly so special and easily one of my favorite beef dinner ideas.
Ground Beef Skillet
Aside from the egg noodles, I make my recipe for minced beef stroganoff all in one skillet! Easy skillet meals are my favorite, but you will want to prepare the egg noodles in their own pot.
All in all, this hamburger beef stroganoff takes about 30 minutes to prepare, and is one of the best recipes with egg noodles and ground beef you can make. It is so delicious!
Family Foodie Tips
Make it in a cast-iron skillet: We recommend a 10″ cast iron skillet. A stainless steel skillet will work as well. Avoid using a non-stick skillet as you won't get a good sear on the beef.
Sear the beef: Searing the beef adds a nice crust for more flavor. Don't skip this step!
Use fresh mushrooms: Use fresh mushrooms for maximum flavor.
Use beef stock, not broth: Beef stock will produce a deeper flavor, so use stock over broth.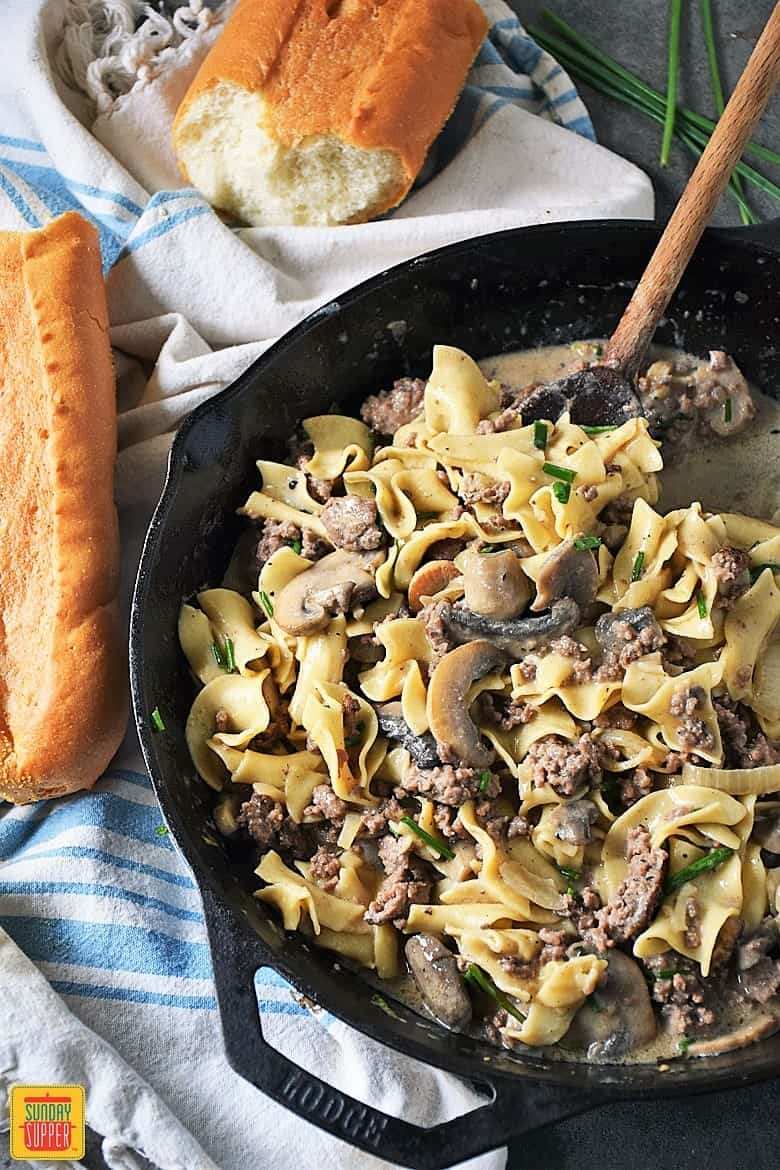 What to Serve with Ground Beef Stroganoff
Try serving your hamburger beef stroganoff with a crusty bread recipe for dipping, or some fresh vegetables such as:
And try these drinks to serve with hamburger beef stroganoff:
Our Best Yorkshire Pudding Recipe (Best Popover Recipe) pairs well with this recipe too, for sopping up all of that delicious stroganoff sauce!
What can I make with ground beef?
Try these super easy ground beef recipes for more delicious dinner ideas!
Love pasta as much as we do? Get even more Comfort Food Pasta Recipes like this one!
And, if you love this recipe, you will love our classic Steak Diane Recipe or Beef Burgundy Stew (Beef Bourguignon). I guarantee it!
📌 Pin it for later!
Did you enjoy this page? Save it on Pinterest for later!



Photography by Marion Myers