This post may contain paid links. If you make a purchase through links on our site, we may earn a commission.
Learn How to Cut a Jalapeno into slices, how to dice a jalapeno, and the best method for seeding jalapeno peppers with this easy guide!
Plus, we share our best recipes with jalapenos to put your new skills cutting jalapenos to use. Great for pairing with recipes using sliced avocado or lime zest!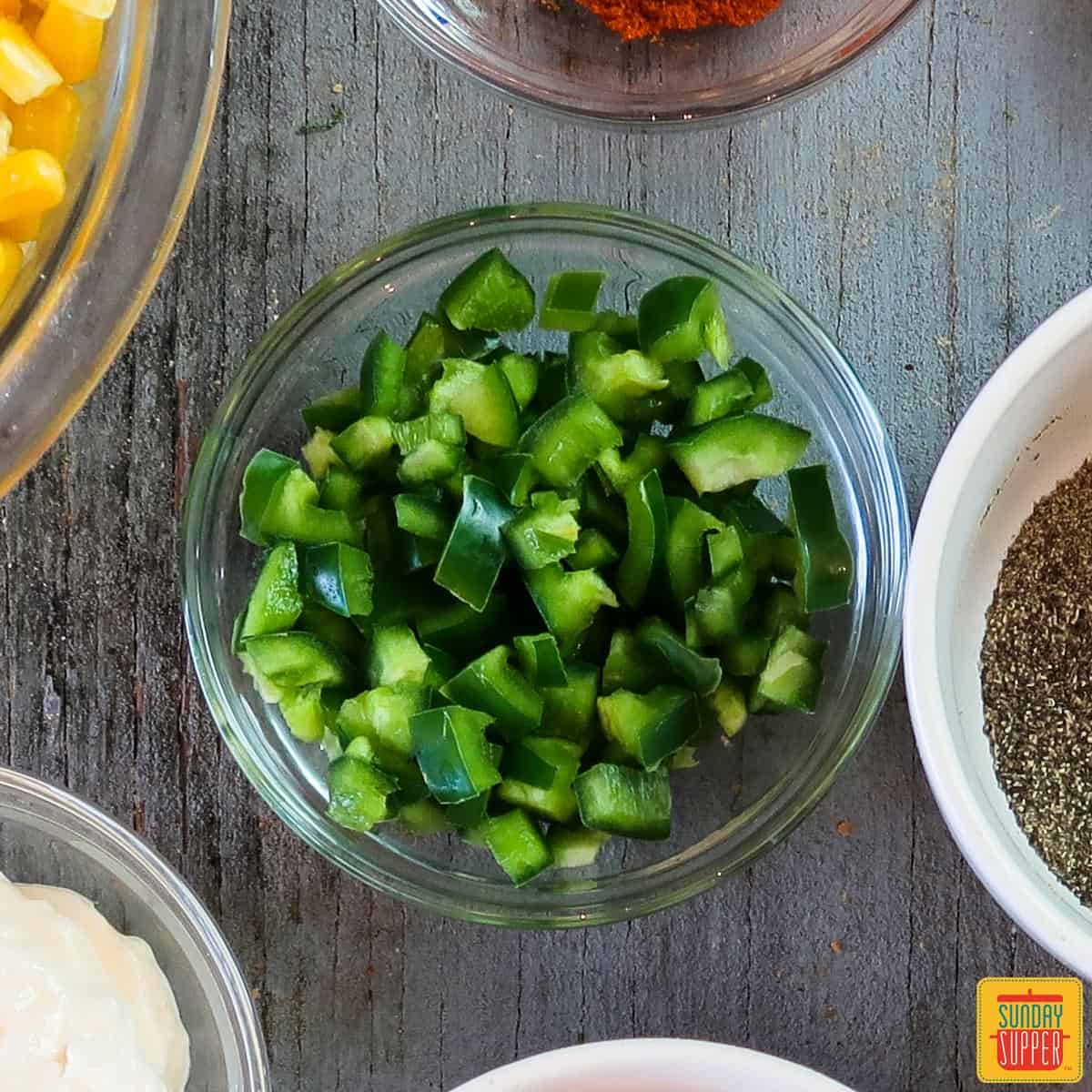 If you have ever had to cut jalapenos before, then you know the greatest challenge is avoiding the dreaded "hot pepper hands". Cutting jalapenos is actually very easy. It's seeding jalapeno peppers and avoiding that burning sensation that can be troublesome!
But, we're here to show you how to cut jalapenos in the easiest way possible plus how to avoid getting jalapeno on your hands when you're cutting them. You will be cutting jalapenos like a pro in no time!
Jump to:
Tools for Cutting Jalapenos
If you want to learn how to cut a jalapeno pepper the right way, you will need a sharp knife and a spoon.
Having a sharp knife will allow you to easily slice jalapenos to whatever size you neeed. A knife that is not as sharp will make it much harder for you to get clean, easy slices.
You'll use a spoon to scoop the seeds out of the jalapeno. Using a spoon makes seeding jalapeno peppers so easy!
Do you need to wear gloves when cutting jalapenos?
Although you do not need to, we highly recommend that you wear gloves when slicing jalapenos.
Jalapenos naturally contain capsaicin, which is a hot chili oil found in spicy peppers. This is what determines the jalapeno scoville level – or how hot your peppers are!
However, capsaicin also creates a burning sensation when it comes into contact with your skin, and can remain on your hands for a while unless you wash them very well.
Wearing gloves will help you avoid the "hot pepper hands" everyone dreads!
How do you get jalapeno off your hands?
If you aren't wearing gloves, and you do get jalapeno on your hands, there are a few things you can do to get it off of your hands.
First of all, make sure to avoid touching any sensitive spots such as your eyes, mouth, or nose. You do not want to transfer any of that hot pepper oil to your face.
Wash your hands thoroughly with dish soap and water. Dish soap, as opposed to hand soap, is great for removing jalapeno oil from your skin.
Baking soda and water will take the burn right off your hands. Let it dry, then wash it off.
Scrub your hands with vegetable oil or olive oil. This works very well to cut through the oils from the jalapeno. Rinse with dish soap and water.
Dip your hands in milk. It's true! Milk is great at not only soothing your mouth if you've eaten something spicy, but it works great for removing that oil from your hands, too.
Rubbing alcohol also works well for removing jalapeno oil if you have it on hand to use.
No matter which method you use, make sure to get under your fingernails as well. But, the best way to avoid hot pepper oil on your hands is to wear gloves. If you have them, wear them! Vinyl and latex gloves both work well.
Do you remove seeds from jalapeno peppers?
Whether or not you remove the seeds from jalapeno peppers depends on which way you are slicing or dicing them, and how much spice you like.
We use a spoon to remove the seeds from jalapeno peppers when dicing them or when we're making jalapeno poppers. It's very easy to do.
When you're slicing jalapenos into coins, like the kind you find in a jar, you generally leave the seeds in, but bear in mind that they will be spicy! Jalapeno seeds contain a lot of concentrated spice, so anything you include them in will be hot.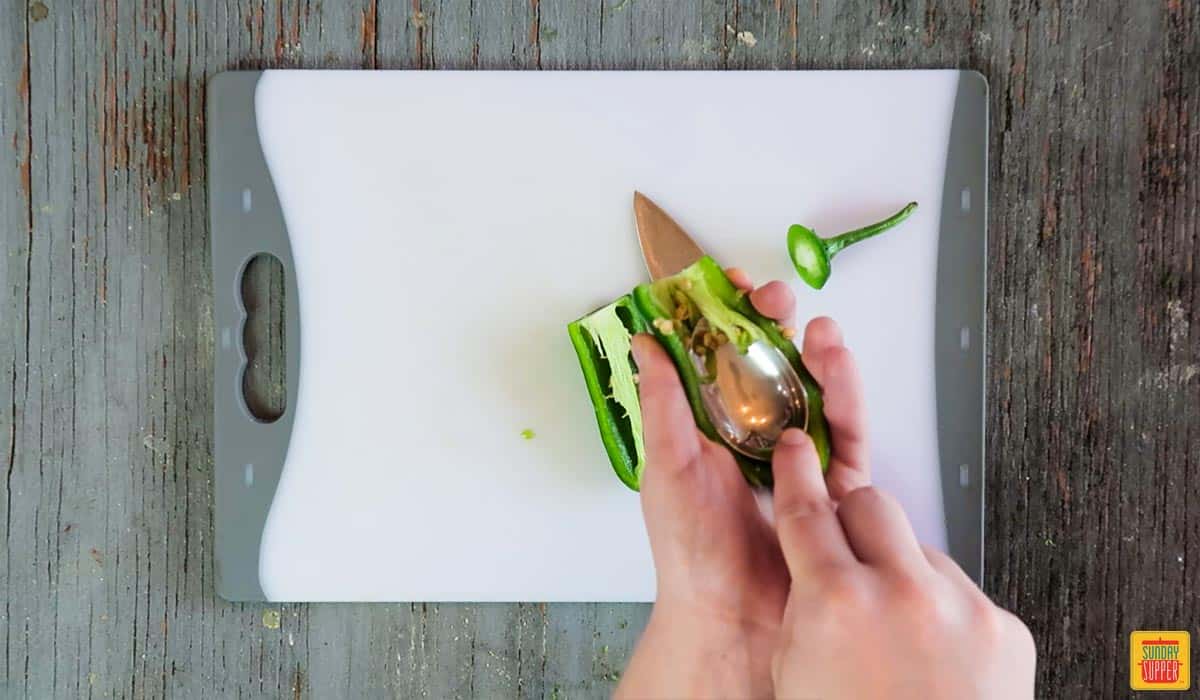 Can I eat raw jalapenos?
You can eat jalapenos raw. Raw jalapenos are a popular ingredient in salsa recipes and Vietnamese cuisine (like a delicious banh mi sandwich). They are delicious on avocado toast and avocado deviled eggs, too.
Once you know how to cut a jalapeno the right way, you'll want to use them for so many recipes – cooked or raw!
Just bear in mind that uncooked peppers tend to be hotter than cooked peppers, so keep an eye out for those seeds.
How to Store Jalapeno Peppers
Sliced jalapenos should be stored in the refrigerator in an air-tight container, where they are good for about 3-4 days.
Whole peppers can be kept refrigerated or at room temperature. At room temperature, fresh, whole peppers will last 3-5 days, and in the refrigerator, up to 1-2 weeks. Store them loosely in the bag you purchased them in.
A sign your peppers are getting a little old is that they will start to wrinkle. Wrinkly peppers are still safe to eat, but you may want to use them up when they reach this point.
Jalapenos that start to wrinkle are less spicy than fresh jalapenos, as peppers lose their spice level over time.
Jalapeno Recipes
Getting ready to slice jalapeno peppers? Try some of our favorite recipes with jalapenos:
Jalapenos are delicious in tacos, nachos, and rice bowls, too. Try them in these easy jalapeno recipes:
And of course, our Peach Mango Salsa is so tasty using everyone's favorite hot pepper. We guarantee you will love this sweet-and-spicy salsa recipe!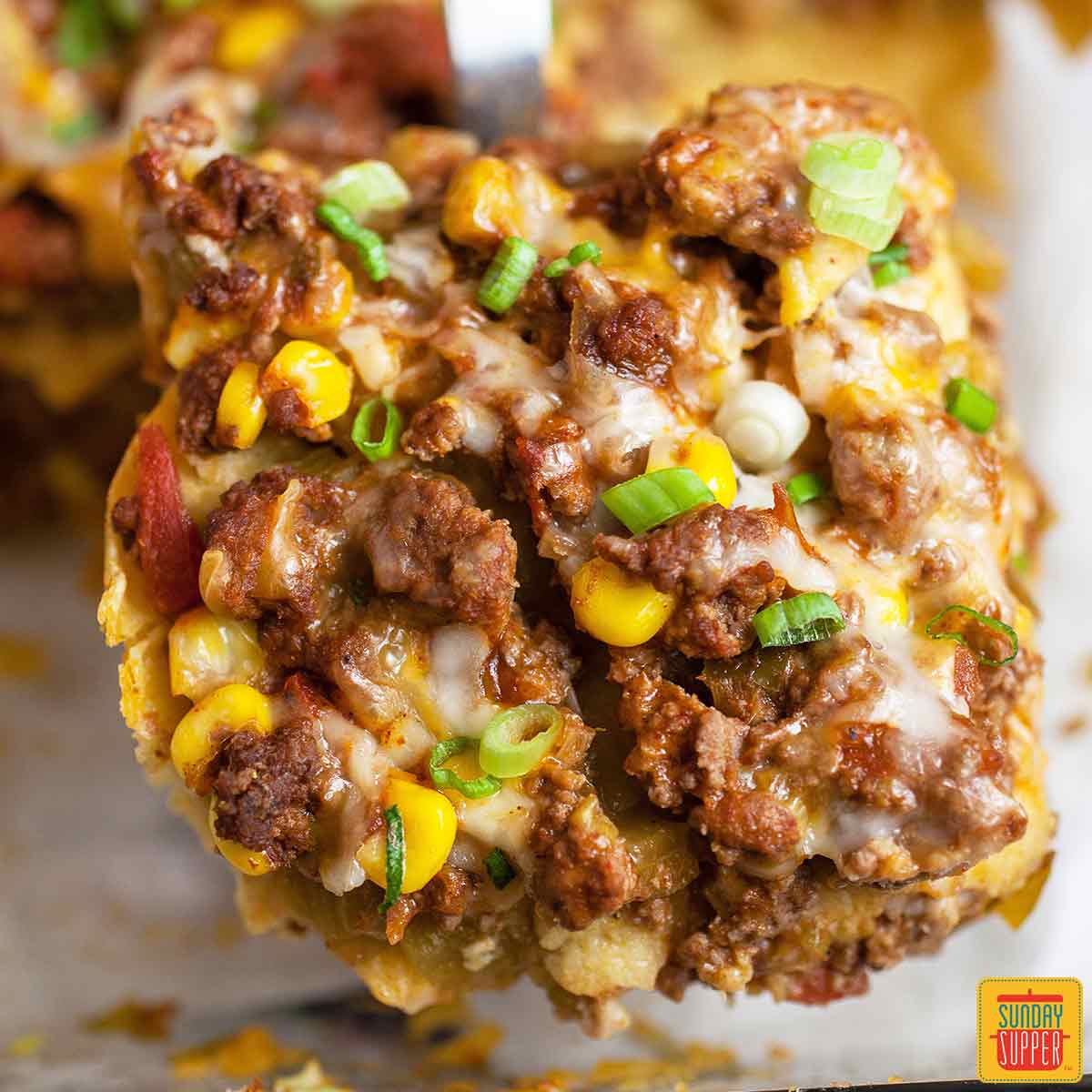 How to Cut Jalapenos for Poppers
If you're making Jalapeno Poppers, which inspired our Bacon Jalapeno Deviled Eggs recipe, then you will do things a bit differently.
Instead of slicing the peppers as you will see in our guide below, cut a slice lengthwise through the pepper. Stop just above the bottom of the pepper and do not cut it in half. Remove the white rib and seeds using your spoon.
This will leave you a jalapeno that is perfectly ready to make stuffed jalapenos, including jalapeno poppers. Enjoy!
Save the Video Pin
Want to know how to slice other vegetables, fruit, and more? Check out our guide on How to Use a Mandoline for the easiest way to cut all kinds of foods into perfect slices.
📋 Recipe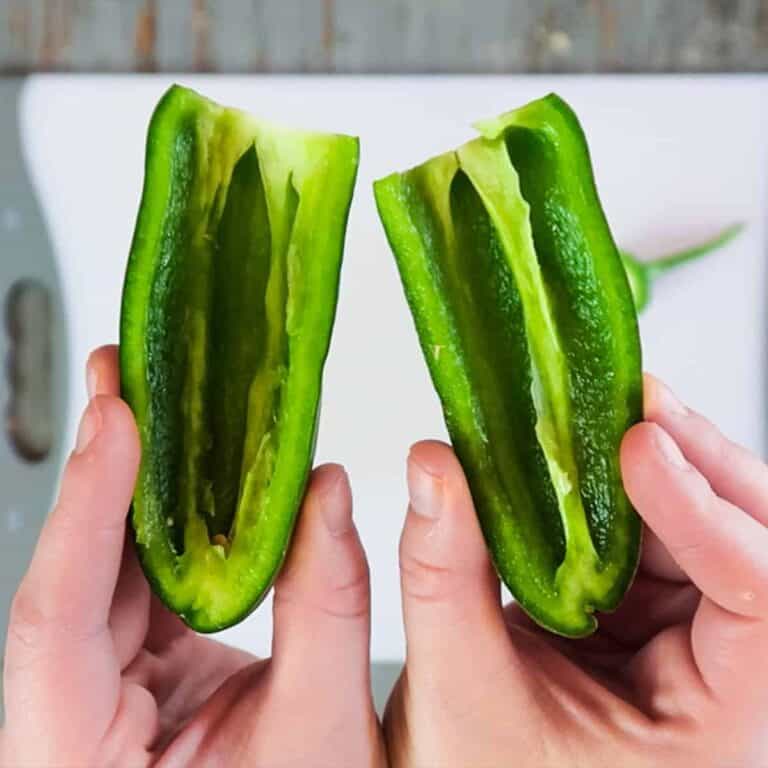 How to Cut a Jalapeno
Learn How to Cut a Jalapeno easily! Whether you're cutting jalapenos into slices or dicing them, our easy guide will show you the best way to get the job done.
Ingredients
Instructions
Start by cutting the stem off your jalapeno.

Cut the jalapeno pepper in half.

Take your spoon and scoop the seeds out from the inside of the pepper, scraping as much of the white rib out with the seeds.

Cut the two halves of the pepper into halves again.

Cut into slices and begin dicing.
Notes
Wear gloves to avoid the dreaded "hot pepper hands". See the post for what you can do if you don't have gloves!
Store sliced jalapenos in an air-tight container in the refrigerator for 3-4 days.
Nutrition
Calories:
4
kcal
Carbohydrates:
1
g
Protein:
0.1
g
Fat:
0.1
g
Saturated Fat:
0.01
g
Polyunsaturated Fat:
0.02
g
Sodium:
0.4
mg
Potassium:
35
mg
Fiber:
0.4
g
Sugar:
1
g
Vitamin A:
151
IU
Vitamin C:
17
mg
Calcium:
2
mg
Iron:
0.04
mg
Did you try this recipe?
Tag #SundaySupper on social and leave a comment below!