Sunday Supper is an Amazon Associate and may receive compensation for purchases made through affiliate links.
Main Course Salads are easy, delicious, and filling enough for a full meal! Try making one of our wholesome salads for dinner to mix up and make your own, like our Strawberry Chicken Salad or our Quinoa Feta Salad!
Jump to:
I love making salad as a meal. Hearty salads are some of my favorite dinners to make for my family! My favorite healthy salad for dinner is my Strawberry Chicken Salad, but there are so many different ways you can make delicious and easy salad recipes for dinner.
Main Course Salad Characteristics
To make the best salad recipes for dinner, mix up your ingredients! Here are some tips on what you can use to make the most filling salads:
Lettuce: Romaine and Spring Mix are excellent choices for salads. You can also use baby lettuces, spinach, or even kale.
Whole grains: Instead of lettuce, you can use whole grains like brown rice or quinoa.
Protein: Rotisserie chicken, steak, shrimp, or salmon, or tuna are great choices for protein in main course salads.
Vegetables: Try tomatoes, cucumbers, and onions, or even veggies like summer squash, jicama, crisp blanched green beans, carrots, peas, and corn. Pickled and roasted vegetables are great choices too!
Fruit: Cranberries, strawberries, blueberries and clementines are all delicious in salad.
Nuts: Nuts are awesome in any main or separate course salad recipe! Try pecans, walnuts, and sliced almonds.
Cheese: Shredded hard cheeses like Parmesan, or the softest cheeses like goat cheese, feta, and blue cheese all work well.
Salad dressing: Salad dressing brings it all together! We love homemade dressings like the honey balsamic vinaigrette in our Strawberry Chicken Salad or our blue cheese salad dressing.
Don't forget hard-boiled eggs and bacon crumbles. I like to use candied bacon to spice up my main course salads!
Main Course Salad Recipes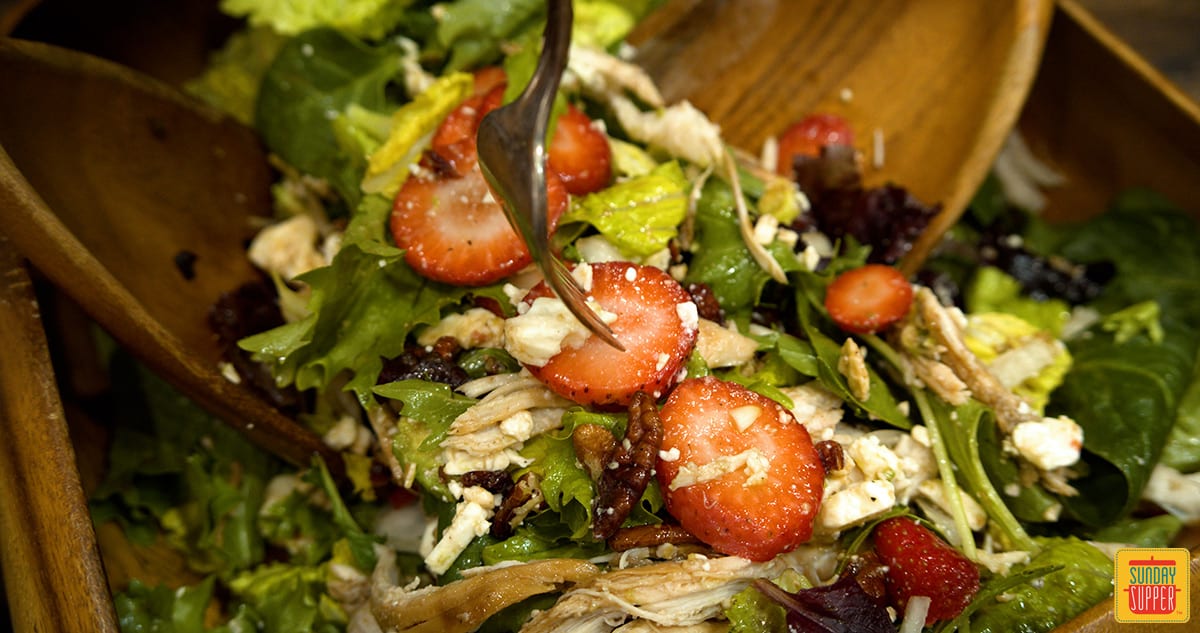 Strawberry Chicken Salad
Strawberry Chicken Salad uses light, wholesome, and simple ingredients for a flavorful separate course salad or main course salad recipe.
Get this recipe!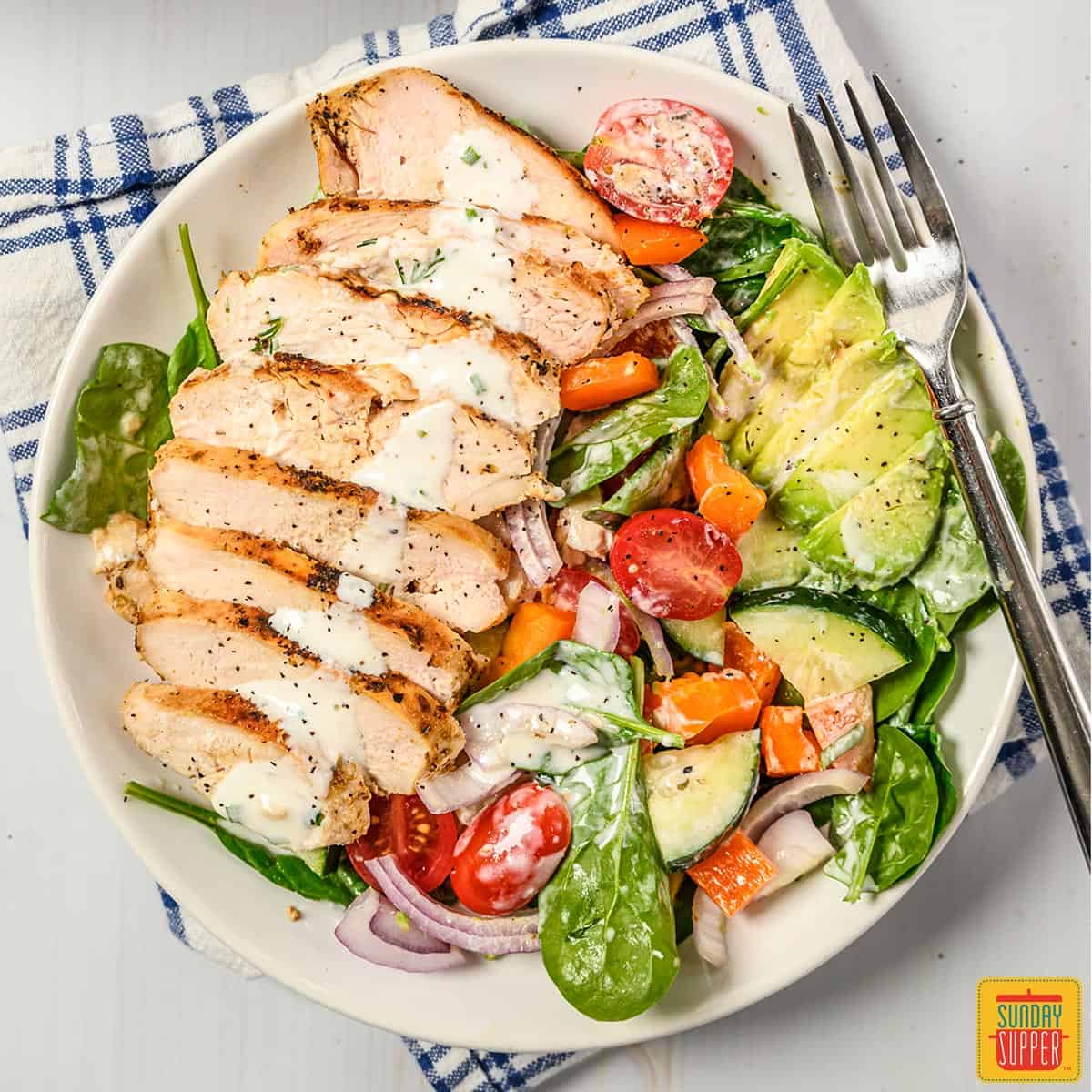 Easy Grilled Chicken Salad
Complete with crisp, fresh veggies and deliciously creamy buttermilk ranch dressing, my Grilled Chicken Salad is a must-try for the summer!
Get this recipe!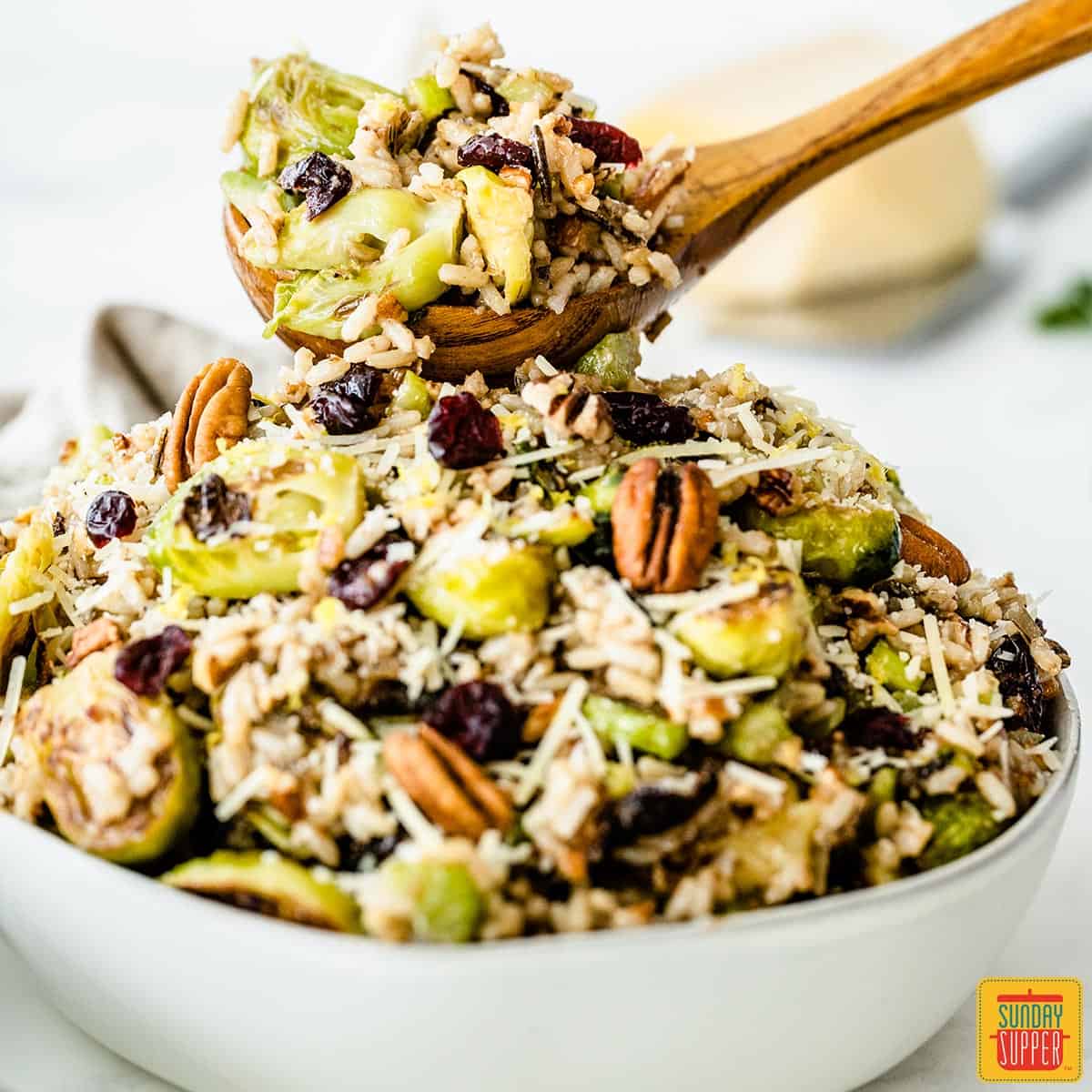 Balsamic Roasted Brussels Sprouts Salad
Balsamic Roasted Brussels Sprouts Salad is a delicious warm salad recipe you will crave more and more of! It's a perfect holiday side dish, with Parmesan, pecans, cranberries, and garlic.
Get this recipe!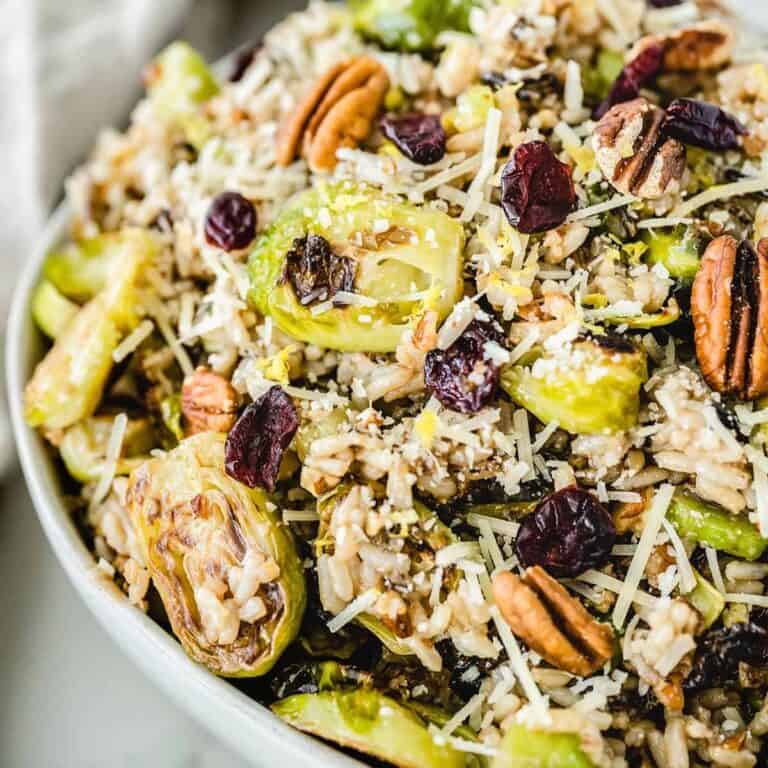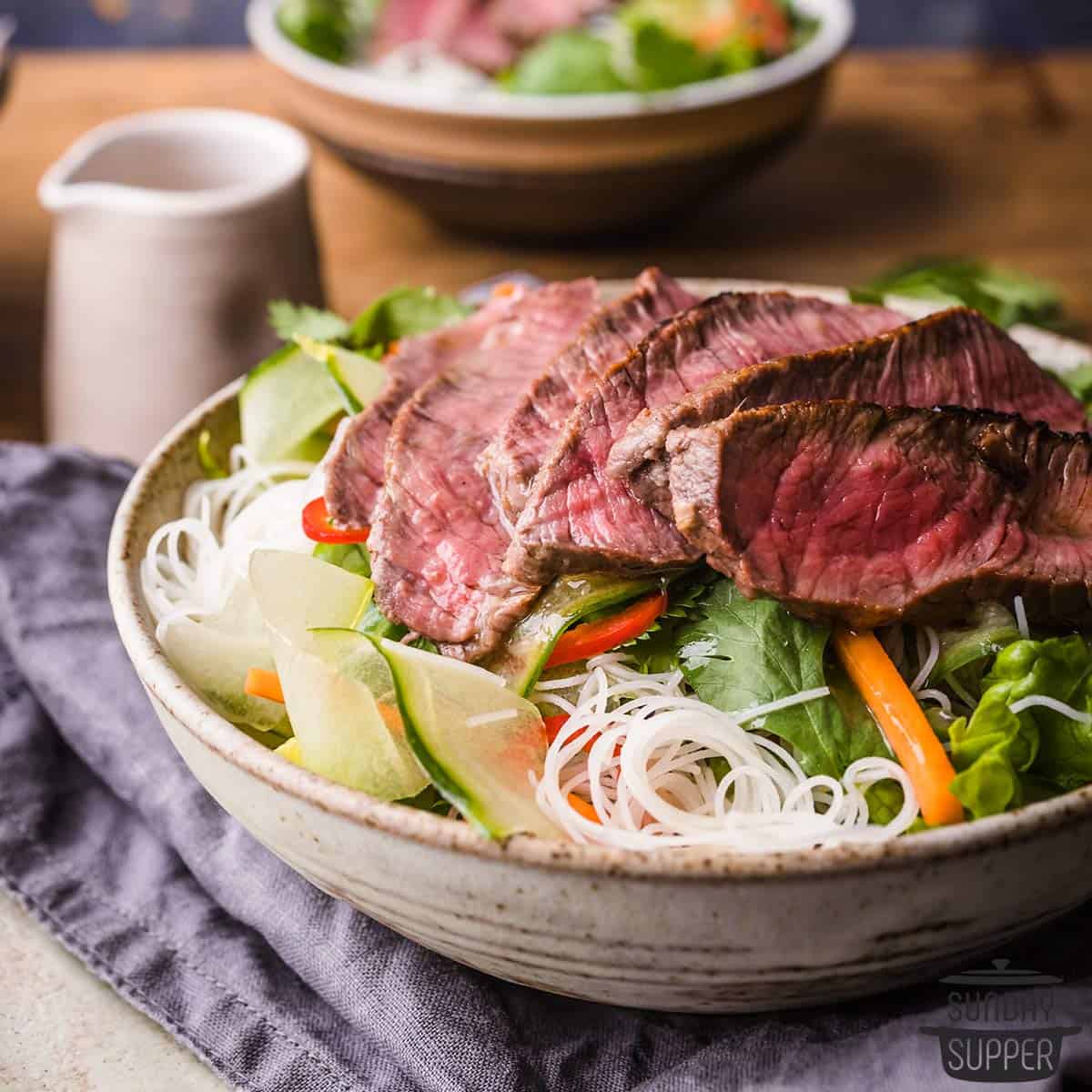 Vietnamese Steak Salad Recipe
Made with thinly sliced sirloin, crisp veggies, rice noodles, and a zesty lime dressing, our easy Vietnamese Beef Salad recipe makes a delicious lunch or dinner!
Get this recipe!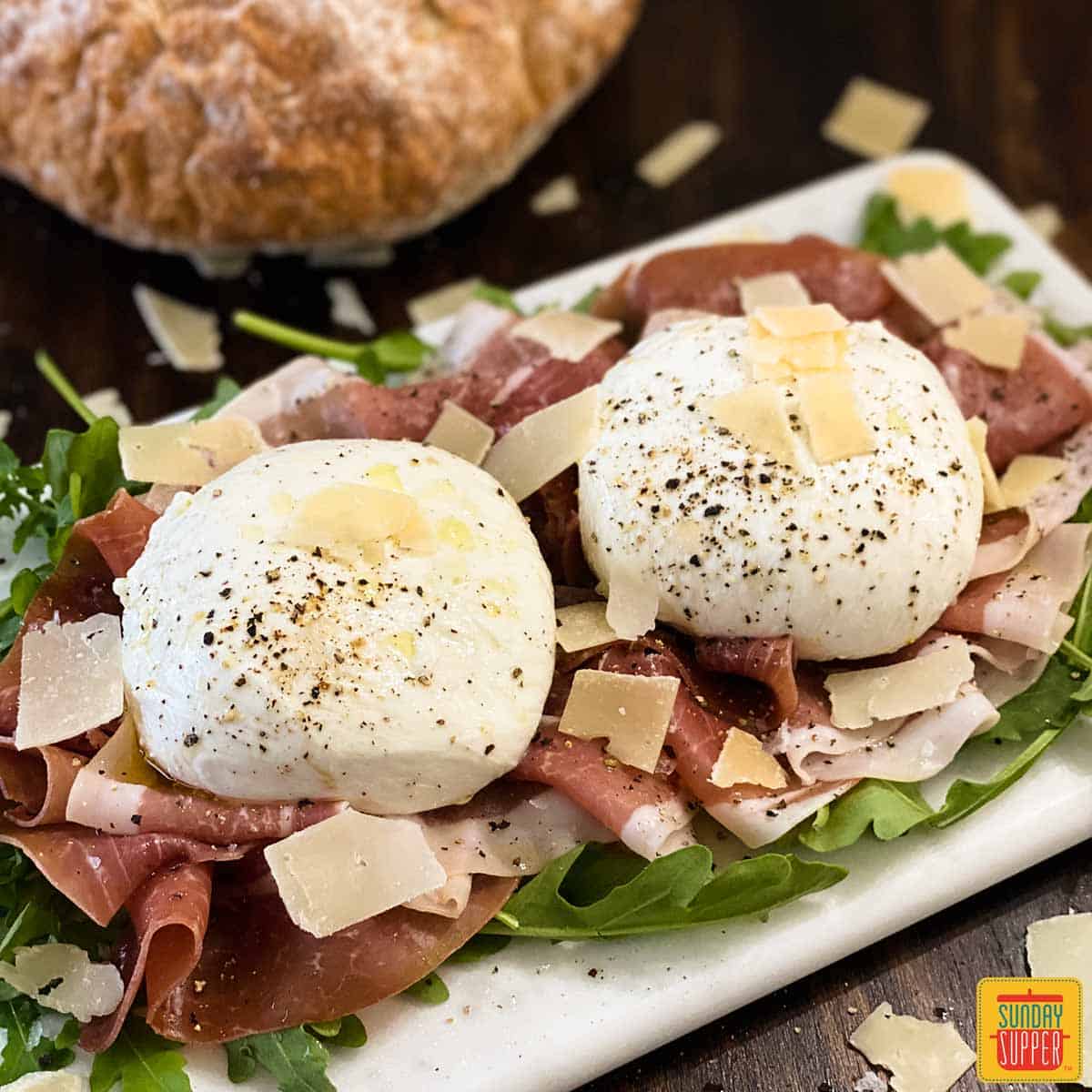 Amazing Burrata Salad Recipe
Creamy burrata cheese with salty prosciutto, fresh Parmesan, and crisp arugula, all seasoned with sea salt, pepper, and drizzled olive oil… that's our incredible Arugula Burrata Salad Recipe!
Get this recipe!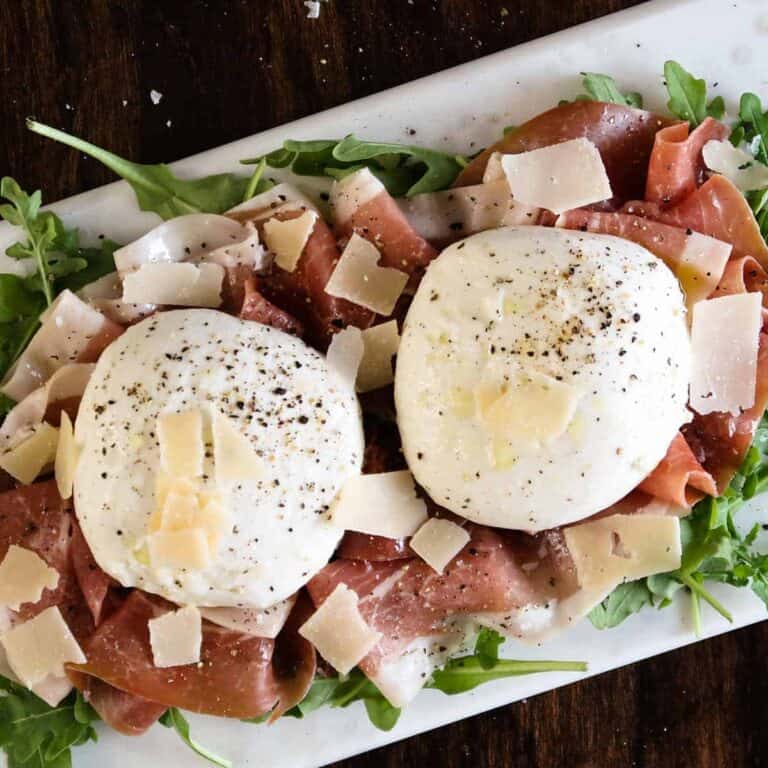 This arugula burrata appetizer is one of the best accompaniment salads. Serve it as a separate course salad for an appetizer, along with your meal, or as a dish on its own.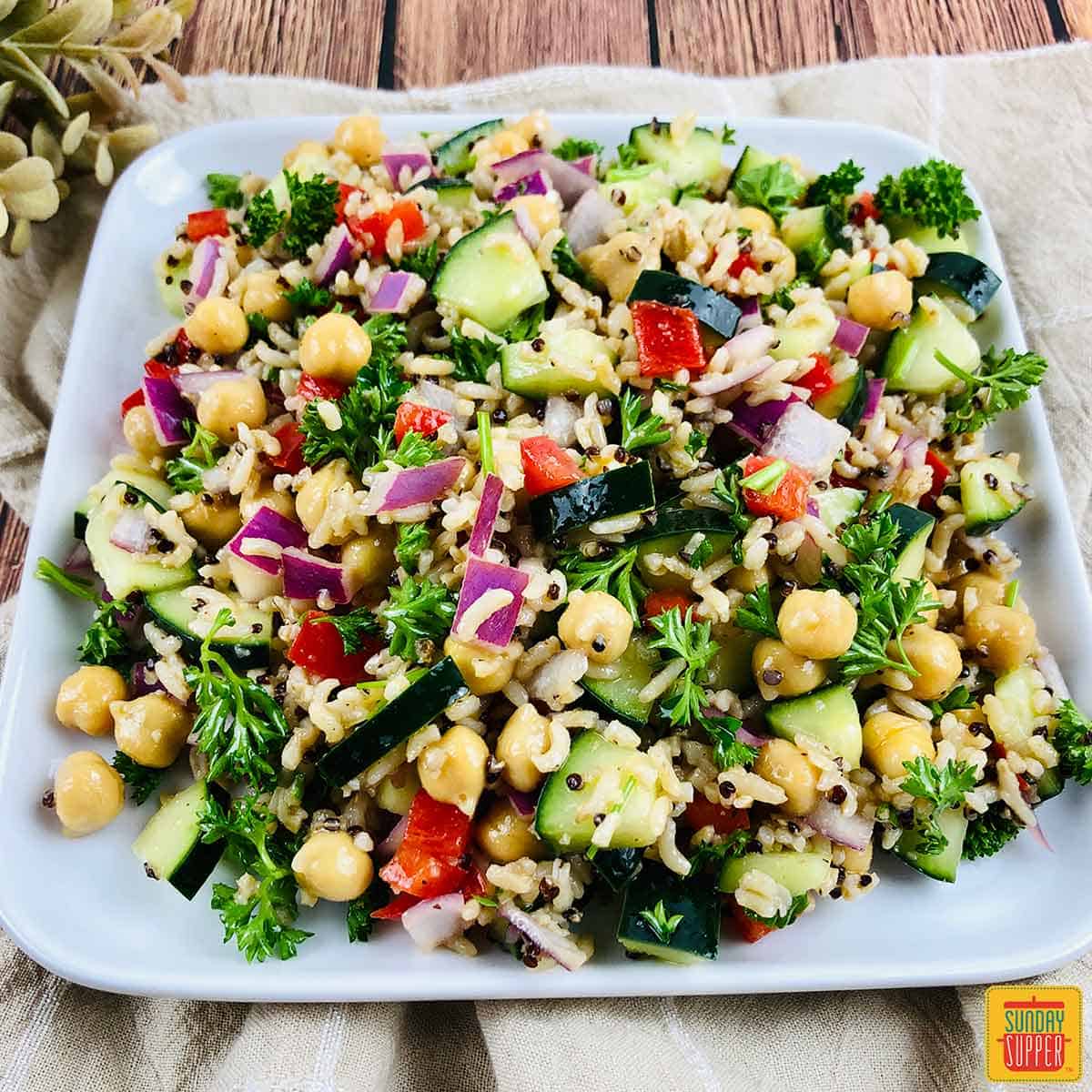 Cold Quinoa Salad with Chickpeas and Rice
Our easy Cold Quinoa Salad with Chickpeas and Rice is light, refreshing, and so easy to make in minutes!
Get this recipe!
Ground Beef Lettuce Wraps with Peri Peri Sauce
The best beef lettuce wraps recipe you will ever try! Our Portuguese Ground Beef Lettuce Wraps combines the powerfully delicious flavor of Portuguese and Chinese recipes. You can whip them up in minutes!
Get this recipe!
📌 Pin it for later!
Did you enjoy this page? Save it on Pinterest for later!