Sunday Supper is an Amazon Associate and may receive compensation for purchases made through affiliate links.
Loaded Burgers, topped with smoky bacon, crunchy asparagus, and a crisp Parmesan cheese chip, are a gourmet burger recipe like no other!
Fire up your grill: this easy burger recipe will be the talk of your BBQ. 🔥 We know it will become one of your favorite grilling recipes and gourmet burgers!
If you're like me, then your passion for grilling is obvious. Any opportunity to fire up the grill and cook up some of your favorite grilling recipes can't be missed.
Burgers are one of my favorite foods to cook on the grill. All through the summer I have to cook up all my favorite gourmet burger recipes at least once! Recipes like Mushroom Swiss Burgers, Taco Burgers, Poached Egg Burgers, Bison Burgers… you name it.
I even like to make sliders, like Easy Cheeseburger Sliders with Bacon.
This asparagus burger recipe takes the cake. It's a loaded burger, packed with bacon, asparagus, and the most delicious Parmesan cheese crisp. It makes best friends with all the best BBQ side dishes, and every bite is like a dream!
Jump to:
🥓 Loaded Burger Ingredients
Lean ground beef (80/20)
Salt and pepper
Garlic powder or garlic granules
Grated Parmesan
Smoked bacon
Asparagus
Mayonnaise
Burger buns
Take my word for it if you haven't tried it already: asparagus is best friends with bacon. The flavor combination of the two is out of this world delicious. Pair it with this beef burger recipe and Parmesan cheese chips, and you have one of the best gourmet burgers ever.
The secret to what makes this one of the best burger recipes is that we mix Parmesan cheese into every bite. It's mixed into the burger, into the mayonnaise, and then finally into a crisp, crunchy chip on top.
Our Parmesan cheese chips are similar to the Food Network recipe by Giada De Laurentiis, and let me tell you, they are so delicious. You will want to make extras of these to snack on!
🍳 How to Make Loaded Burgers
This loaded burger recipe is easy to make, but it becomes even easier when you prepare your ingredients ahead of time. In the case of the bacon, you can cook it while making the burgers.
How to Make Burger Patties
Mix together ground beef, salt, pepper, garlic, and Parmesan to combine well.
Divide into 4 even balls, then form into slightly flattened, round patties.
Place on a plate and chill while preparing the remaining ingredients.
Making Parmesan Crisps
Preheat your oven to 400°F.
Measure out your Parmesan, then place onto a silicone- or parchment-lined baking sheet. Gently press it down into a patty-like shape. Repeat until you have 4 Parmesan "patties".
Bake for 3-5 minutes until golden. Set aside to cool, and then lift away from the baking sheet. Don't turn off the oven – keep it hot for the bacon!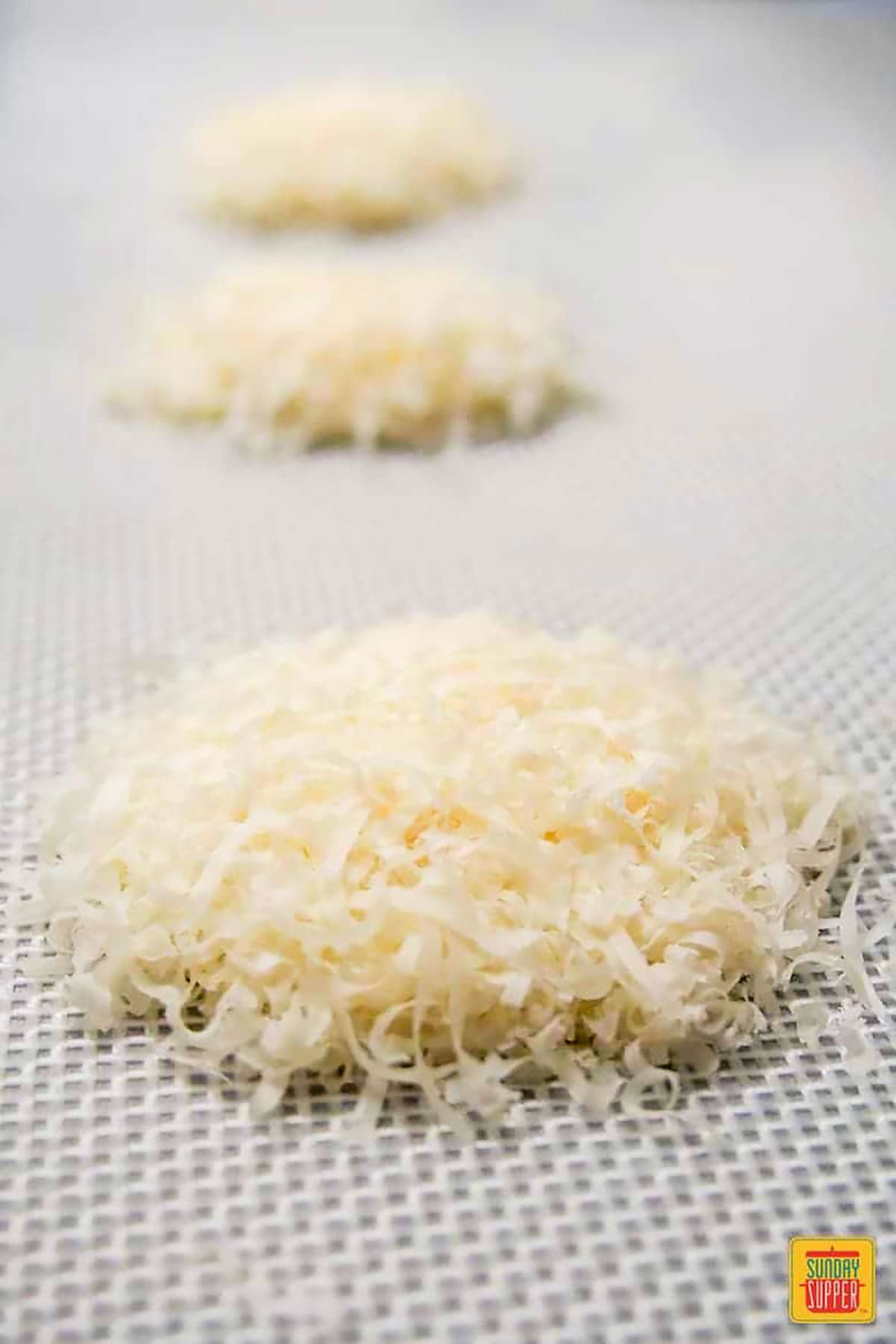 Cooking Bacon for Asparagus Burgers
With your oven still preheated to 400°F, line a baking sheet with foil. If you have a baking sheet rack, use it! Cooking the bacon raised over the baking sheet will allow it to crisp up even more.
Add a single layer of bacon to the sheet, with no strips overlapping. Bake about 15-20 minutes or until nice and crispy.
Using tongs, remove the bacon from the sheet to place on paper towels and drain.
Note: You can also grill bacon while grilling burgers if you prefer, but keep a close eye on it so it doesn't burn.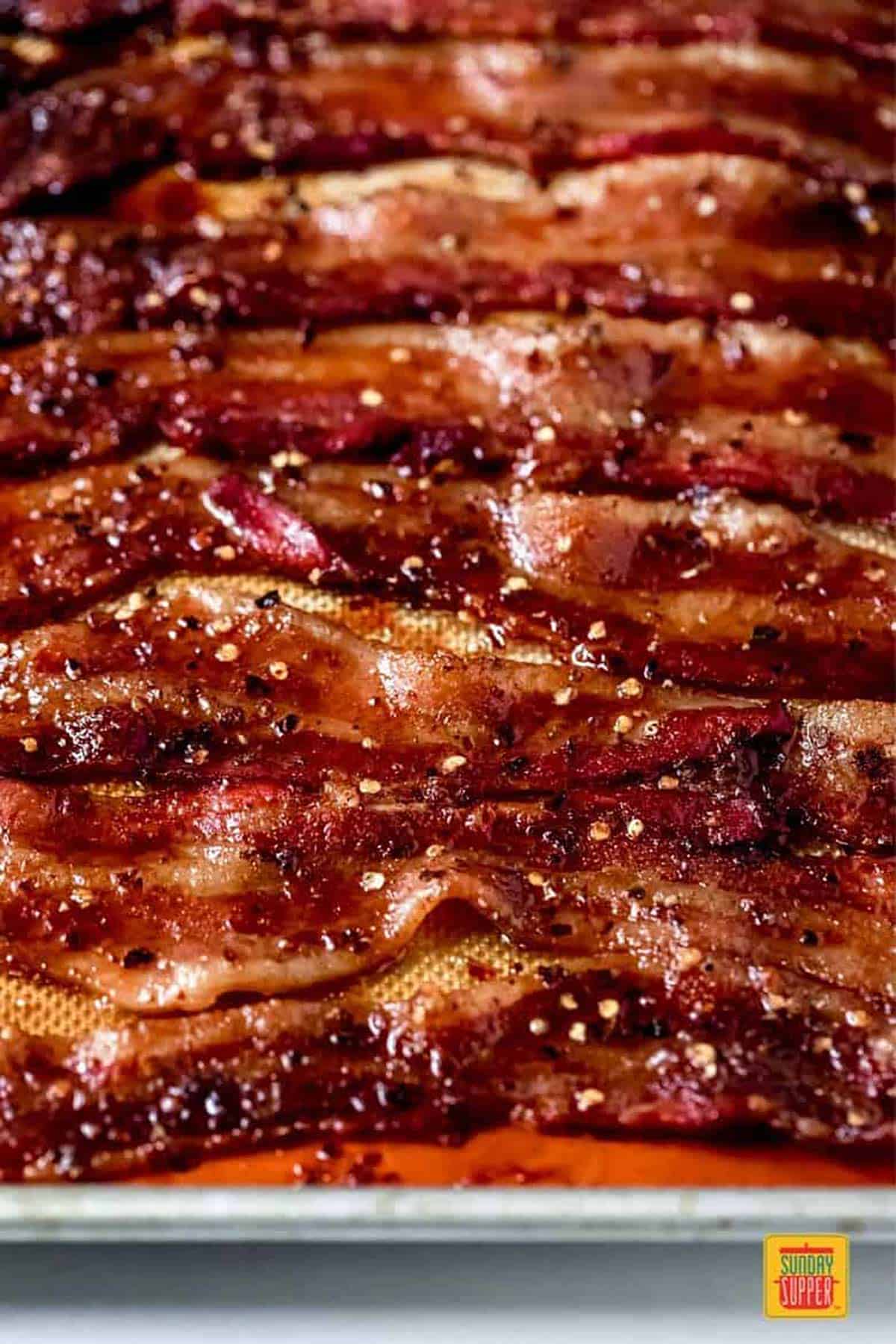 Note: This is our candied bacon recipe – looks delicious, right? Check it out!
How to Grill Burgers
Preheat your grill to high heat. Cook burger patties on one side until nicely cooked and seared. Flip, then cook until the burger patties are cooked through. See below for what temperature to cook burgers to.
Tip: Don't try to flip the burgers if they are sticking to the grill. This means they aren't ready to flip yet. Give them another minute, then try again.
After flipping the burgers, add the asparagus to the grill. Cook, turning once or twice, until lightly charred and tender. This should only take 2-3 minutes.
Mix Parmesan cheese with mayonnaise. Split and lightly toast your burger buns, if desired. Then spread with the Parmesan mayonnaise.
Top the bottom of each roll with a burger patty, bacon, asparagus, and a Parmesan crisp. Serve and enjoy your loaded burgers!
For exact measurements, tips, and more, keep scrolling to the recipe card below!
⏲ What temperature should burgers be cooked to?
The USDA recommends an internal temperature of 160°F, or well-done, for ground beef recipes like burgers. To check the temperature of your burgers and how cooked they are, use a meat thermometer.
This will give you the most accurate reading and I always recommend using one when cooking anything on the grill – especially beef!
🔥 How hot should the grill be for burgers?
Heat your grill to high heat when cooking burgers. This will give you a beautiful sear. But, most importantly, cook your burger meat after it's been chilled!
❄ Why should I chill burgers before grilling?
Chilling the burgers, especially ground beef burgers with mix-ins like Parmesan cheese as these loaded burgers have, will help hold them together better than if you grilled them at room-temperature.
Keeping them cold before grilling them will also give you the juiciest burgers imaginable. If you want a juicy burger, keep your patties refrigerated until just before grilling!
❓ Can I grill burgers on the stove?
Yes, you can! Use a grill pan or cast iron skillet. Lightly oil, then cook burgers over high heat following the same instructions you would above for grilling burgers.
🍅 Burger Toppings
I love these loaded burgers as-is, but if you want to add even more burger toppings, you can…
Try something spicy! Use chipotle mayo instead of Parmesan mayo for a burger with a nice kick. This will blend beautifully with the bacon, asparagus, and beef patties.
Use candied bacon instead of regular bacon. Candied bacon is a delicious addition to any burger. It's spicy, sweet, and so delicious. You will love every bite of it!
Add a poached egg. Nothing is better than an egg on a burger! Just take a look at our egg burger recipe – it will convince you! Learn how to poach an egg perfectly every time.
Add a little goat cheese. Goat cheese is a delicious pairing with asparagus and bacon, especially if you use candied bacon. You can leave off the Parmesan mayo and achieve a creamy burger recipe just with the goat cheese, if you like.
Top with some arugula. I like to use arugula instead of other lettuces when topping a loaded burger like this one. The bite arugula gives is a nice contrast to the creaminess of the cheese in this burger.
🥗 Side Dishes for Burgers
Everyone loves a perfect plate of Crispy Baked Potato Wedges on the side with these loaded burgers.
And, if you have the oven preheated already for your Parmesan crisps and bacon, this is a great way to knock out a side dish without much effort.
But, there are so many different kinds of side dishes for burgers you can enjoy with these loaded burgers! For example, did you know you can cook frozen french fries in your air fryer? Air Fryer Frozen French Fries make a delicious burger side!
Try these easy side dish recipes:
🍰 Best Dessert Recipes after a Burger Dinner
Try my favorite dessert recipes to make after grilling burgers. These desserts are a real treat any time of year, but especially for the summer! My favorite after a meal of loaded burgers are our Key Lime Pie Bars or our Guava Coconut Cookies.
🍹 Best Drink Recipes for a Burger Dinner
We have a whole collection of simple mixed drinks to try, from cocktail recipes to smoothies and juice! Here are a few of my personal favorites:
Want more of the Best Ground Beef Recipes? Try our Cheeseburger Casserole!
📌 Pin it for later!
Did you enjoy this page? Save it on Pinterest for later!



Did you try these loaded burgers? This is easily one of my favorite ideas for what to make with ground beef. If you gave them a try, please leave a comment below with a rating. I would love to hear from you!

And take a picture, too! You can share it with us on Pinterest by commenting on one of our pins for this recipe. How about leaving a picture on our video pin? We would love to see your creations.
📋 Recipe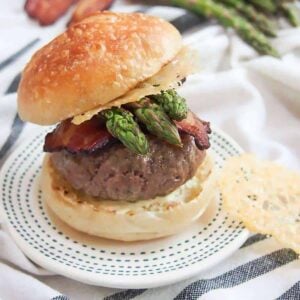 Loaded Burgers with Asparagus and Parmesan
Loaded burgers make the best gourmet burger recipe ever! You'll love every bite of these grilled burgers topped with bacon, asparagus, and Parmesan crisps.
Ingredients
Ground Beef Patty Ingredients
1

pound

lean ground beef

80/20

¼

teaspoon

salt

approx.

¼

teaspoon

pepper

approx.

¼

teaspoon

garlic granules

approx. (or garlic powder)

¼

cup

grated parmesan
Ingredients for Burger Toppings
¼

cup

grated parmesan

or a little more

4

slices

smoked bacon
For Assembling the Loaded Burgers
12

stems asparagus

¼

cup

mayonnaise

2

Tablespoons

grated parmesan

4

burger rolls
Instructions
Mix together 1 lb. ground beef, ¼ tsp. salt, ¼ tsp. pepper, ¼ tsp. garlic powder, and ¼ cup grated Parmesan until well combined.

Divide into 4 equally-sized balls and form into slightly flattened round patties.

Add to a plate and chill in the refrigerator.

Preheat oven to 400°F. Press some Parmesan into a round 1 tablespoon measure and then tip onto a silicon baking mat on top of a baking sheet.

Gently press it down. Repeat to make 4 round "patties", then bake for around 3-5 minutes until golden. Set aside to cool before lifting from mat.

Keep your oven on! You will use it for the next step.

With your oven set to 400°F, prepare your bacon. You will only need 4 slices of bacon for this recipe, but you can easily cook an entire batch this way.

Do so by lining a baking sheet with foil. If you have a baking sheet rack, use it! Placing the bacon on the elevated rack will help circulate the heat better and crisp the bacon up more evenly.

Bake for 15-20 minutes or until crispy to your liking. Set aside on paper towels to drain.

You can cook the bacon on the grill, but watch it closely if you do.

When ready to cook, preheat grill to high, then cook the burger patties to your preferred level of doneness, turning after the first side no longer sticks to the grill. The USDA recommends an internal temperature of 160°F, or well-done, for ground beef. Use a meat thermometer for best results.After you turn the burgers, add 12 stems of asparagus to the grill and cook turning once or twice until lightly charred and just tender.Meanwhile, mix 2 Tbsp. Parmesan into ¼ cup mayonnaise. Split 4 burger rolls, lightly toast if desired, then spread with the Parmesan mayo.Top the bottom of the rolls each with a burger, bacon split into 2 pieces, 3 stems of asparagus (trimmed to be just a little longer than bun is wide – you can add in ends too, if they'll fit) and a Parmesan crisp.
Notes
Try adding a fried or poached egg to your burger. Delicious!
If you're unable to grill outside, you can also cook the burgers and asparagus on a grill pan following the same basic steps. Just lightly oil the pan before heating. Use a cast iron pan if available.
For maximum flavor and deliciousness, we recommend using Certified Angus Beef ® brand beef, an 80/20 mixture.
Nutrition
Calories:
490
kcal
Carbohydrates:
24
g
Protein:
41
g
Fat:
24
g
Saturated Fat:
7
g
Cholesterol:
103
mg
Sodium:
1012
mg
Potassium:
641
mg
Fiber:
1
g
Sugar:
4
g
Vitamin A:
495
IU
Vitamin C:
3.2
mg
Calcium:
263
mg
Iron:
5.5
mg
Did you try this recipe?
Tag #SundaySupper on social and leave a comment below!
Recipe and photography by Caroline Williams.