This post may contain paid links. If you make a purchase through links on our site, we may earn a commission.
When you're in need of a comforting bowl of soup but think you don't have the time or energy to make your own, this list of Easy Soup Recipes is for you! These simple soups and stews are hearty, flavorful, and come together easily.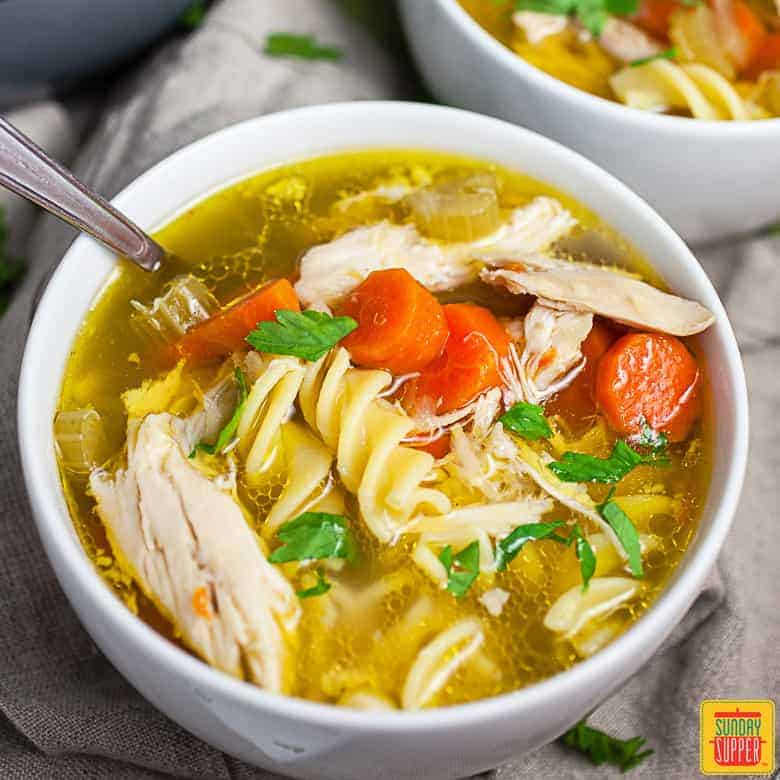 Jump to:
Easy Soups
There is nothing quite like a fresh hot bowl of soup after a long day as a pick-me-up, especially when the weather cools down or you're under the weather. Growing up, I knew whenever I came down with a cold that a cozy bowl of chicken noodle soup would be waiting for me, and it always warmed me right through.
Homemade chicken noodle soup just scratches the surface of easy soups you can make at home, though! In fact, one of my favorites is a simple shrimp bisque I've been making for years for the holidays and special occasions. You might think it takes a while to put together, but it's quick!
Soup has a reputation for being time-consuming to make, but to be honest, most soups are easier and take less time than you might think. Try one of my best soup recipes below, and you'll see what I mean!
Easy Recipes for Soup
What to Serve with Soup
Soup Recipes Tips
Soups are easy to make ahead of time for easy weeknight meals, holidays, and potlucks! You can generally freeze any soup in freezer-safe bags or containers as long as you leave half an inch of air at the top. Let the soup cool first, store labeled with the date, and let it thaw overnight in the refrigerator before reheating.
You can customize any one of these easy soup recipes with what you have on hand. For example, using rotisserie chicken for chicken noodle soup.
Fresh, seasonal vegetables are an easy way to add extra flavor and body to any simple soup recipe. Seasonal greens such as kale, spinach, or chard are also perfect for adding to soup.
The trick to making an amazing soup is to start with a strong base. If you make your own homemade stock, any soup you cook with it is guaranteed to be that much more delicious.
Fresh herbs add flavor – if you can use fresh herbs, give it a try instead of using dried!
Easy Soup Recipes FAQ
If you enjoyed the recipe, leave a comment and a rating below!
📋 Recipe