Sunday Supper is an Amazon Associate and may receive compensation for purchases made through affiliate links.
Your new favorite Easy Stew and Hearty Soup Recipes are waiting for you! Our collection of comfort food soup and stew recipes is perfect for keeping everyone in your family fed and happy.
These easy soups and stews make the best comfort food! From classic chicken noodle soup to easy Instant Pot beef stew, you are sure to find a new favorite.
Hearty Soup Recipes
Cozy up with a warm, hearty bowl of soup! Our favorite comfort food soup recipes include classics like chicken noodle soup as well as exciting traditional recipes like Hungarian mushroom soup.
The Best Chicken Noodle Soup Ever
Copycat Chick-Fil-A Chicken Noodle Soup will change your life! Seriously. This chicken noodle soup recipe takes a classic and makes it even more heartwarming and delicious.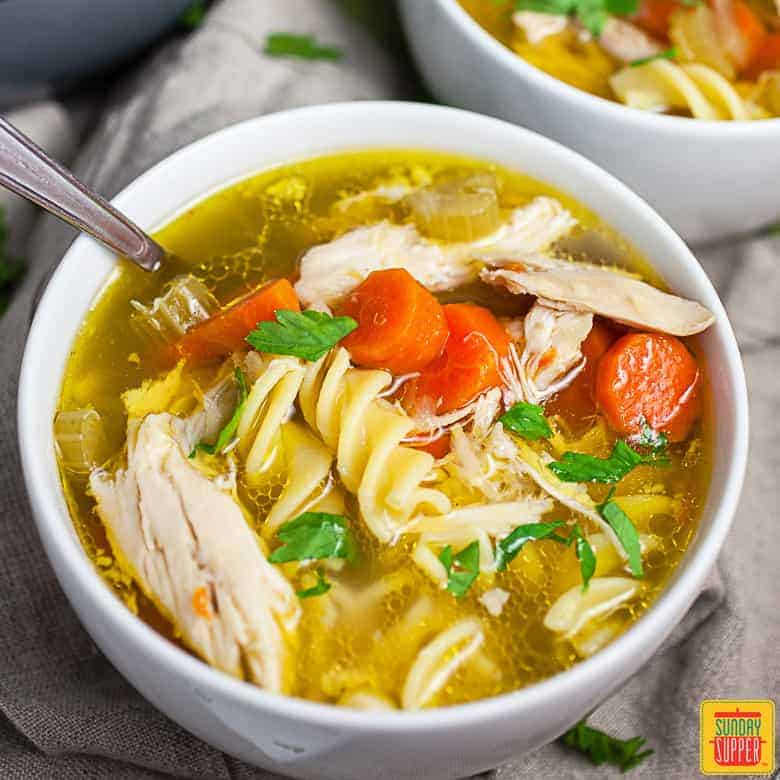 It tastes just like the Chick-fil-A chicken noodle soup you know and love, but better! Love chicken noodle soup? We have a version of Chicken Noodle Soup with Egg Noodles that tastes amazing!
Instant Pot Mexican Chicken and Rice Soup
One of the best comfort food ideas ever! Mexican Instant Pot Chicken and Rice Soup has incredible flavor but is ready to enjoy in under an hour. It's like a taco in a bowl!
You can even use leftover chicken or even rotisserie chicken to make this easy soup recipe!
Your New Favorite Chicken Tortilla Soup
Chick-fil-A Chicken Tortilla Soup is an easy, creamy chicken tortilla soup recipe that will blow you away with flavor! It's so good, you'll want to lick the bowl when you're done.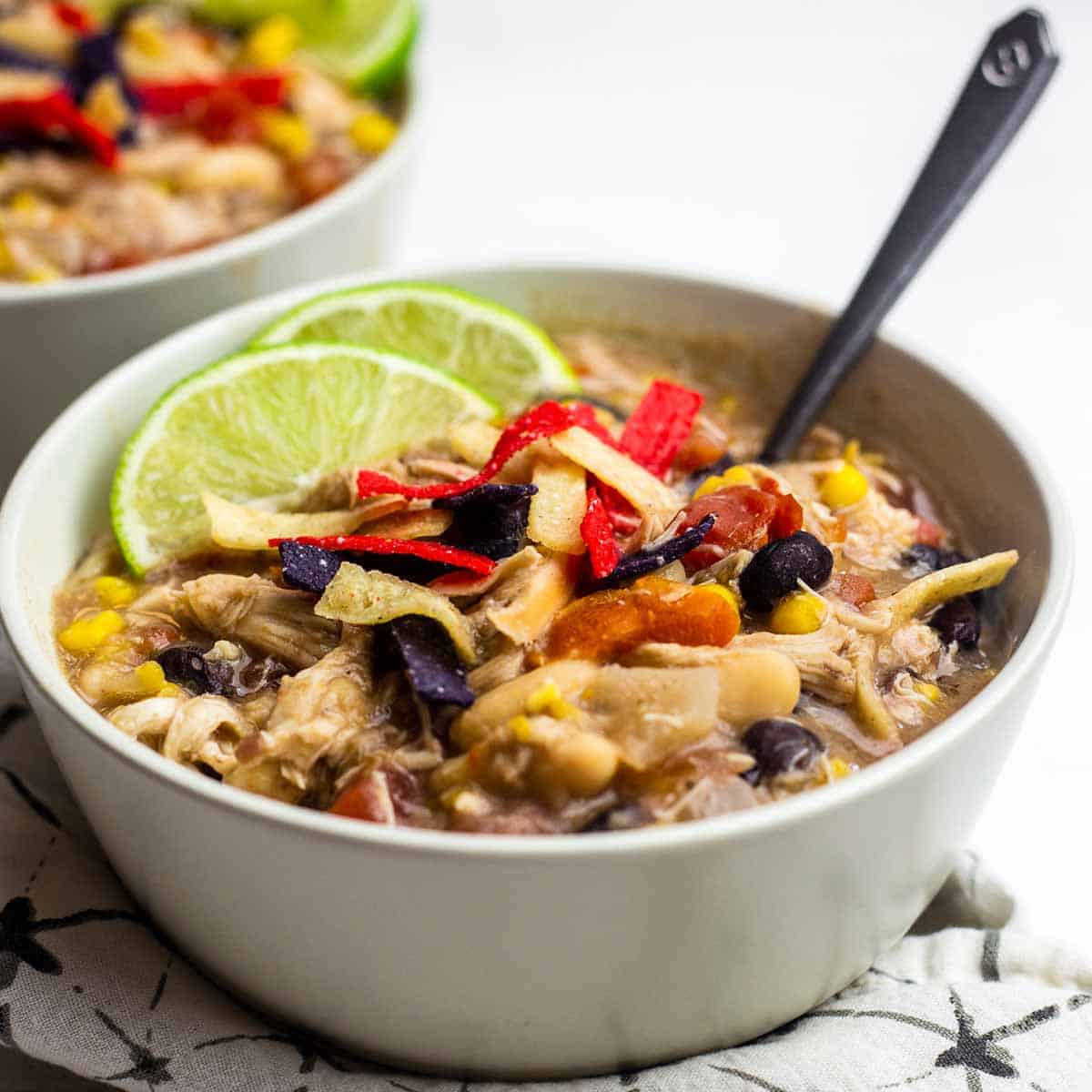 We definitely think this soup is better than the original. It has two kinds of beans, corn, and a kick of heat from green chiles. Top it off with some tortilla strips, and you have yourself the perfect soup!
The Perfect Tuscan Soup Recipe: Zuppa Toscana
Zuppa Toscana Instant Pot Soup is an Olive Garden soup we can't get enough of! This hearty, richly flavorful soup is ready in under an hour.
It's loaded with mildly spicy crumbly sausage, melt-in-your-mouth potatoes, and crispy bacon!
Love comfort food recipes and crumbly sausage? Try our sausage gravy and biscuits recipe!
Comforting and Easy French Onion Soup
French Onion Soup is a favorite of ours, and it's much easier to make than you might think! Try pairing it with a delicious grilled cheese using our Mushroom Grilled Cheese and French Onion Soup recipe.
Love grilled cheese and soup? You have to try our air fryer grilled cheese! It is perfectly crispy, with ooey, gooey cheese.
Warm and Cozy Italian Vegetable Soup
Italian Vegetable Soup is delicious, especially when you pair it with grilled cheese. That's just what we did in our Pesto Grilled Cheese and Italian Vegetable Soup recipe! This is one of our favorite simple soup recipes.
And if you like Italian soups, you will love our Italian Wedding Soup. It is so flavorful!
Hungarian Mushroom Soup
Drumroll, please! This Hungarian Mushroom Soup deserves applause. It is truly delicious! The best part? It's ready in just 20 minutes, and has so much flavor. And, you can use canned mushrooms!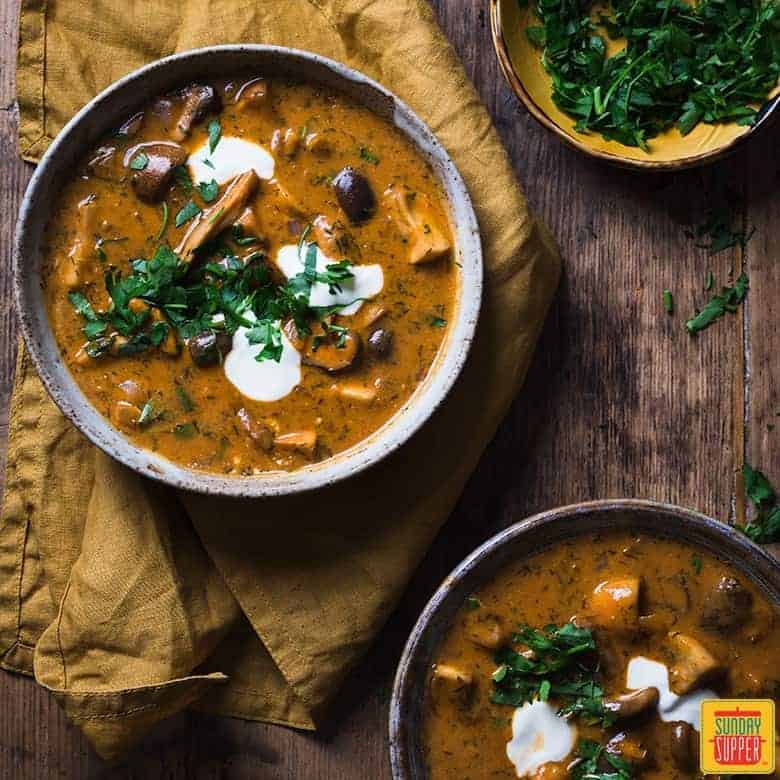 You are going to love this rustic, comforting, and flavorful recipe. It's one of the best soup recipes you can make in no time at home!
Flavorful and Creamy Shrimp Bisque
This is my personal favorite soup of the bunch. Creamy Shrimp Bisque is packed with flavor! With mildly spiced shrimp and an easy bisque soup base, it's easily the best bisque recipe ever. I promise you'll love it!
If you enjoy seafood soup, try our New England Seafood Chowder and Celery Root Soup with Lobster.
Easy Stew Recipes
Who doesn't love a good bowl of stew? You are going to adore these easy comfort food recipes for stew!
These simple stew recipes are sure to become quick favorites with your family.
Easy Beef Stew in Instant Pot
One of the best beef stew recipes – ever! Filled with beef chuck roast, carrots, onions, and a thick stew of beef broth and red wine, this is such a flavorful dish. Plus, it's ready in just an hour!
Beef is just amazing in the Instant Pot! If you enjoy this Instant Pot Beef Stew, you will love Instant Pot Pot Roast.
Hearty Beef Burgundy Stew
Classic Beef Bourguignon is one of the most flavorful stew recipes you can make easily at home! Just like Julia Child's beef bourguignon, our Easy Beef Bourguignon Recipe is so delicious.
It's the perfect comfort food, full of tender, flavorful beef, smoky bacon, and a beef gravy that tastes incredible!
More Easy Soups to Add to your Comfort Food List
Thai Butternut Squash Soup
Easy Broccoli Soup with Spicy Roasted Chickpeas
Roasted Red Pepper Tomato Soup
Looking for more comfort food ideas? Try our Comfort Food Easy Pasta Dishes!