This post may contain paid links. If you make a purchase through links on our site, we may earn a commission.
Our Air Fryer Biscuits recipe will change the way you make biscuits! Using refrigerator biscuit dough and your air fryer, these flaky and buttery homemade biscuits are ready in just 6 minutes. Spread a little garlic butter sauce on top or serve with sausage gravy, and enjoy!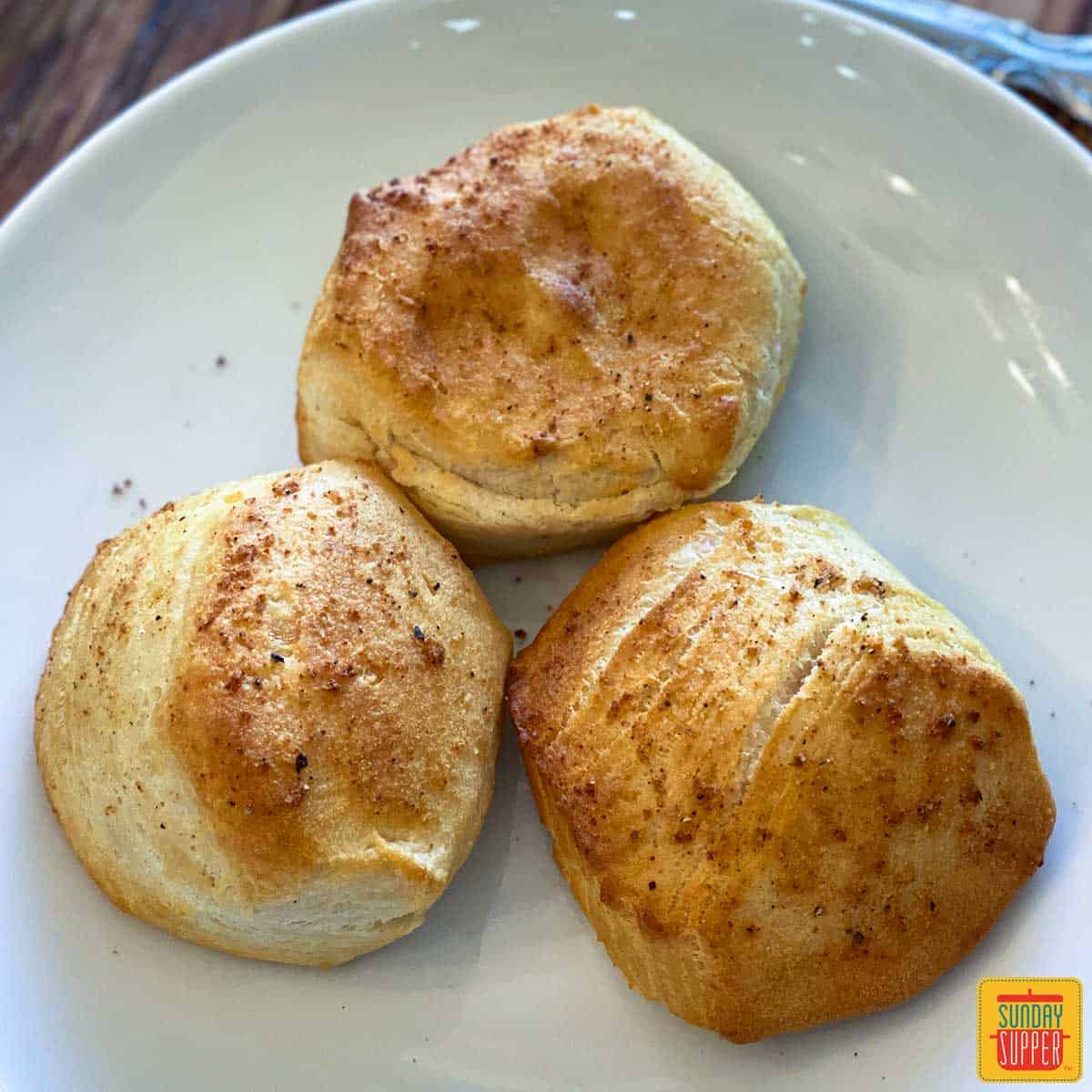 It's no secret that I love homemade bread recipes. Whether I'm making my own dough for Instant Pot French Bread or using refrigerator biscuit dough for these air fryer biscuits, I always have so much fun in the kitchen making bread!
But nothing is better than an easy recipe for biscuits. Fluffy and buttery biscuits are my favorite for serving with breakfast, as a side dish for dinner, or just as a snack on their own.
Jump to:
🍴 Equipment
You will only need an air fryer to make these air fryer biscuits, unless you're serving them with garlic butter sauce, in which case you will need a little bowl to mix the garlic butter. You can find instructions for that here: Garlic Butter Sauce Recipe.
🍞 Canned Biscuit Dough
I use refrigerator biscuit dough to make these air fryer biscuits, and let me tell you, this is one of the best canned biscuit recipes you will ever try. The results are so crispy, buttery, and delicious.
You can use your favorite brand of canned biscuit dough to make them. In this case, I used Annie's flaky biscuits.
Canned biscuit dough comes in different varieties, from buttermilk, to honey butter, and everything in-between. All of these varieties work perfectly for making air fryer biscuits.
🧈 Garlic Butter Sauce
Garlic butter sauce is a perfect pairing with air fryer biscuits. Although it's optional, I definitely recommend giving it a try at least once with your biscuits. Once you try it, you'll want to make it all of the time… and for so many different recipes!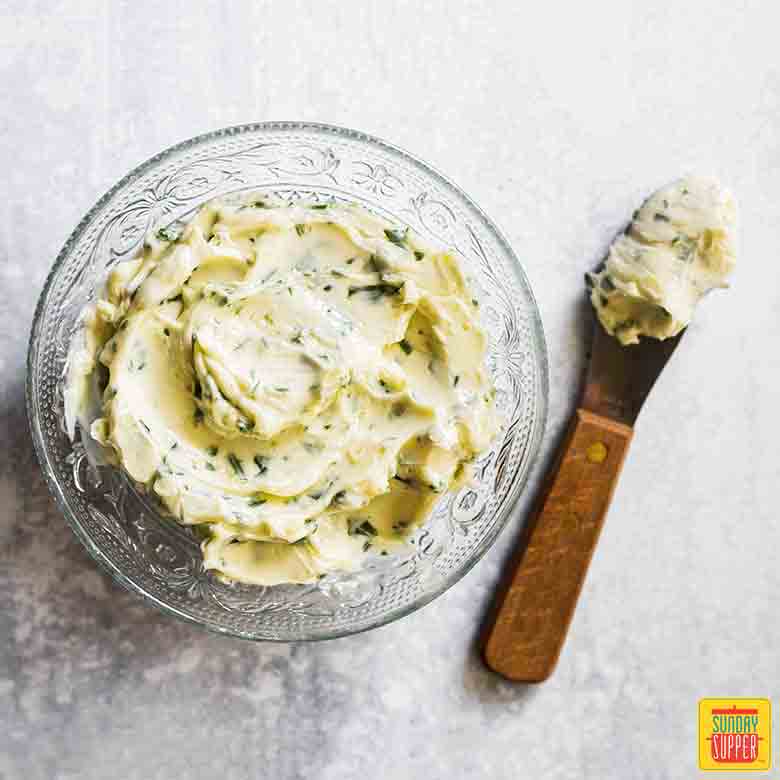 In fact, garlic butter sauce is so delicious, I make it for just about everything, from steak bites to ham and cheese sliders. Give it a try with these air fryer biscuits and I guarantee you will love it!
🔪 How to Make Biscuits in the Air Fryer
You won't believe how easy it is to make air fryer biscuits! It takes just 6-8 minutes for them to cook.
I hardly ever use my oven to make biscuits anymore. You just can't get any better than easy air fryer recipes!
Separate canned biscuit dough into 8 biscuits, and place 4 at a time on your air fryer tray greased with butter.

Spread garlic butter sauce on top of the biscuits. This is optional, but I recommend giving it a try!

Bake at 350°F for 6-8 minutes on the bottom rack. Do not use the top rack – they will cook too fast!

For exact ingredient measurements, nutritional info, and more, keep scrolling to the recipe card below!
👪 How many biscuits can I make at a time in my air fryer?
This depends on the size for your air fryer and the size of canned biscuits you use. I use a large 10-Quart Air Fryer and it works well for larger batches.
As a rule, try not to squeeze too many onto the tray at a time, or they won't bake evenly. Give enough space in between each biscuit.
❄ Can biscuits be frozen?
Yes, absolutely! Once the biscuits are ready, first let them cool completely. Then, make sure they are evenly spaced out on the rack, and then place the rack in the freezer.
After about an hour, check if the biscuits are frozen. If they are, transfer them to an air-tight container or freezer bags. Make sure to label the container with the storage date.
Biscuits will freeze well for 2-3 months.
🔥 How to Reheat Biscuits
You can reheat biscuits in the by using your air fryer again. Place in the air fryer on the bottom rack for 5 minutes at 350°F, covered in foil. They should reheat through and become perfectly fluffy again.
For frozen biscuits, reheat them in the air fryer for about 10 minutes using the same method. If they aren't quite done, put them in for a few minutes longer.
🍽 What can I serve with biscuits?
I love making homemade biscuits just for the amount of recipes I can serve them with! You can enjoy them for breakfast, lunch, dinner, or even just a snack. They're perfect for holidays too, like Thanksgiving or Labor Day.
My favorite thing to serve with biscuits is sausage gravy. I have two versions: Stovetop Sausage Gravy and Instant Pot Sausage Gravy. Trust me when I say you've never had biscuits and gravy this delicious! Give it a try!
I also love to use air fryer biscuits as a substitute for English muffins in homemade Eggs Benedict with Hollandaise Sauce. They are fluffy, crispy, and tasty on their own, so they hold up very well to the runny egg and sauce!
For a perfect brunch, serve it with an Orange Sherbet Mimosa and our other Easy Make Ahead Brunch Recipes!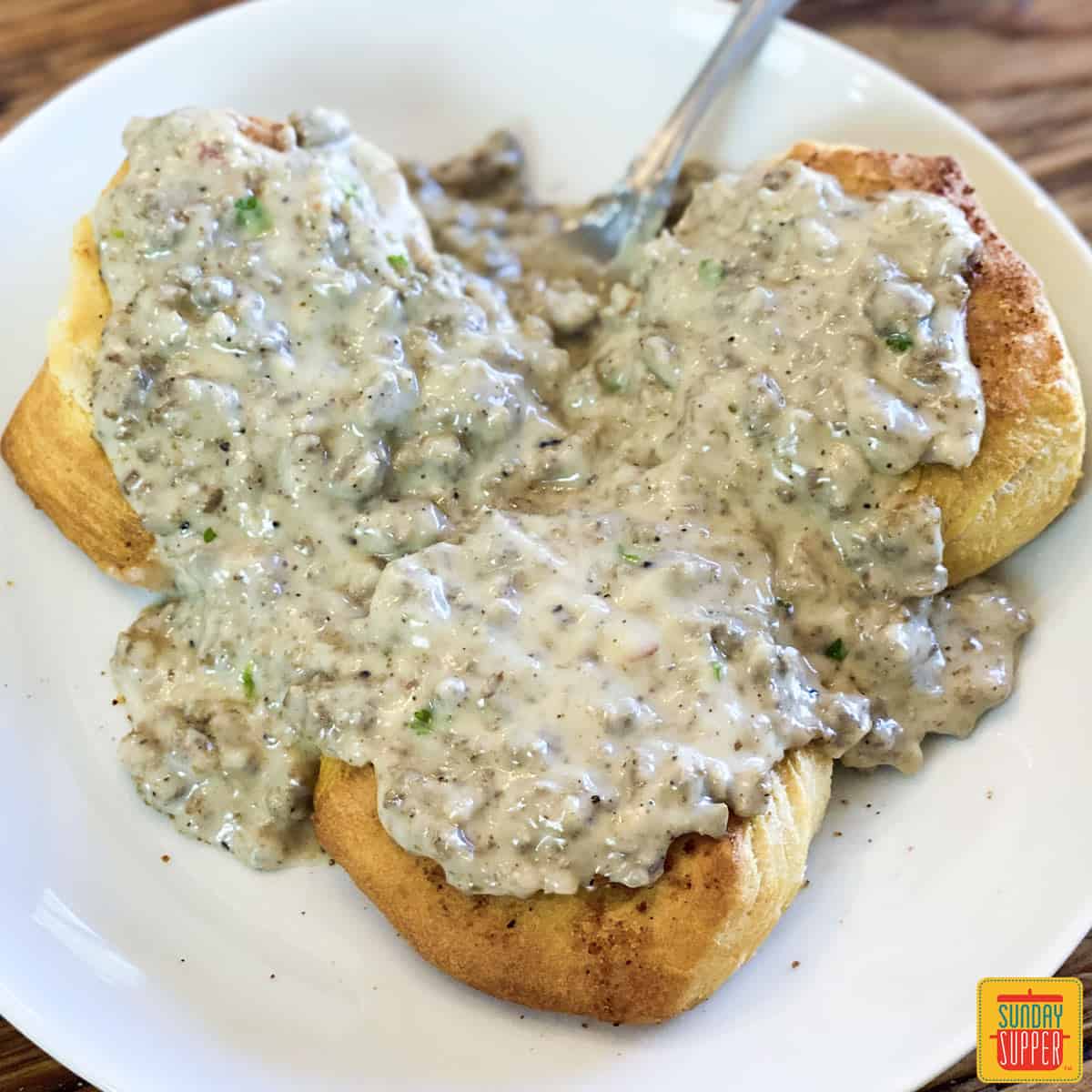 You can also serve biscuits with:
This recipe makes a great side dish for the holidays. Pair it with my other Side Dishes for Ham, Side Dishes for Prime Rib or Christmas Side Dishes! And try my other Best Air Fryer Recipes!
🥫 How to Store Biscuits
You can store homemade air fryer biscuits at room temperature in an air-tight container, on a plate covered with foil, or in a plastic bag. They will last up to 2 days at room temperature.
To keep them for longer, you can also refrigerate your biscuits for up to 1 week. Store them in a container or plastic bag.
Save the Video Pin
Did you try my recipe for air fryer biscuits? I would love to know what you think! Leave a comment and a rating below. What do you want to see next? Email me, or sign up for our newsletter and give me feedback! I always love to hear from you.
📋 Recipe
Air Fryer Biscuits Recipe
Our Air Fryer Biscuits cook in 6 minutes and are buttery, fluffy, and flaky! You will want to make biscuits in the air fryer every time!
Instructions
Separate canned biscuit dough into 8 biscuits, and place 4 at a time on your air fryer tray greased with butter.

Optional: Spread garlic butter sauce on top of the biscuits.

Bake at 350°F for 6-8 minutes on the bottom rack.
Notes
Garlic butter sauce is optional, but it tastes amazing with these biscuits!

Make sure to bake them on the bottom rack.

They will cook too quickly on the top rack!
Nutritional info is based on the brand of biscuits I used. Please check your canned biscuits for exact nutritional info!
How many biscuits you're able to bake at a time depends on the size of your air fryer. As a rule, leave enough space between each biscuit for air to circulate properly, or they won't bake well. Don't overcrowd the rack!
Nutrition
Calories:
170
kcal
Carbohydrates:
26
g
Protein:
3
g
Fat:
6
g
Saturated Fat:
2.5
g
Polyunsaturated Fat:
0.5
g
Monounsaturated Fat:
2.5
g
Sodium:
600
mg
Fiber:
1
g
Did you try this recipe?
Tag #SundaySupper on social and leave a comment below!