This post may contain paid links. If you make a purchase through links on our site, we may earn a commission.
Make your roast beef dinner extra special this holiday season by serving it with the Best Sides for Roast Beef! Whether you're serving up a comfort food chuck beef pot roast or a fabulous prime rib, this collection of roast beef sides has what you need, including How to Make the Perfect Mashed Potatoes! You'll never need to ask yourself what to serve with roast beef again!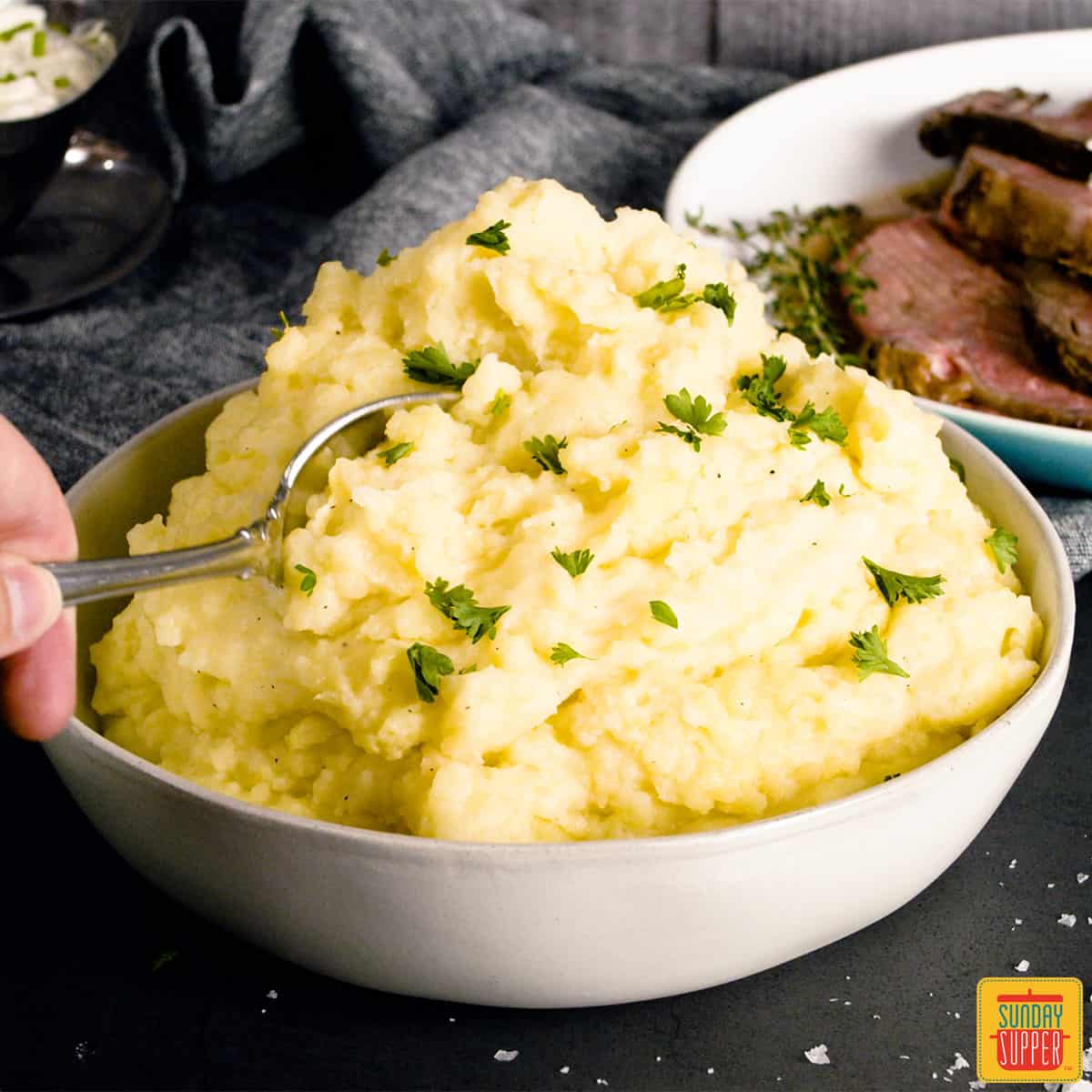 Jump to:
Best Roast Beef Sides
I look forward to making my favorite roast beef dinners every year around the holidays. Yes, for the roast beef recipes, but also for the side dishes!
For my family, an amazing holiday meal is all about the sides. That's why I put together this collection of the best sides for roast beef, including my recipe for the perfect mashed potatoes.
Instead of asking yourself what goes with roast beef, you can take a look at this list and easily put together a full holiday buffet! With more than 30 roast beef dinner sides to choose from, there's an option for everyone at the table.
Potato Side Dishes
Easy potato recipes make some of the best side dishes for roast beef. From classic roasted potatoes to scalloped potatoes and, of course, the creamiest mashed potatoes, these dishes pair well with roast beef and are great for serving with leftovers or with a family-style pot roast.
For my recipe on how to make the perfect mashed potatoes on the stove or in the Instant Pot, scroll to the recipe card!
Vegetable Side Dishes
Veggie side dishes are an easy choice to make for serving as roast beef sides. From carrots to green beans, there is a variety to choose from! My favorite is my green bean almondine – this dish is delicious. Try it with any of my rib roast recipes and I know you'll love it.
Side Dish Salads
Holiday salad recipes are a perfect choice for what to serve with roast beef! My family's personal favorites are my roasted artichoke salad, inspired by Ina Garten, and my orange and fennel salad. Any one of these easy salad recipes makes a great side dish for roast beef.
Casserole Side Dishes
What's a holiday buffet without easy casserole recipes? Serve up one of my favorite casseroles as an easy side dish for roast beef! They're a perfect choice – easy to make ahead, simple to store, and they make great leftovers.
Homemade Bread Side Dishes
Serve up one of my homemade bread recipes with your roast beef sides to sop up all the delicious flavor from the roast and gravy! The best choice is Yorkshire Pudding. You can make it using drippings from your roast!
Pasta Side Dishes
I love serving pasta as a side dish for roast beef. Give one of my favorite pasta side dish recipes a try!
Soup Side Dishes
Soup makes a great pairing for any holiday meal, including roast beef! Try one of my favorite soup side dishes for your next special occasion with roast beef.
Don't forget the Au Jus for dipping!
Roast Beef Recipes
Cooking prime rib? I have a list tailored just for you! Check out my Side Dishes for Prime Rib!
📋 Recipe